One of the lesser-known Cycladic islands, Paros remains one of Greece's best kept summer secrets. As a result, this beautiful Greek island holds onto its authentic feel and peaceful vibe. However, the curtain that currently shields Paros is quickly being peeled back and its beauty is starting to be revealed to the world, largely thanks to the string of luxury hotels that have sprung up there.
Adopting a laid-back island attitude, travellers looking to enjoy a Greek paradise without the hustle and bustle of more familiar destinations like Santorini or Crete are in for a treat with the diversity of the hotels in Paros, Greece in 2023. And, Paros has everything you could ever need for a great getaway, from trendy clubs and restaurants to fabulous beaches and authentic island villages.
To help you choose the perfect Paros hotel for you, though, we've handpicked the very best hotels in Paros in 2023 to bring you a collection of luxury and boutique retreats ideal for exploring the island. Find your favourite Paros accommodation and enjoy your trip!
Be sure to check out our guide to the best hotels for honeymoons in Bali, too!
Best Paros hotels, Greece 2023
Located in the quaint, picturesque town of Naoussa, Cosme is one of the best hotels in Paros, Greece. Painted pure white, this Paros hotel is a Cycladic fantasy come true, with a relaxed infinity pool from which you can watch the tiny fishing boats parked on the nearby beach. Designed to mirror a Greek village, this Paros accommodation feels more like a boutique hotel with a personal touch. Meet with other hotel guests around an elegant fountain for a coffee or a bottle of Malvasia just as traditional Parians have done for years, or head to the gym and spa, which is housed in a building inspired by a traditional Greek silo.
In contrast to the intimate feel of this Paros hotel, the 40 rooms feel relatively large, each featuring either a spacious terrace or private pool and separate living areas. Like the exterior of this hotel in Paros, the interior is simple yet tasteful, with paintings by local artists adorning the walls and more trinkets that point to the island's heritage. In bathrooms, you'll find huge sizable walk-in showers and complimentary toiletries by all natural, Greek brand, Korres. The staff at Cosme are another factor that contributes to it being one of the best hotels in Paros, with front desk clerks remembering your name and bartenders remembering your go-to drinks order.
Located just southwest of Parikiá, Paros Bay is another one of the best hotels in Paros, Greece in 2023. Sat upon a north-facing hillside overlooking Delfini Cove, this luxury Paros hotel boasts sweeping sea views across Parikiá Bay and an immaculate interior. This hotel in Paros takes on a Cycladic-chic nautical theme, with white plaster planes and seaside-themed wall art in the common areas.
This Paros luxury hotel comprises of 63 rooms, split between the main hotel building and five bungalow-style wings in the perfectly-pruned gardens. Standard double rooms are decorated in a soothing pastel scheme, with vintage-style French doors that open onto balconies. When it comes to the facilities at this hotel in Paros, there is a small ampitheatre on the edge of the grounds which is sometimes used for 'Greek night' or for wedding parties. There's also a large salt-water pool and a divine buffet breakfast served on the daily – think various types of souvlaki and stuffed mushrooms.
Tucked away in the backstreets of Naoussa, one of the island's main harbours and hubs, Svoronos Bungalows provide some of the best accommodation in Paros. Just a short stroll from the village streets lined with small boutique shops, and just a little further to the harbour and its restaurants, bars and cafes, this Paros hotel boasts an ideal location for exploring. On arrival, walk through the gates to what looks like a small traditional village, with a well-landscaped garden and stone and marble statues dotted about the place. Run by the Svoronos family for decades, this hotel in Paros feels truly authentic and in keeping with the local area.
When it comes to this Paros accommodation, you can choose from individual rooms or whole apartments, each of which tastefully reflects the local architecture, with heavy wooden shutters on the windows, shelves carved into the wall and wood beam ceilings. Rooms also features local trinkets such as antique pieces, handwoven pillows and framed embroideries. The two small studio rooms accommodate two people and have queen sized beds, a dining area, small sofa and a bathroom with a shower. Meanwhile, the 18 apartments, which are huge compared to the individual rooms, also feature a kitchen with refrigerator and cooking utensils. Nearly all of the room types have a balcony with outdoor dining table and sun loungers.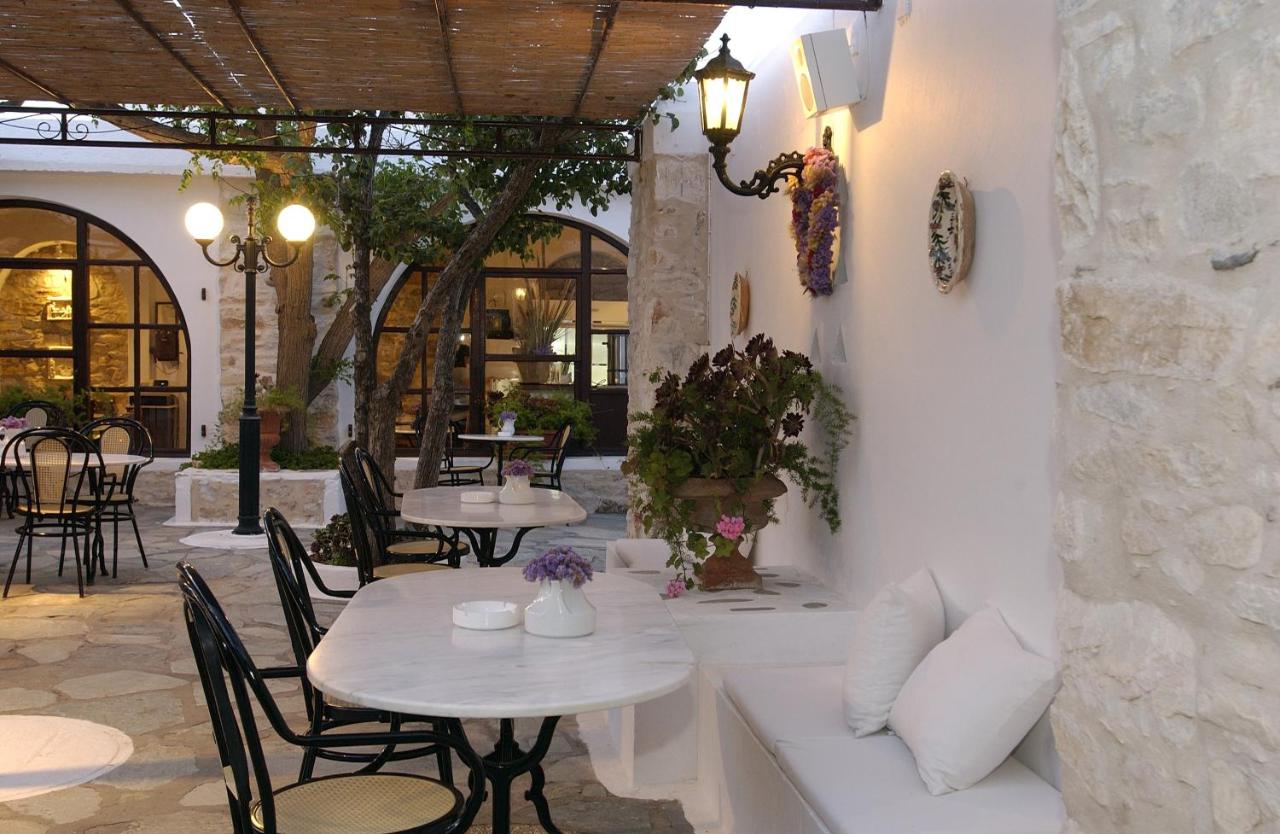 Set on a hillock outside the Naoussa resort, Mr & Mrs White offers an intimate and tranquil stay at one of the best hotels in Paros, Greece. As the name of this Paros hotel suggests, the dominant colour here is white, which is in keeping with the traditional Cycladic surroundings and accentuates the blue of the pools, the stripes on the cushions and the colours of the flowers in the gardens.
Rooms at this luxury hotel in Paros are super spacious and, again, painted in all white. Each room features a balcony or veranda with chairs, tables and sofas. Bathrooms are also on the larger side and are stocked with complimentary toiletries from a small boutique manufacturer from Athens using natural olive and grape oils. There are two good sized pools surrounded by comfy sun loungers and impressively tall palm trees. Staff are incredibly enthusiastic and always willing to help, while the manager is very knowledgeable about the local area, so if you need any travel tips you know who to go to. So, if you're looking for a homely but stylish place to stay, this might be one of the best hotels in Paros for you.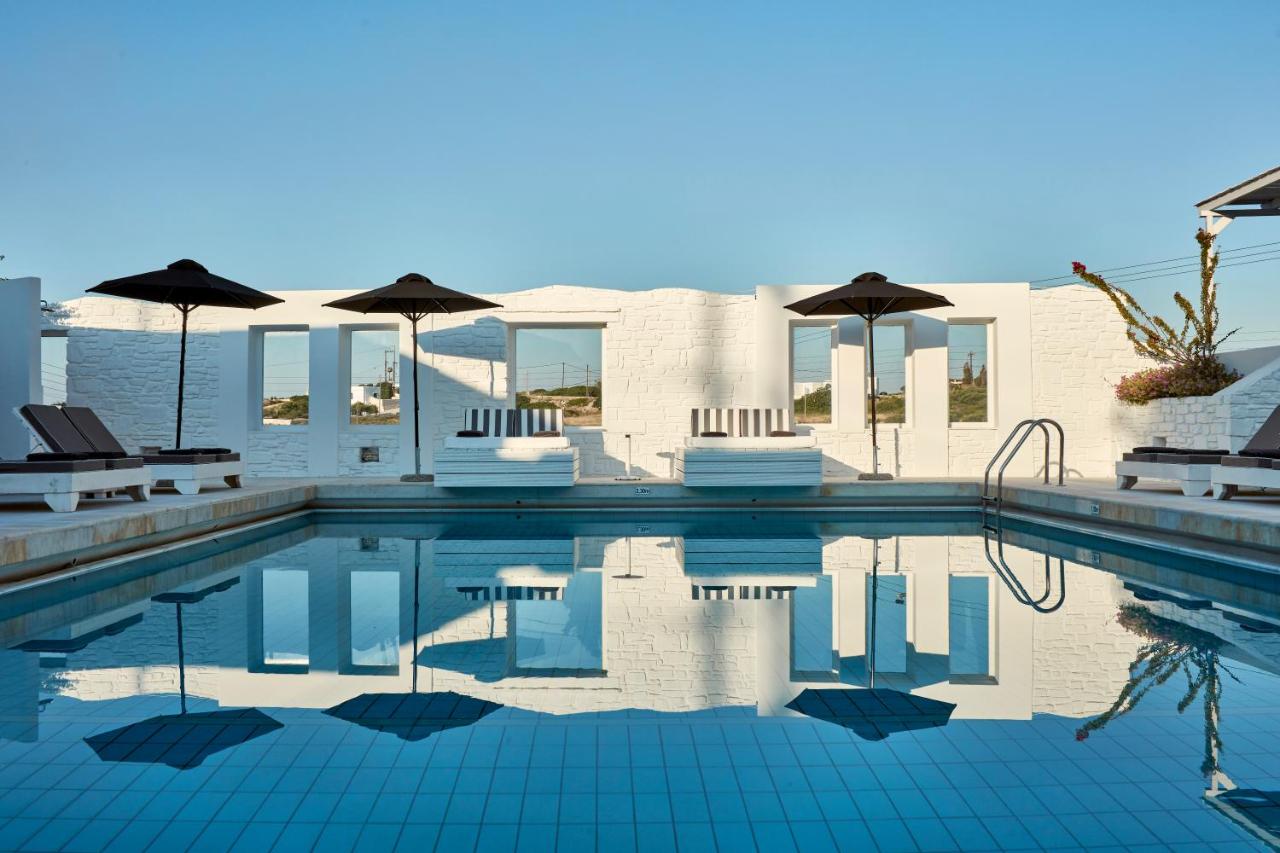 Yria Island Boutique Hotel is one of the best hotels in Paros, set within 5.5 acres of densely landscaped gardens and dotted with palm trees. Situated just 250m inland from Parasporos beach, this Greek oasis originally dates from 1991 but underwent significant refurbishment in 2015. Today, this white-splashed Paros hotel boasts traditional architecture, local artwork and immaculate interior décor – think tropical-leaf ceiling fans and vintage coffee tables.
The rooms at this luxury hotel in Paros range from standard doubles right through to luxury villas. Standard rooms are frill-free but are still smart with marble flooring and a veranda, plus ApiVita toiletries in the bathrooms. A step up, Junior suites come complete with lounge music systems, while Executive suites have at least two full baths, a sound system, iPod dock and DVD player. Meanwhile, Galleried maisonettes accommodate up to four guests and come with a stone-clad garden patio and views across to the Aegean. Staff at this Paros luxury hotel are quick to be helpful and facilities include a small spa and gym, decked outdoor whirlpool, a large fresh-water pool and a free-to-use tennis court.
If you're looking for a villa in Paros rather than a hotel, look no further than Acron Villas, perched in the rugged hills above the island's renowned Kolympithres beach and the village of Naoussa. This Paros accommodation is sun-drenched and idyllic, offering plenty of privacy for honeymooners and families alike. Situated on the sheltered northern shore, this Paros accommodation boasts sweeping sea views, a private pools, minimalist interiors and fully equipped kitchens. In other words, this hotel in Paros is perfect for creating your very own sun-soaked plan. Why not stroll the nearby fishing villages? Sample the traditional tavernas? Or relax on the island's most scenic beach?
Each villa in Paros comes with its very own private pool where you can do laps and marvel at the views of the glittering Aegean, the granite-rock countryside and the miniature boats bobbing below. They also feature a terrace, garden, kitted out kitchen, washing machine, air conditioning, TV, free wifi, espresso machine and complimentary bath products from Korres. If you're travelling with a large group, opt for the Indigo 4 Bedroom Premium Villa, which comes with a master bedroom, large table on the terrace for al fresco dining and immaculate sea views. Unfortunately, the only downside to this accommodation in Paros is that the lack of restaurant and bar on-site. Instead, though, you can simply whip up your own meal in your private villa kitchen or head down to Kolympithres for a delicious seafood feast in one of the local tavernas and a drink in one of the bustling bars.
Perched on the northeastern coast of the island, the clean-lined design of this hotel in Paros, Greece, creates sense of calm and serenity. The white stone arches and marble detailing echoes the traditional architecture of the archipelago – and all this within steps of Naoussa's fishing port and a stroll from Kolymbithres beach. Facilities at this Paros luxury hotel include the boutique Asian spa which comes with two treatment rooms and a cabin for manicures, pedicures and waxing. All the treatments use products by all-natural and organic brand Ila.
All suites at this hotel in Paros are pleasingly large with outdoor living areas and humongous beds. Although, if we has to choose, we'd opt for a Halo suite, each with dining area and sun loungers overlooking the native gardens. The restaurant at this Paros hotel, Mr E, is run by chef Alexandros Tsiotinis and serves up delightful Greek and Mediterranean dishes in a trendy space with large arched windows, through which natural light streams through, and a pretty outdoor terrace. Also running alongside the pool is the hotel's bar, a sleek spot perfect for shading from the midday sun.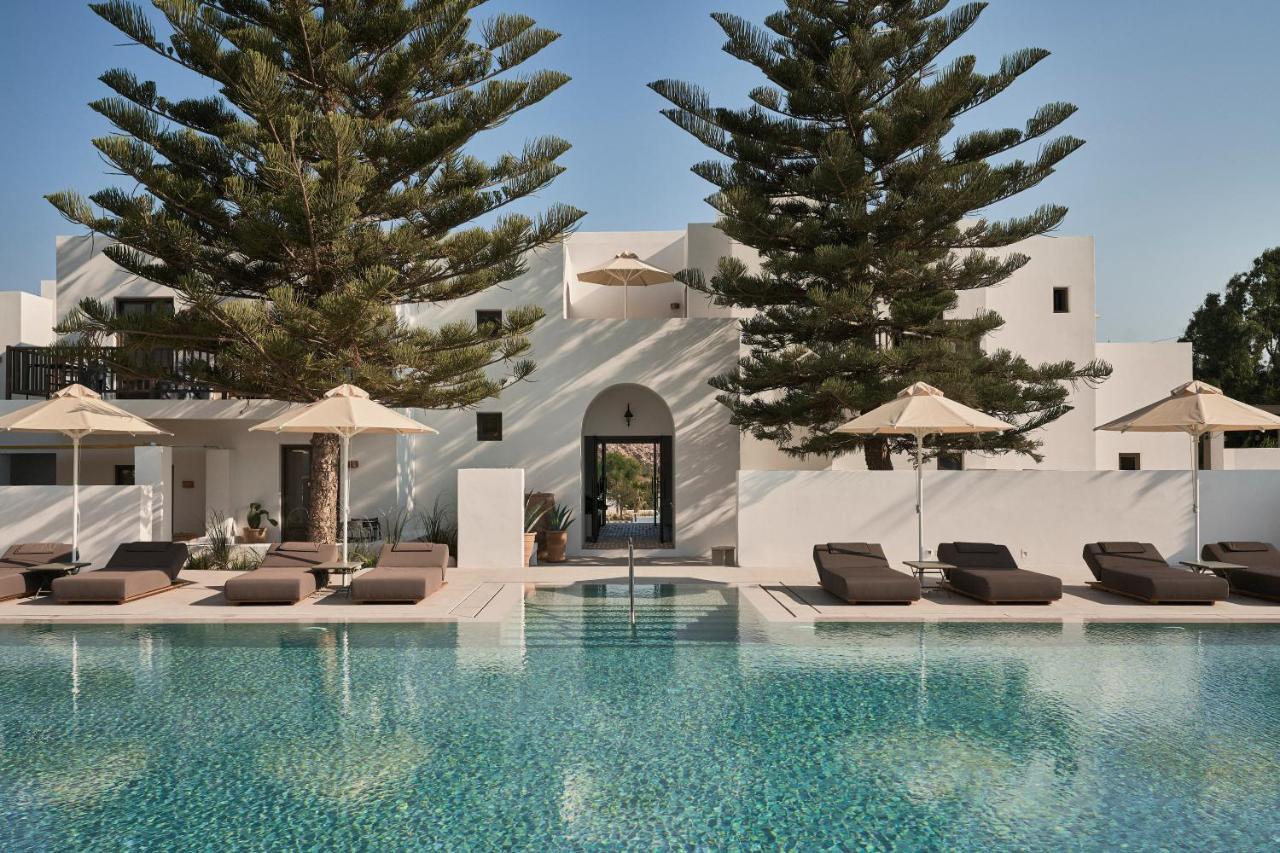 Scroll through our list of the best hotels in Paros, Greece in 2023 and book your island getaway! Make sure you check out our guide to the best hotels in Corsica, France, too!