One of the most fascinating places in Crete, Chania is located on the westernmost side of the island and makes the perfect destination for a summer vacation, whether you're travelling with the whole family or just that special someone. Known for its magnificent, sweeping beaches, stunning mountain scenery, rich history and culture, and some of the most refined gastronomy in the entire country.
Visit Chania any time of the year to appreciate its beauty, from the imposing gorges to the postcard-worthy sea views. The only thing left to arrange for the perfect Chania getaway is the accommodation. When it comes to choosing where to stay in Chania, there's plenty of choice. To help you pick your favourite, though, we've rounded up our choice of the very best Chania hotels in 2023.
So, what are you waiting for? Make your next summer vacay one you won't forget with our list of the best hotels in Chania. Be sure to check out our guide to the best hotels in Paros, Greece, too!
7 Best Chania Hotels 2023
Situated in 1866 Square of Chania Town, this is one of the best hotels in Chania, Crete, for exploring the local area, from the Municipal Art Gallery just down the street to the Folklore Museum of Chania, as well as all the fabulous bars, cafes and restaurants nearby. This Chania hotel is housed within a neoclassical-style building with pale stone walls and bright blue doors. Inside, Mirabile Luxury Suites boast luxurious but minimalist décor. Think clean white walls, plush fabrics, oak wood beams, and antique brass detailing. Each suite open onto a balcony or private patio and features a private bathroom and shower, as well as air conditioning, a flat-screen TV and a mini fridge. Some suites even come with a private hot tub. The facilities at this boutique hotel in Chania include a small fitness centre and free WiFi throughout. So, if you're looking one of the best Chania hotels to relax with some privacy, Mirabile Luxury Suites will tick all the boxes!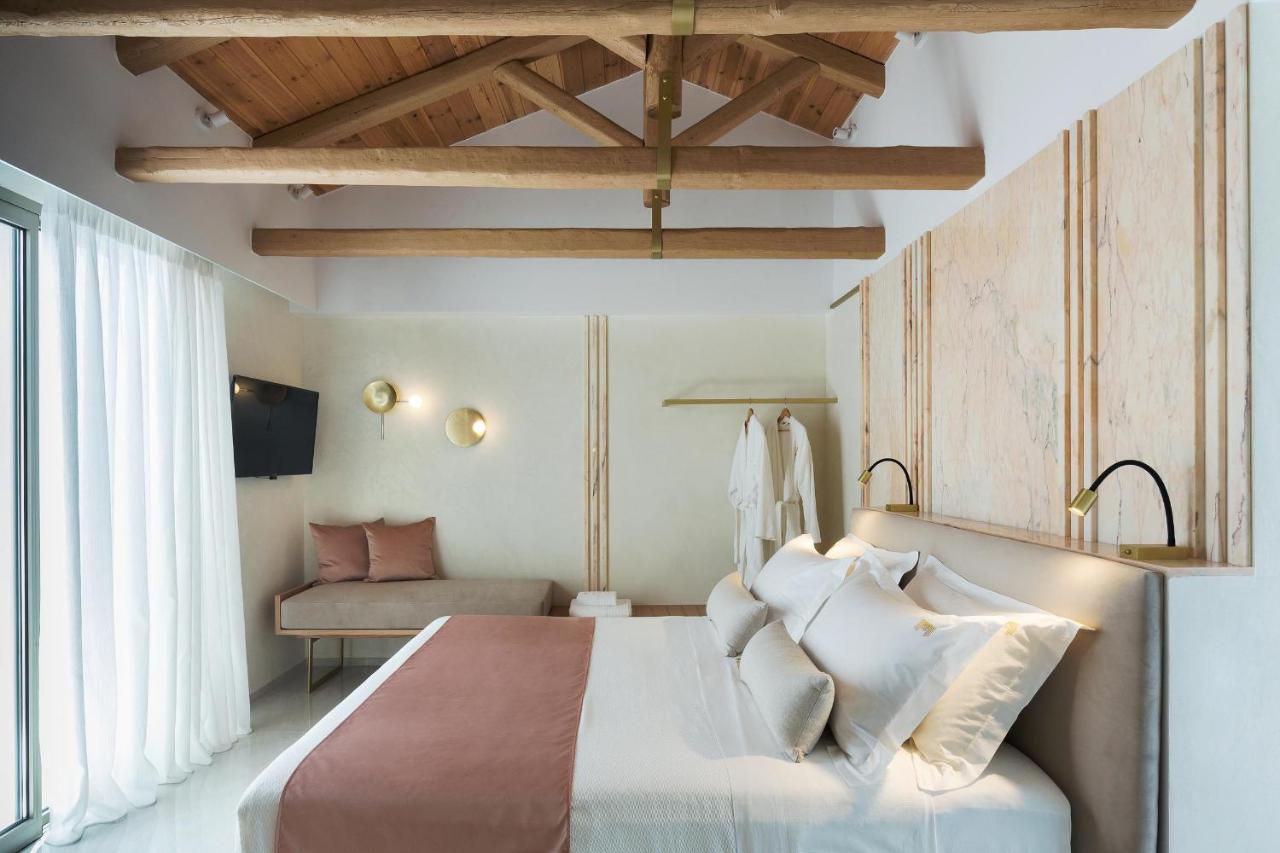 Another one of the best Chania hotels for the perfect Greek getaway is the Monastery Estate Venetian Harbour. Set far from the bustling crowds of Crete's larger and more touristy resorts, this luxury hotel in Chania is situated down a long twisting road from which you can appreciate magical views at every turn. Housed within a converted 200-year-old family home surrounded by olive groves and just a short drive from Sougia's unspoilt beaches, boutique shops and traditional taverns. This Chania accommodation comprises four self-catering apartments, which have all been comfortably furnished, blending Spanish finca style with traditional Cretan vibes. You can expect rustic styling, with exposed stonework, huge wooden beams, bare stone floors and modern touches throughout. Large, open-plan kitchens are well equipped with everything from a Nespresso machine and fridges to a microwave and hob. There are also comfy sofas to sink into after a long day exploring the town and clean bathrooms with walk-in showers. Service at this Chania luxury hotel is next to none, with gestures such as the welcome drink on arrival and ice cold water in the fridge really standing out.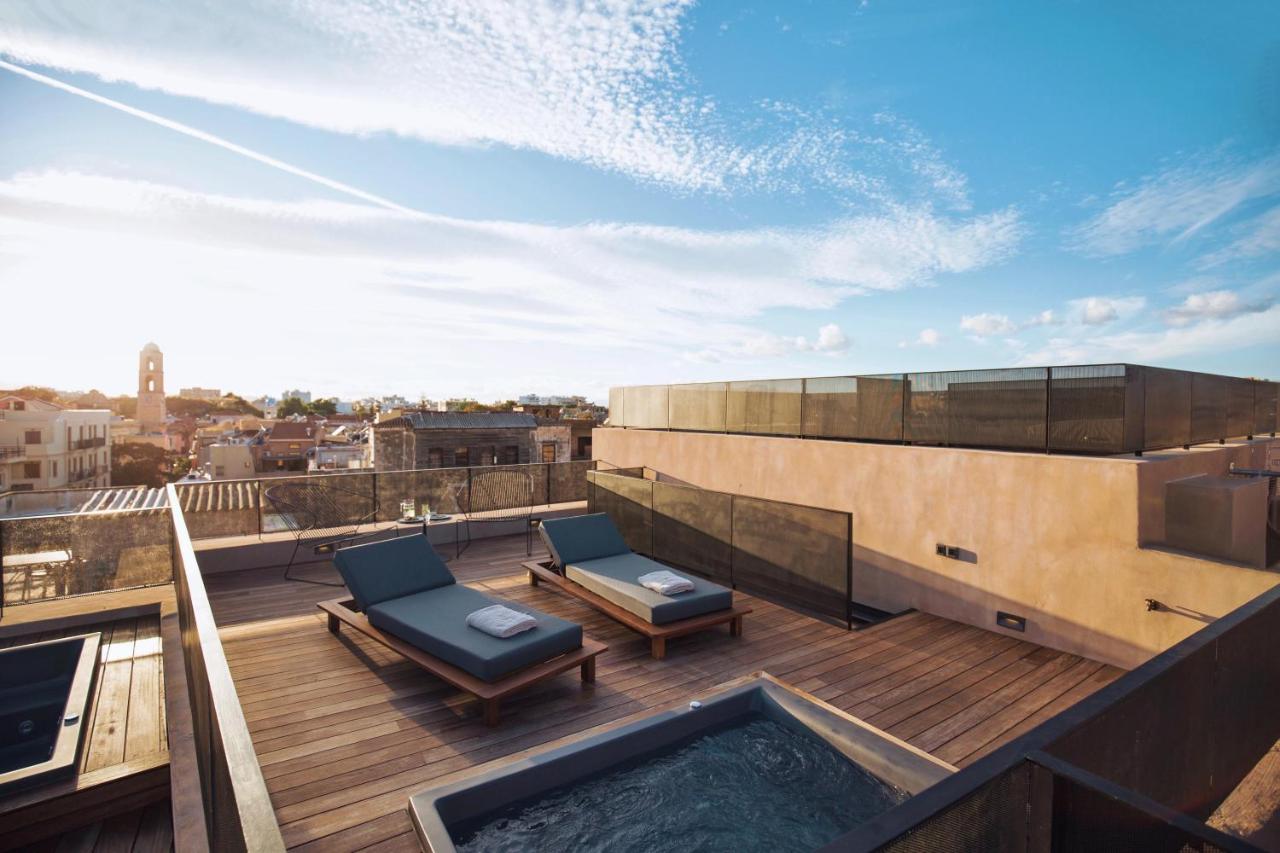 Situated in Kato Daratso, within walking distance of Iguana Beach, Domes Zeen Chania is definitely deserving of 'best hotel in Chania' status. As winner of the AHEAD Design Award, this 5 star Chania hotel is certain to impress. Surrounded by an oasis of tropical vegetation, this luxury hotel in Chania boasts uninterrupted views over the town and the bamboo fields beyond. Inspired by the Greek concept of 'Ef Zeen: the art of living well', this beachfront Chania hotel is the perfect place to reconnect, relax and make happy memories with loved ones. The rooms at this Chania accommodation are super sleek, with boho-chic styling. Think rustic greige-coloured walls, rattan wardrobes, linen bedding and long hanging lights, all in a muted colour scheme. Each room is air conditioned and have free WiFi and a private bathrooms. All rooms at this hotel in Chania also feature furnished terrace spaces with a choice of tropical garden or sea views. If you're all about the aesthetic when it comes to your holiday accommodation, Domes Zeen, might be the best Chania hotel for you!
Boasting a central location, with Koum Kapi Beach just 1km away, Malmo Historic Hotel is by far one of the best hotels in Chania, Greece. Plenty of popular points of interest surround this Chania luxury hotel, including Saint Anargyri Church, the Municipal Art Gallery of Chania and Mitropoleos Square. The hotel itself is housed within a beautiful stone building with pale blue wooden shutters on the windows and ornate metal balconies. Inside, the decor is contemporary boho, with clean white walls, rattan lamp shades and wooden chairs. The rooms at this Chania hotel are warm and welcoming, boasting a neutral palette with pops of muted colour throughout. Think cream walls with beige, green and black accessories and wooden furniture. Each room is fitted with air conditioning and come with all the necessary extras, including a desk, coffee machine, fridge, minibar, flat-screen TV and a private bathroom with shower. Some rooms are also equipped with a balcony, while others feature superb city views. So, another one for travellers who enjoy fine décor, as well as the extras that will make your stay at this hotel in Chania that bit more relaxing.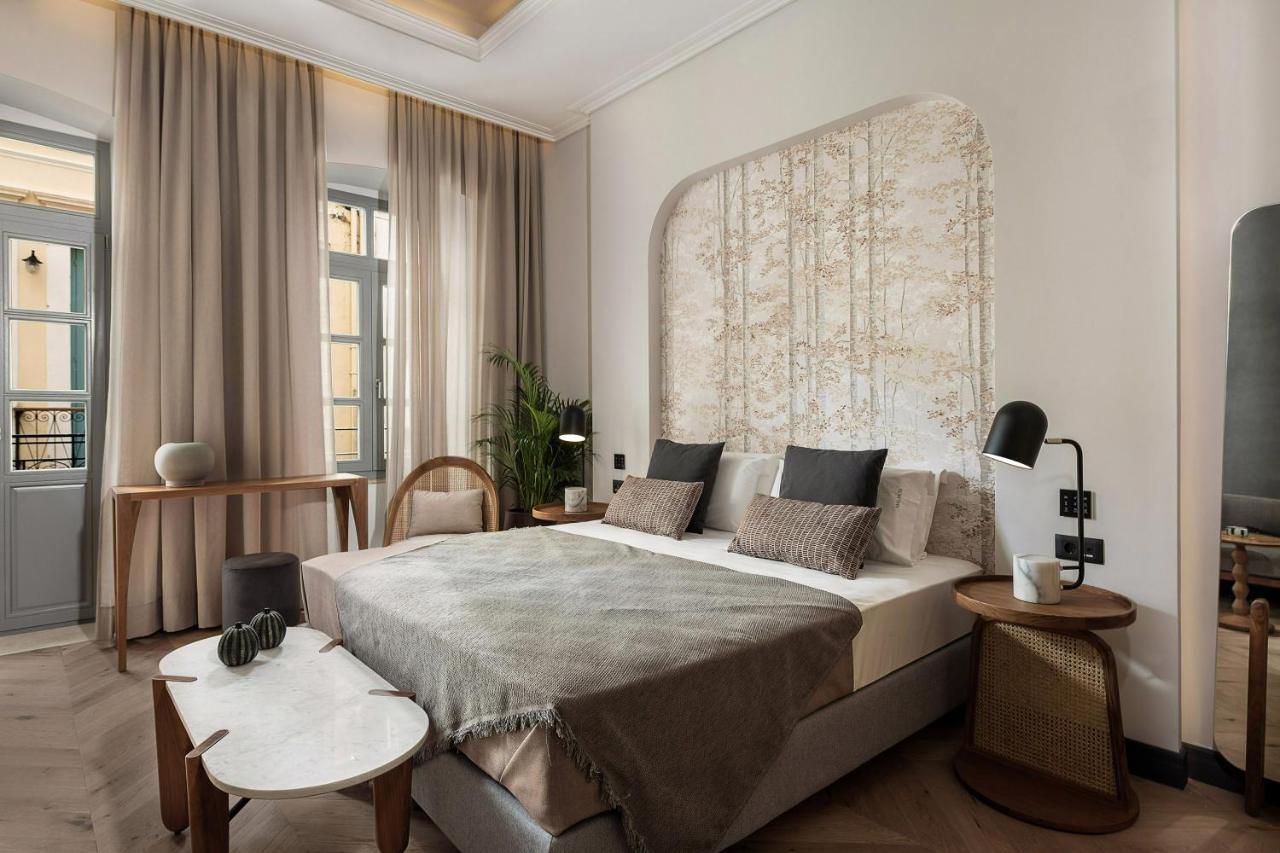 Centrally located and just 450 yards from Nea Chora Beach, this luxury hotel in Chania is also ideally situated for exploring the town and all its magnificent sites. Close to the Folklore Museum, Firkas Fortress and Etz Hayyim Synagogue, this Chania hotel offers everything you need for a comfortable stay. Rooms are neatly decorated, with a grey-white colour scheme and a minimalist design. Each one comes with air conditioning, free WiFi, a desk, coffee machine, fridge, flat-screen TV, private balcony and bathroom with shower. There's also an on-site hot tub, perfect for winding down after a long day strolling the streets of Chania.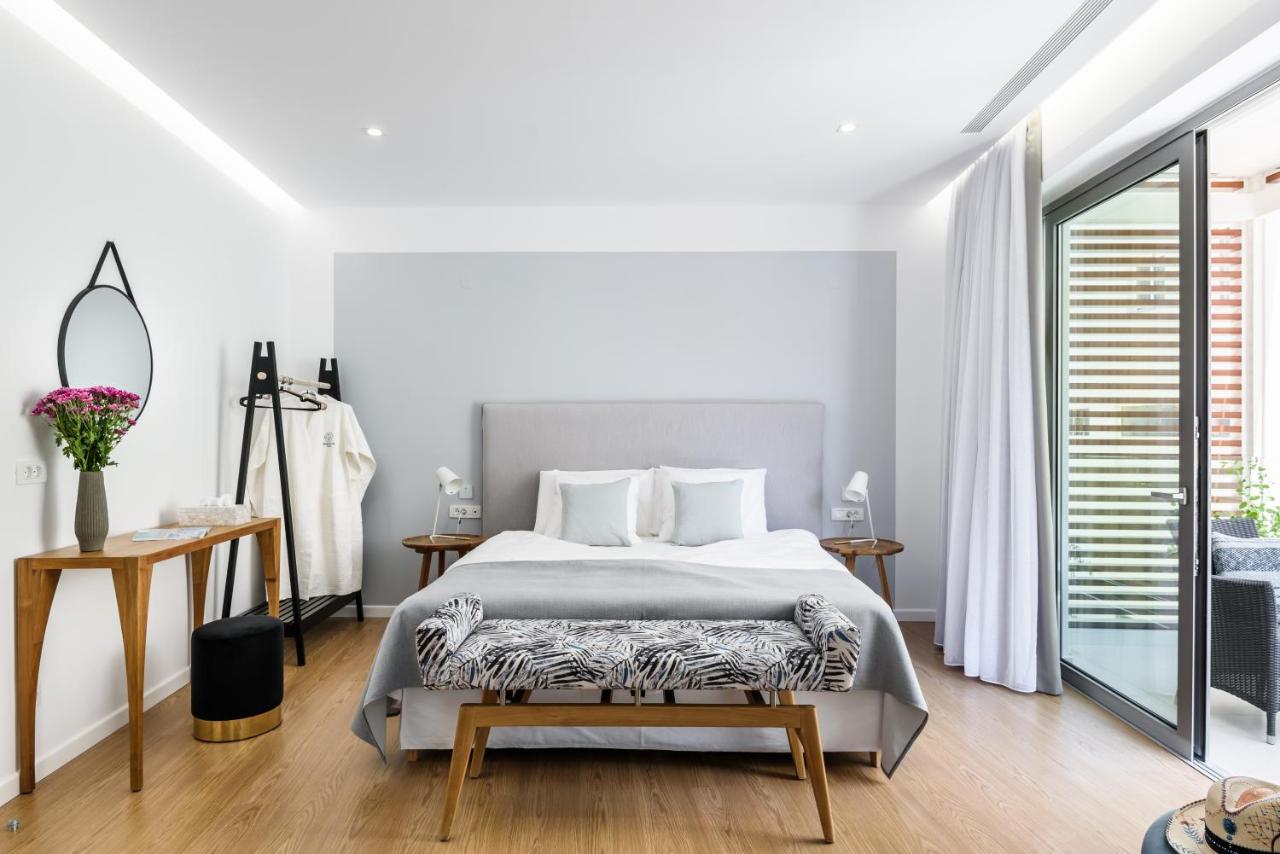 Ambassadors Residence is one of the best boutique hotels in Chania, boasting an excellent location at Chania Venetian Harbour and set within an 1890's house. Each room at this boutique Chania hotel has been individually decorated with original bare stone walls, beamed ceilings and draping curtains. Each room is air conditioned and comes with a seating area, flat-screen TV, and a minibar. Some rooms come with stunning harbour views, while others feature a spa bath and a terrace or balcony. Private bathrooms are spacious and modern, and come complete with shower, bathrobes, slippers and complimentary toiletries. This boutique hotel in Chania also features a small spa which offers wellness therapies and beauty treatments.
Situated in the Topanas district of the town, Hotel Off is where the old meets the new. Housed within a 13th-century Venetian building, this is certainly one of Chania's best hotels. Inside, this Chania accommodation is elegantly decorated with wooden or monochrome flooring, beamed ceilings, and rustic-coloured walls. Furniture is minimalist, while some of the original aspects of the building still remain, including some of the doors. Each room at this Chania hotel is air conditioned and includes a flat-screen TV, minibar stocked with local beverages and homemade sweets, and private bathrooms equipped with slippers, hairdryer and free toiletries. The exterior is where this hotel in Chania really comes into its own, though; pretty terraces and courtyards, with vines twisting around trellis and railings, original stone walls and bohemian-style furniture. This hotel provides the perfect spot to relax with drink in hand while soaking up the Greek sun.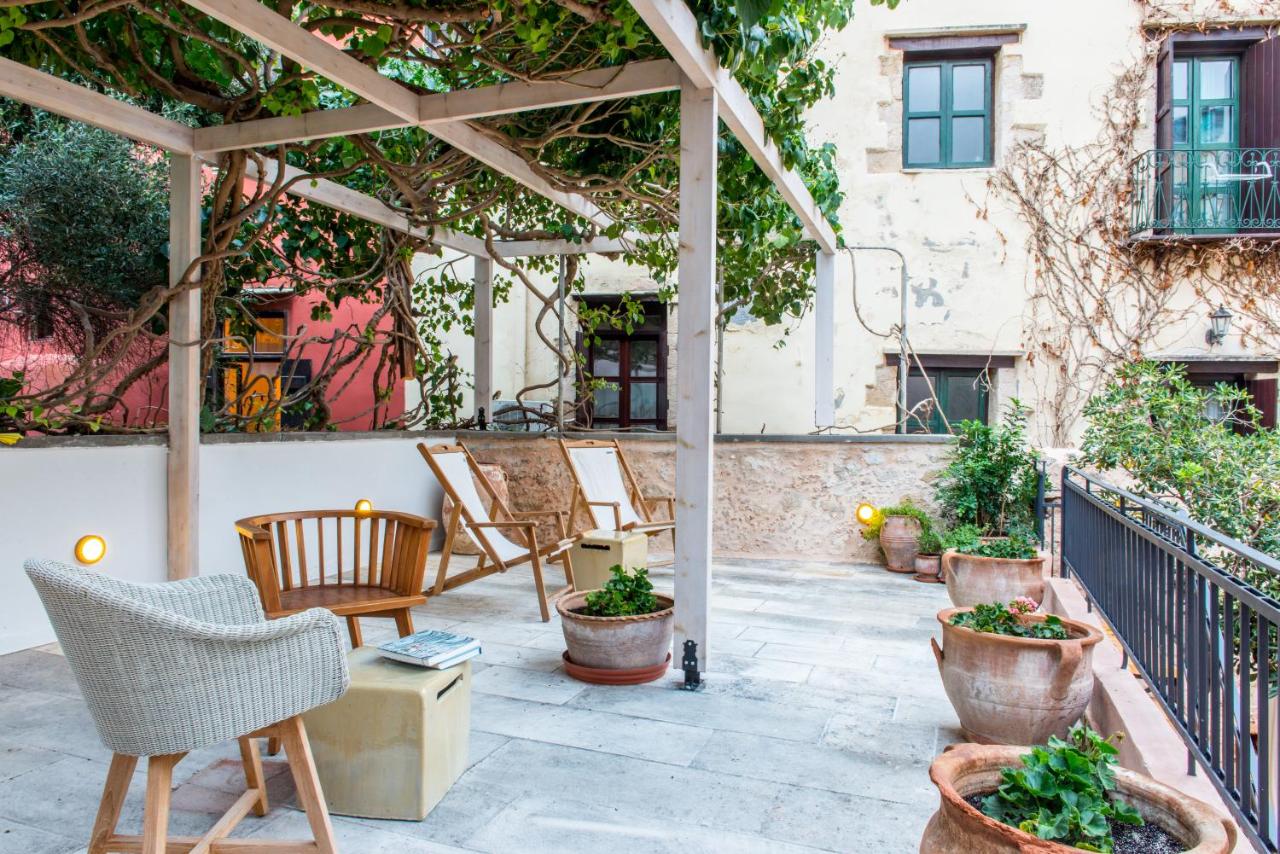 That rounds up our pick of the best hotels in Chania, Crete in 2023. From city centre bolthols to beachfront retreats, we've compiled a list of Chania hotels that will guarantee you a comfortable stay on this beautiful Greek island. Browse our selection of the best Chania hotels and be sure to check out our guide to the best hotels with private pools in Mykonos, too!