Funchal, the charming capital of the vibrant green Portuguese island that is Madeira, has everything to offer when it comes to summer holidays. Whether it's the annual family vacay, a romantic trip just for the two of you, or an activity-packed getaway with your mates, Funchal and the fabulous island it sits on has something to offer every kind of traveller.
Hike up rainforest trails, climb mountain peaks, bathe on beautiful beaches, seek out waterfalls and stay in one of the best hotels in Funchal, Madeira in 2023. Luckily for us, and you, Madeira remains blissfully untouched by mass tourism, for now, so take the opportunity while you can to experience this Portuguese island in its full natural beauty.
But it's not just the natural abundance on this sun-drenched island that draws us in; the hotels in Funchal are also something to admire. Despite not yet having been taken over by tourists, the capital city of Funchal is where you'll find the island's best hotels. From Funchal hotels with sweeping infinity pools to those that represent the architectural heritage of the island.
With so many magnificent hotels in Funchal to choose from, picking the best one for your trip will likely prove to be a challenge. That's why we've decided to give you a helping hand by compiling our favourite hotels in Funchal, Portugal in 2023. So, go ahead and discover the best hotels in Funchal to guarantee the most comfortable vacation!
Make sure to check out our 3 Day Lisbon Itinerary, too, if you're planning to explore more of Portugal.
Best Funchal Hotels 2023
Located just a stone's throw from Funchal Bay, Three House Hotel is one of the best hotels in Funchal, Madeira, with superb interior design and exceptional city views. This 4-star Funchal hotel offers all the amenities you could need, from a fancy outdoor swimming pool and fitness centre to a well-kept garden and terrace. It also boasts convenient 24-hour front desk, ATM, airport transfers, room service and free WiFi throughout the property. At this Madeira hotel in Funchal, you'll also find a superb restaurant that serves up international dishes, including plenty of vegetarian, vegan and dairy-free options.
The rooms at this Funchal hotel are kitted out with everything you need for a comfortable stay, including air conditioning, flat screen TV, safety deposit box, and a private bathroom with complimentary bathrobes and a hairdryer. Each room at this hotel in Funchal also comes with tea and coffee making facilities, while some also feature a kitchen complete with a dishwasher, oven and minibar. If you're really splashing out, opt for an apartment which comes with a number of nice additional touches, such as a rainfall shower, espresso machine and memory foam beds. Overall, the Three House Hotel is a great choice for a stay in Funchal; why not indulge in a facial, grab a bite to eat at the restaurant or head out for a hike in the surrounding nature?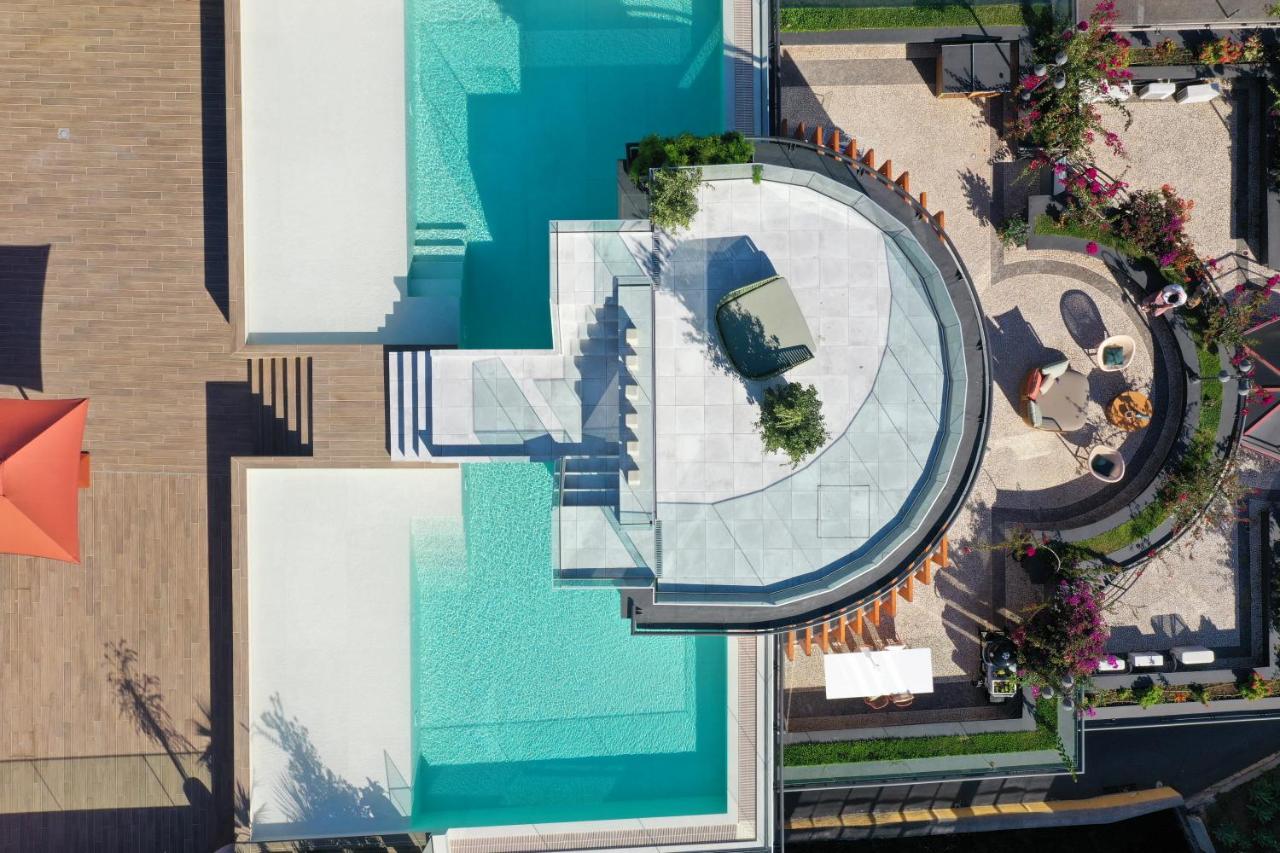 Set back from the road within lush, botanical gardens, Quinta da Casa Branca is one of the best hotels in Funchal, Portugal, and comprises of a magnificent 20th-century manor house. Despite being peacefully situated away from the hustle and bustle of Funchal, just a 20-minute stroll will bring you to the city centre, perfect for trying out the many shops, restaurants and bars the area has to offer. Facilities at this luxury hotel in Funchal are second to none and include a well-stocked library, a heated swimming pool and a health club and spa. The hotel spa comes complete with a whirlpool tub, steam bath, sauna and Phytocéane treatments.
This Funchal hotel is made up of five luxury suites and a contemporary, design-led, glass and slate cube with 43 rooms which look out onto the original stone manor house. In the manor house, the suites reflect the traditional heritage of the Portuguese island, filled with antiques, polished wood floors, Venetian chandeliers, and memorabilia from the Leacock family (initiators of the Madeira wine trade). These rooms also feature separate sitting rooms with Nespresso machines and bathrooms with a choice of bathtub or walk-in shower. By stark contrast, the modern wing, built by architect João Favila Menezes, mixes light and dark woods against a backdrop of clean white walls and light flooding in through the floor-to-ceiling windows. Rooms in this wing come with terraces or balconies and marble bathrooms, some of which include a whirlpool bathtub.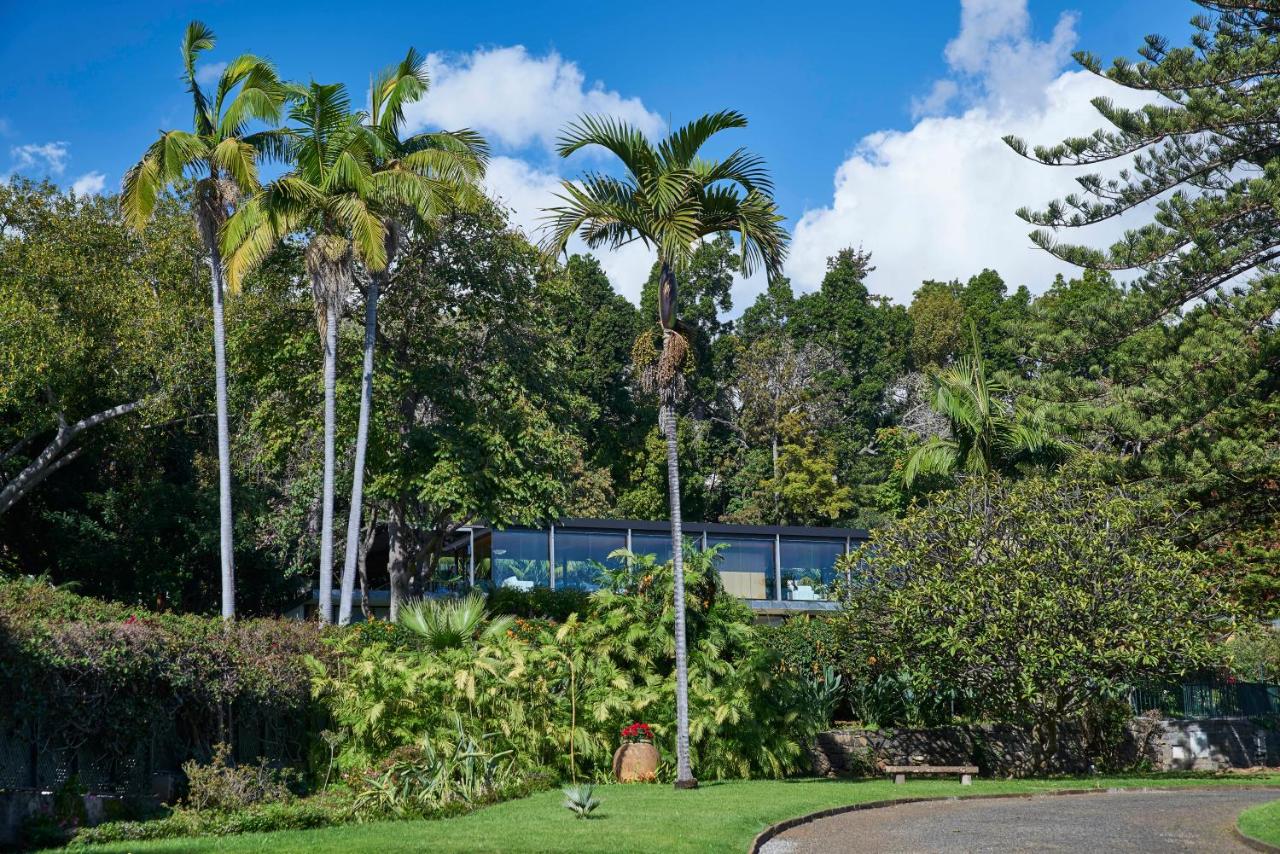 Situated in the centre of the capital city, overlooking the port and bay, The Vine Hotel is one of the best hotels in Funchal for exploring the city right on your doorstep. Local designer, Nini Andrade Silva, has tastefully encapsulated the island's wine-making industry in the hotel's interiors, creating a homely feel in an ultra modern building. Volcanic rock is combined with deep purple textiles and furniture that resembles twisted vines. And, as you make your way through this Funchal hotel, you might notice that each of the four floors represents a different season in the life cycle of the grape. These relatively dark interiors contrast with the bright rooftop which features a large inset swimming pool and trendy bar – of which the twice daily happy hour is not to be missed.
The rooms at this 5-star hotel in Funchal are sleek and sexy yet somehow warm and welcoming at the same time with a muted colour scheme that follows the four-seasons-of-the-year theme. Think pale greens for spring and oranges for autumn. Freestanding baths, often at the foot of huge beds, provide the perfect spot to take in the views of Funchal town through the giant floor-to-ceiling windows. Each room also features an LCD TV with in-room movies, free WiFi and a sturdy desk. The spa offers vinotherapy treatments, including a red wine bath, while the rooftop restaurant serves a mixture of French and Madeiran cuisine. Having recently been awarded Europe's Leading Design Hotel, The Vine is certainly one of the best hotels in Funchal, Madeira.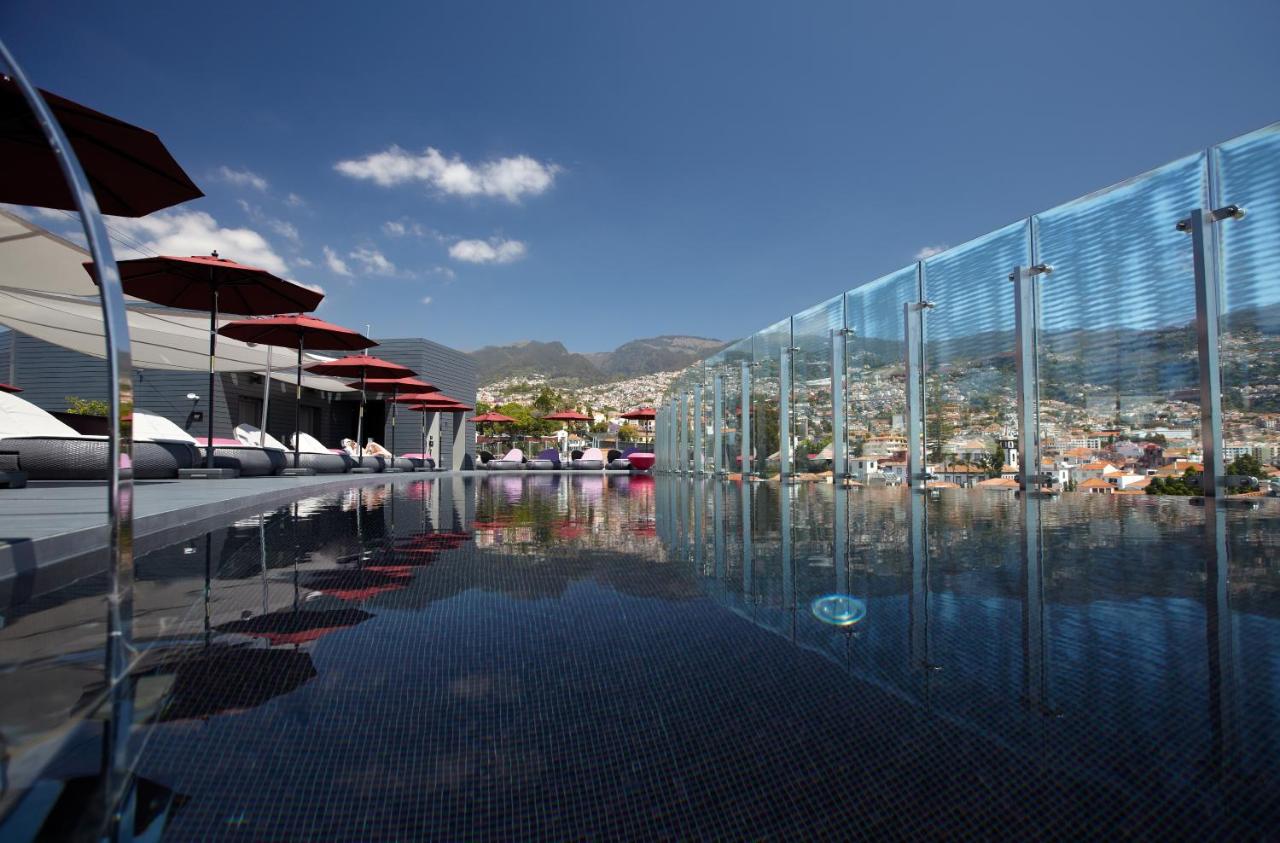 Located in the hills surrounding the city, Quinta Jardins do Lago is one of the best hotels in Funchal, less than a mile from the centre. This acclaimed 18th-century Funchal hotel is surrounded by more than 600 varieties of plants and ancient trees, while the interiors are filled with antique treasures that reflect the heritage of the island. Parquet flooring, traditional period furniture, wicker chairs, and oil paintings all add to the sense of grandeur at this hotel in Funchal, along with the library, billiard room, and breakfast room. Slightly more modern, you'll also find a well equipped gym, sauna, Turkish bath, heated swimming pool and adjoining whirlpool tub.
This Funchal hotel comprises of 32 rooms and nine suites, all with balconies and sea views. Each room features large beds with wooden headboards or four posters, comfy arm chairs, decent desks and rug-topped floors. Bathrooms don't disappoint either, covered in colourful marble with bathtubs and showers above. For when you get peckish, there is a choice of two restaurants: the gourmet Beresford restaurant and the Colombo Bistro by the pool. The Beresford offers an a la carte menu which features Madeiran ingredients and specialities. Meanwhile, the poolside Bistro serves more casual dishes like pizza, pasta and seafood. So, if you're looking to experience the true Madeiran culture and history, Quinta Jardins do Lago might be the best hotel in Funchal for you.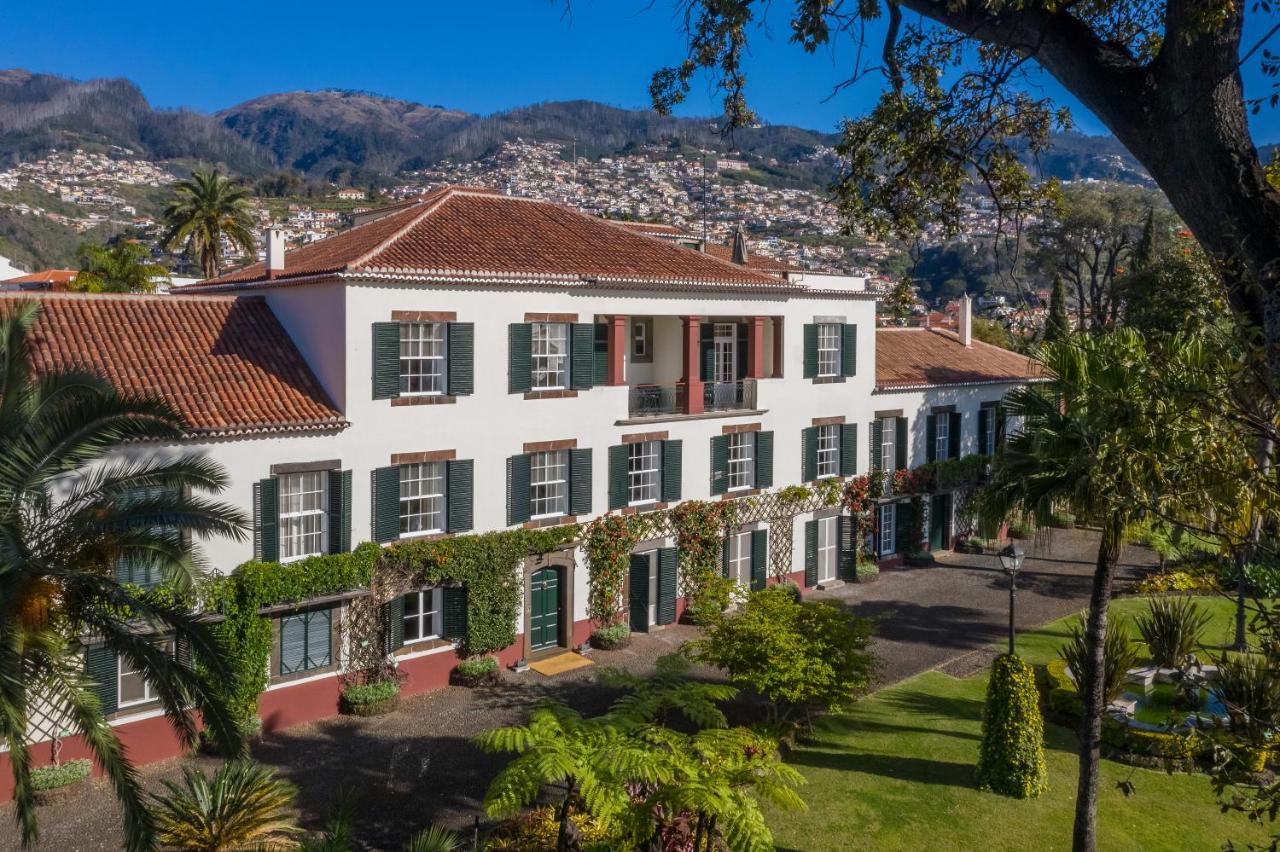 Situated in the heart of the island's capital, on clifftops overlooking the Atlantic Ocean, Reid's Palace has been welcoming guests for over a century. Recently, though, a renovation has transformed this Funchal hotel into a lighter, brighter space whilst still maintaining its traditional interiors and period furnishings. You'll find various artifacts and memorabilia vouching for the tales of the British families who once lived here, and the history of Madeira wine. Overall, though, the feel of the hotel is vibrant, with views out to the glittering sea and black-and-white checkerboard balconies jutting out from the original pink walls.
The rooms at this hotel in Funchal vary significantly in size and shape given the old structure of the building, but the premium rooms boast balconies and impressive sea views. The decor of the rooms is as charmingly old fashioned as the public areas, with a colour scheme of powder blues and creams. Each features large beds and fresh flowers, while bathrooms are adorned in hand-painted tiles, with bathtubs and showers. Aside from the rooms, the amenities at this Funchal hotel are also exceptional, including two tennis courts, a seawater and freshwater swimming pool, a spa with treatments and a long list of activities that guests can get involved in if they so wish. Why not try the 'sunrise above the clouds' experience, where a jeep takes you up to one of the island's highest peaks to watch the sunrise over the cloud blanket that fills the valley beneath – finished with a champagne breakfast, of course.
One of the best boutique hotels in Funchal, Se Boutique is a small but colourful gem that provides 360-degree views of the neighbouring 16th-century cathedral from which the hotel draws its design concept. For example, the blue and white tiles from the interior of the cathedral have been recreated in as a patchwork in the bedrooms, whilst the hotel's logo reflects the Gothic towers.
In contrast to the public areas of the hotel, which boast bold yellows, blues and reds, the rooms are muted, with bleached wood floors, grey-blue fabrics, white walls and antique furniture. Bathrooms are modern with clean lines, double basins and grey and white tiled splashbacks. Another big draw of this hotel in Funchal are the restaurants, of which there are three and all source their produce from the hotel owner's nearby farm. There's also a trendy rooftop bar with superb views across the terracotta-tiled city skyline. You should also pay a visit to the 'Gallery 53', the hotel's gallery which sells jewellery, clothes, bags, shoes and artwork from local artists.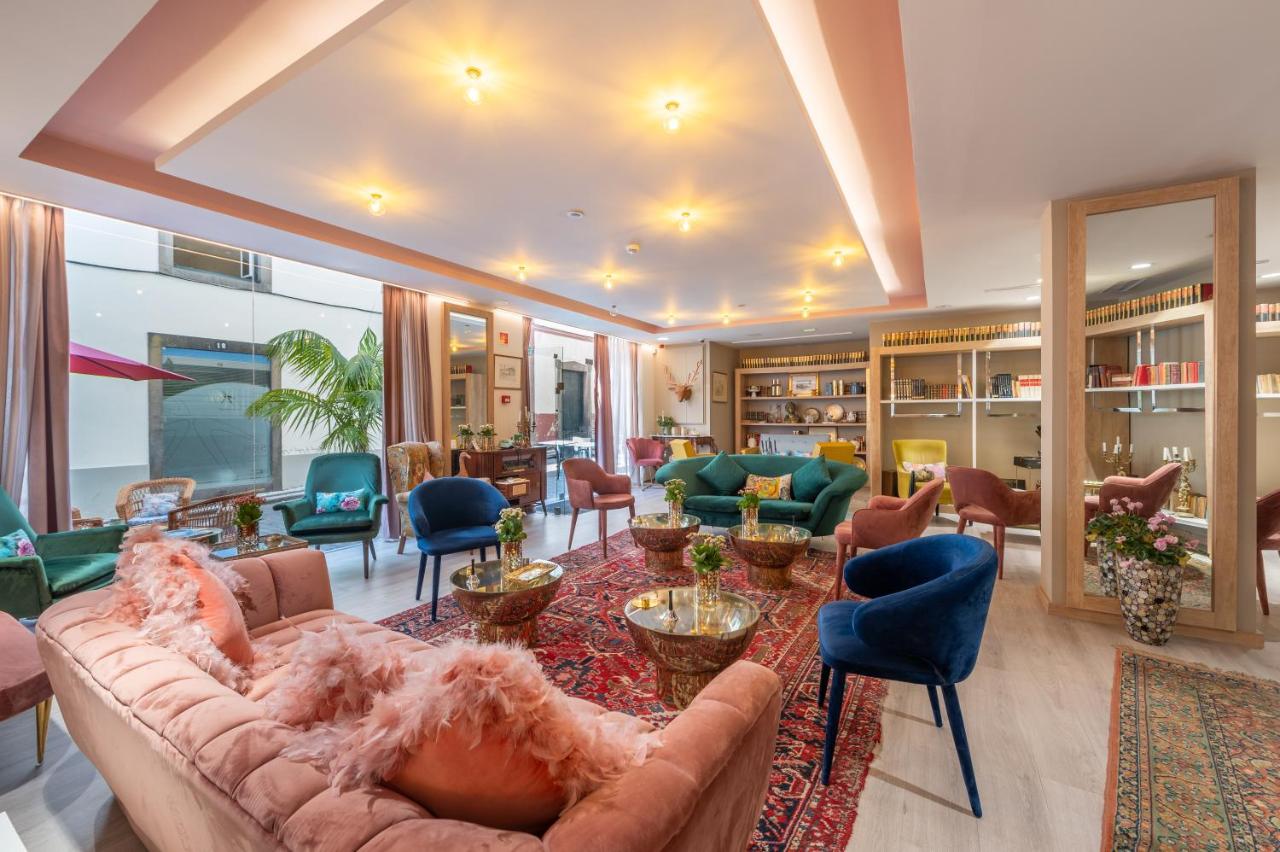 Cliff Bay is a 5-star hotel in Funchal, Portugal, with direct access to the sea and stunning views across the city's bay. Surrounded by pretty flower-filled gardens, this Funchal hotel is perfectly polished with sparkling clean marble floors and spacious public areas. On arrival, you'll be greeted by charming and professional staff and a glass of champagne to get the holiday started. Facilities at the Cliff Bay Hotel, Funchal, are next to none and include: a games room with snooker table, a tennis court, a solarium, three swimming pools, an outdoor whirlpool tub, and an ESPA spa, complete with sauna, gym, hairdresser and Turkish bath.
The 200 rooms at this Funchal hotel range from Standard to Superior. Standard rooms come with either inland vistas, partial sea views or full sea views. Meanwhile, Superior rooms and suites all have large balconies overlooking the harbour and the ocean. Colour schemes in all of the rooms are muted, combining creams with pale yellows and burnt oranges, although newly refurbished Superior rooms are more modern than Standards. All rooms are plenty roomy with sofas and working desks and come complete with LCD TVs, DVD and CD player. Finally, this hotel in Funchal, Madeira, is home to the only two Michelin-star restaurant on the island.
There you have our list of the best hotels in Funchal, Madeira, in 2023! From grand heritage manor houses and design-led contemporary accommodation to polished hotels packed full of facilities, you're sure to find a Funchal hotel to suit your needs. Be sure to check out our guide to the best places to visit in Europe in February.