Bali conjures up images of yoga, surfing, wellness, pampering, beaches and more. So, what better place to spend your honeymoon? This island in Indonesia abounds with true beauty and the selection of romantic hotels in Bali really is unmatched. From unique designs and awe-inspiring panoramas to special amenities and top-notch service, we've compiled our pick of the best honeymoon resorts in Bali in 2022.
It's no surprise that Bali often tops the charts when it comes to dream honeymoon destinations! White sandy beaches, terraced rice fields, lush green rainforests and a fascinating culture – there's no denying that Bali has a real sense of romance about it. So, where better to celebrate a marriage than at a Bali honeymoon resort? To help you choose which is the most romantic hotel in Bali for you and your new husband or wife, we've compiled a list of our favourite luxury honeymoon resorts in Bali, Indonesia.
Be sure to check out our guide to the best unusual honeymoon destinations, too!
Most romantic hotels in Bali for a honeymoon
Looking over the dark volcanic sands of Echo Beach, this Bali honeymoon hotel is perfect for surf-mad newly weds, located in the island's premier surfing neighbourhood, Canggu. Enjoy Malibu vibes, representative of the town's boho-chic reputation at COMO Uma, with a white-on-white lobby, a lively beach club and balcony-fronted guest rooms. There's a variety of accommodation to choose from for a honeymoon in Bali you won't forget, from modest suites and pool-side residences to fancy penthouses, all exuding a breezy, seaside feel. Each room at this honeymoon resort in Bali comes complete with a yoga mat, rainforest shower, Nespresso machine, and brown canvas-headboard beds with Egyptian cotton sheets. There are also 55 apartment-style residences, most of which come with direct access to the communal pool, or even with their own private pool! Meanwhile, the three-bedroom penthouses all come with personal pools and are certainly worthy of a spot on your Insta feed.
When it comes to the leisure facilities at this honeymoon Bali resort, there are two pools, a trendy, laid-back beach club, a gym, spa, yoga studio and surf school. At the Beach Club, you can enjoy a seafood feast along with a refreshing cocktail in funky surroundings. Select from a locally-inspired menu, including delights like potato gnocchi with button mushrooms, Balinese-spiced Ubud highland's pork served on a sizzling skillet, and a buffet-style breakfast of healthy regulars like granola, fresh juices and eggs. Next, head to the spa for a try of the blissful treatments or to the surf school for something a little more active. So, whether you're looking to kick back and relax on your Bali honeymoon or try out some new activities, there's no better place than COMO Una, one of the best honeymoon resorts in Bali!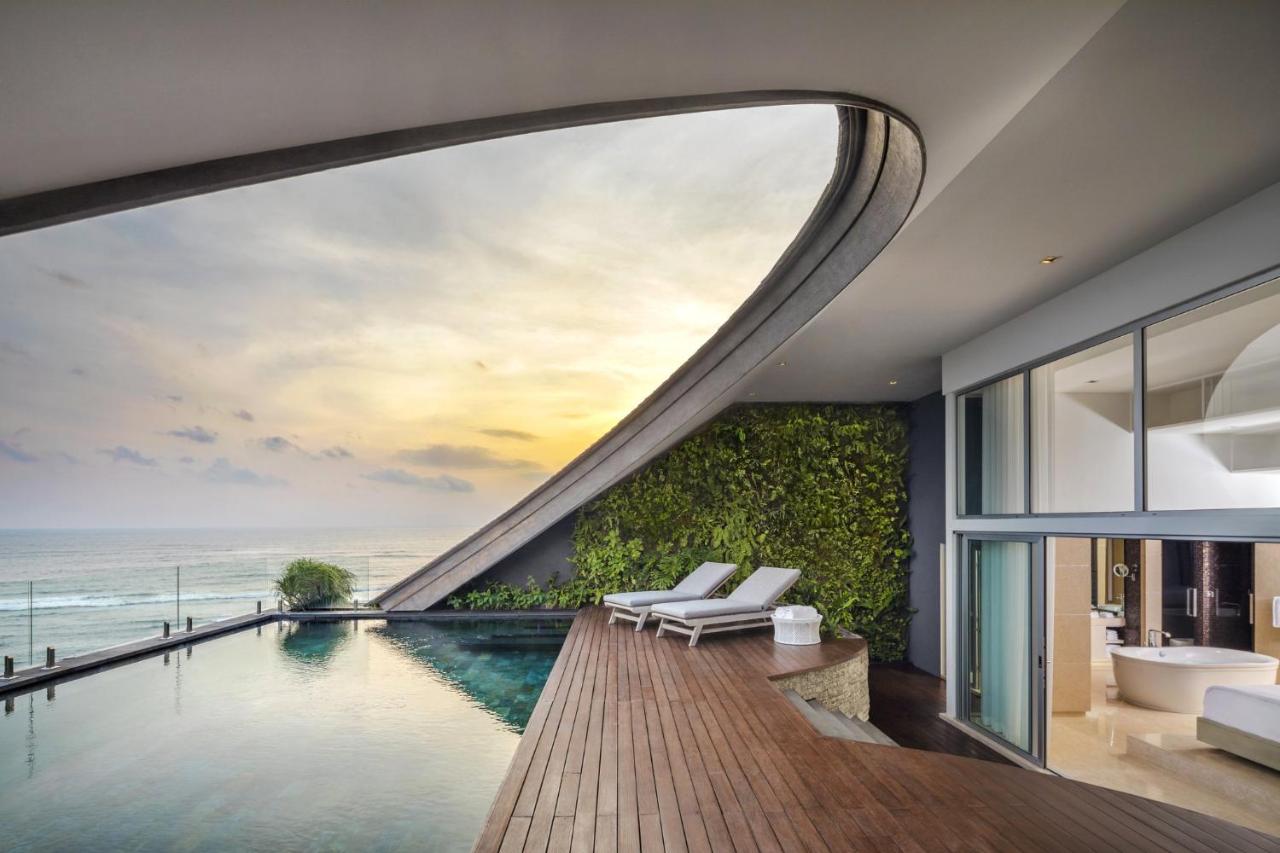 If you're looking for the dreamiest of honeymoon resorts in Bali for you and your new wife or hubby to celebrate, look no further than the Four Seasons Sayan. This Bali honeymoon resort is a tropical haven offering everything from swish facilities and 5-star service to serene décor and a premium location. Peeking out of the rice fields above the Ayung River, this luxury Bali resort, surrounded by beautiful gardens, Ubud is just a 10 minutes drive down the road and, very conveniently, the hotel operates a free shuttle service until 5pm each day. On arrival, you'll head across a narrow footbridge that'll lead you out onto a huge, floating elliptical lotus pond above the lush green jungle and river. Unveiled 21 years ago, this design is meant to resemble a rice bowl, an offering to the Gods.
The rest of this Bali honeymoon resort unfolds as you walk down the stairs to the reception area, where you can enjoy 180-degree panoramic views of the stunning surroundings. In total, this romantic hotel in Bali has 18 suites in the main building, along with 39 villas. Some villas come with a meditation terrace on the roof, its own serene lily pond and a plunge pool. The interior blends both traditional and contemporary Balinese styles, with teak furniture, hand-loomed fabric and deep soaking tubs where you can relax while taking in the rice-paddy and jungle views. In your spare time, why not pay a visit to the lavish Sacred River Spa, where treatments include everything from soothing by the vibrations of Tibetan singing bowls to being bashed with Himalayan salt poultices. Newlyweds can also enjoy a range of activities, including aerial yoga, Balinese dance performances and Indonesian cooking classes. So, go all out when it comes to your Bali honeymoon with this riverside retreat. Complete with all the facilities you could need, luxury décor and easy access to Ubud, what more could you want from a luxury honeymoon Bali resort?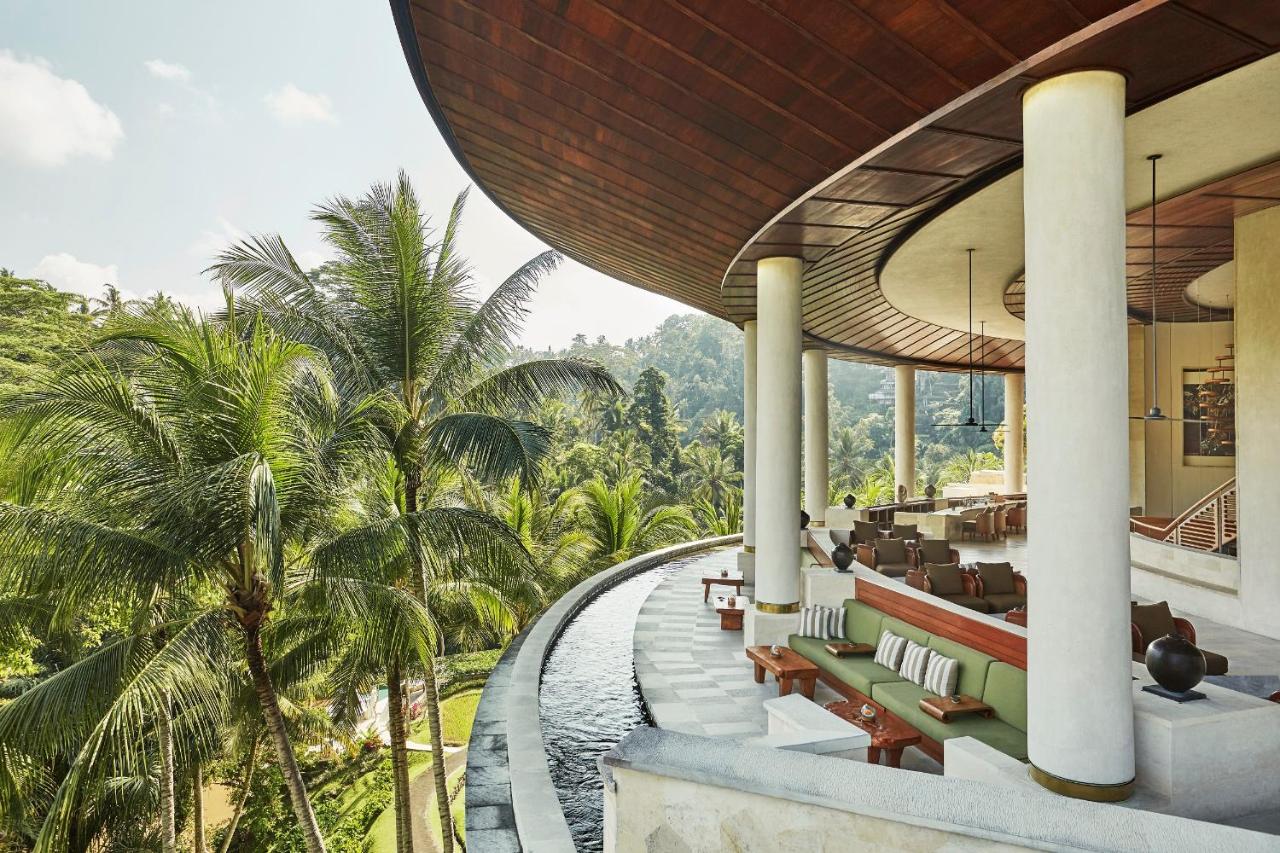 Perched on a limestone cliff-top in the renowned Uluwatu area, this is one of the best honeymoon resorts in Bali, set within a jaw-dropping setting, with stunning architecture and a serene atmosphere. Designed by Singapore-based architectural firm WOHA, known for creating cutting-edge designs that harmonise with the local ecosystem, this is one of the most photographed Bali honeymoon resorts you can stay in. Think bright open spaces, infinity pools, clean lines and stylish minimalism. The 65 swish one-to-three-bedroom villas are spacious and bright, with floor-to-ceiling windows overlooking the lush greenery outside, private pools and contemporary bathrooms with soaking tubs, outdoor showers and orchids.
The main draw of this honeymoon Bali resort, though, is the impressive cliff-side infinity pool, which regularly makes it onto top ten lists of the world's best. In addition to the pool, this luxury Bali resort also features a swanky spa with a number of treatment rooms accessed via a lotus pond pathway, as well as a 24/7 gym, a yoga pavilion, a private stretched of beach, and an organic garden. Next, unwind in the Sunset Cabana, an over-hanging cliff-side platform where colourful drinks can be enjoyed and sunset selfies can be snapped. Meanwhile, the Warung Indonesian restaurant offers a menu of dishes from across the archipelago. Alternatively, opt for something a little more casual down at the poolside, open-air Cire, which offers all-day Western and Mediterranean dining. Overall, this romantic hotel in Bali is an architectural masterpiece with leisure facilities and infinity pools to boot. So, pay a visit to the Alila Villas in Uluwatu for a guaranteed 5-star Bali honeymoon.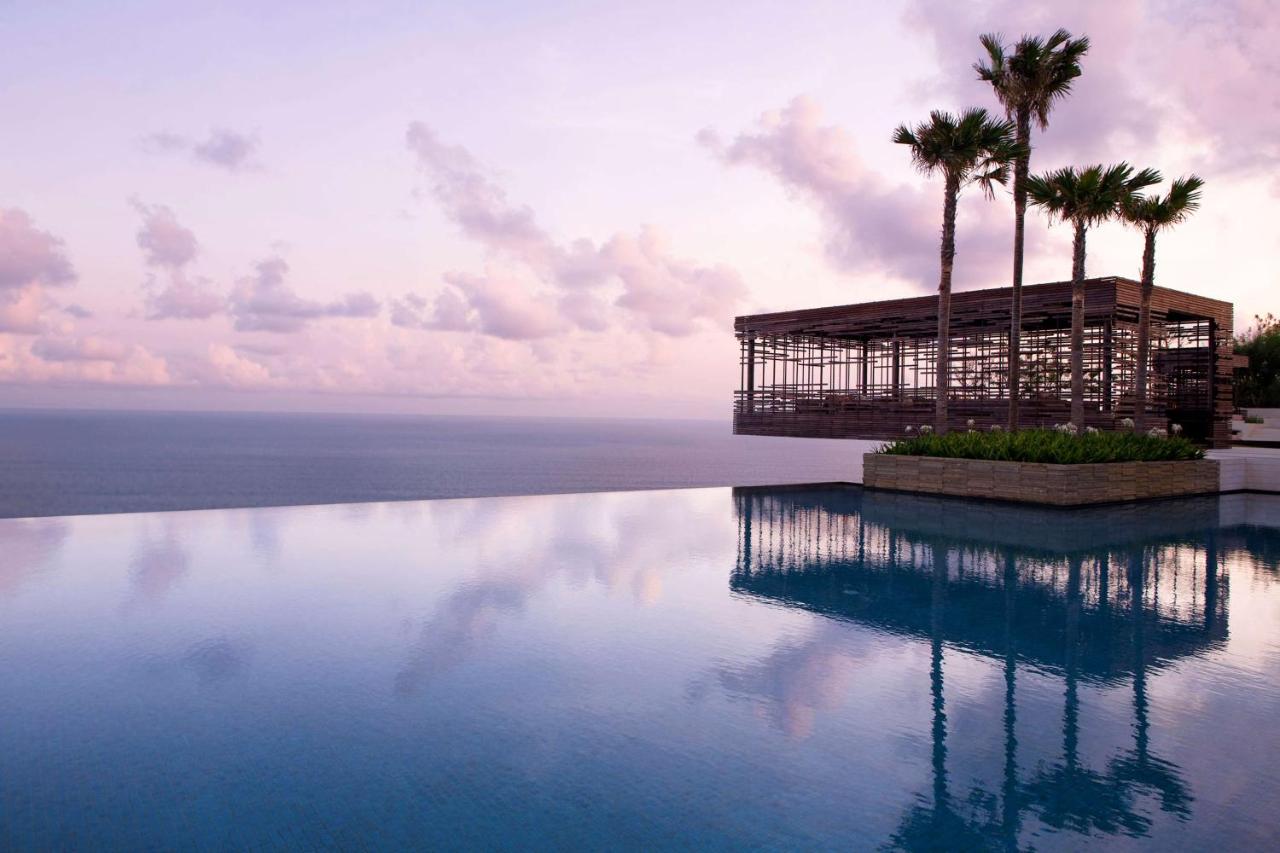 A sumptuously secluded hillside resort, this romantic hotel in Bali is the ideal spot to celebrate a new marriage. The name 'Mandapa' means 'temple' in Sanskrit, which denotes the true tranquility of this place. This 5 star resort in Bali blends peaceful surroundings with prestigious pleasure. On entering this honeymoon Bali resort, you'll be welcomed into the open-plan, open-air lobby which overlooks the Ayung Valley. From here, someone will escort you to one of 35 posh suites or 25 private villas with their own pools. No matter which accommodation option you choose, you'll have astonishing views of rice paddies and lush greenery, as well as the privilege of 24-hour butler service. Each room is magnificently decorated too, with rich, dark woods and lavish textiles. Bathrooms also have freestanding tubs-for-two with leather headrests at each end.
As well as a butler, guests at this Bali honeymoon resort are appointed their own patih (assistant to a Balinese king), who is there to make and drive them to any reservations and give them tips for visiting the area. This honeymoon reserve in Bali also features a comprehensive wellness area, located on the banks of the river, and comes complete with a yoga space and gym. For more relaxation, head to the spa for luxurious treatments that combine traditional healing therapies with more modern methods, as well as separate steam rooms and saunas for men and women. This Bali honeymoon retreat offers four dining areas, as well as the opportunity to have a romantic meal for two amongst the rice paddies or in other private corners of the reserve. The Pool Bar and Library are slightly more casual, great for cocktails and light dishes. Meanwhile, Kubu and Sawa Terrace are the hotel's main restaurants that feel more high-end. Here you can sit in bamboo pods and feast on delicious Mediterranean-European cuisine. So, if you're looking to escape the chaos of everyday life, there's no place better than this luxury resort in Bali, perfect for honeymoons.
Floating breakfasts, hand-crafted cocktails, fresh coconuts, flower-filled bathtubs, poolside beanbags, beach parties, paper lanterns and so much more. this luxury Bali resort has everything you need for a once-in-a-lifetime honeymoon. Located in the heart of one of Bali's most popular tourist areas, Seminyak, this honeymoon Bali resort is an adult's playground of tropical fun. The décor of the place screams island holiday with a contemporary design of bold colour and playful touches. Altogether, there are four terraced swimming pools, designed to reflect the island's rice paddies. This area is well-attended by staff, who are always on call for drinks and ice cream. This honeymoon resort in Bali comprises of a whopping 141 hotel suites, ranging from 'Garden View Retreat' suites to 'Sea View Retreat' suites to the ultra-luxurious 'Villa Retreats' which each come with their own private swimming pools. In contrast to the vibrant communal spaces, the suites are more neutral, offering spaces in which to lay back and relax. Think inviting L-shaped sofas, large soaking bathtubs big enough for two, king sized beds topped with 350-count Egyptian cotton sheets, and terrace chairs to soak in the views.
After a long day of sipping cocktails by the pool, why not head to one of the seven dining areas hosted at this luxury honeymoon Bali resort? indulge in seaside dining at a fancy restaurant or set the scene with music from international DJs at the bustling Woo Bar which serves excellent cocktails, tapas, wines and cheeses. Alternatively, head to the 24/7 spa to make the most of the complimentary access to the Hot Stone Bath and Cold Plunge Pool, and the hotel's fitness centre. So, if you're looking for a Bali honeymoon resort where you can have some fun while relaxing, W Bali is sure to impress.
Situated on the island's east coast, this honeymoon resort in Bali is the definition of tranquility, with panoramic views out to the iridescent blue Lombok Strait, private black sand beaches below your feet and pools cascading from Balinese beach houses on stilts. This is one of the best romantic hotels in Bali for honeymooners who like staying active thanks to the sacred Mount Agung volcano which is located just behind the resort. This along with the abundance of beautiful temples, offer plenty of trekking opportunities that take you off the beaten track. The hotel itself, though, is just as impressive thanks to Ed Tuttle's architecture. At this honeymoon Bali resort, you'll find a three-tier infinity pool inspired by the nearby water palace at Ujung, walkways zig-zagging up the hillside and 31 luxurious suites looking out onto the uninterrupted views across to Nusa Penida.
Central to this Bali honeymoon resort is the main building that houses the restaurant, library, bar and the impressive infinity pools. Walk a little further on and you will come to the beach club, where there's also a 41-metre lap pool, a more casual dining option and gazebos hidden behind the trees of a secluded beach. One of the villas has been transformed into an intimate spa where on-site healers can treat stress, weariness or tension or treat you to a couple's massage. Want to head out of the hotel? Escape for sunset picnics in the hills, board a traditional phinisi sailing vassel or hire some mountain bikes. Whatever activity you have in mind for your honeymoon in Bali, Amankila is sure to have it. The main restaurant serves meals from breakfast through to dinner, offering mostly Indonesian and Continental fare, sourcing it locally where possible.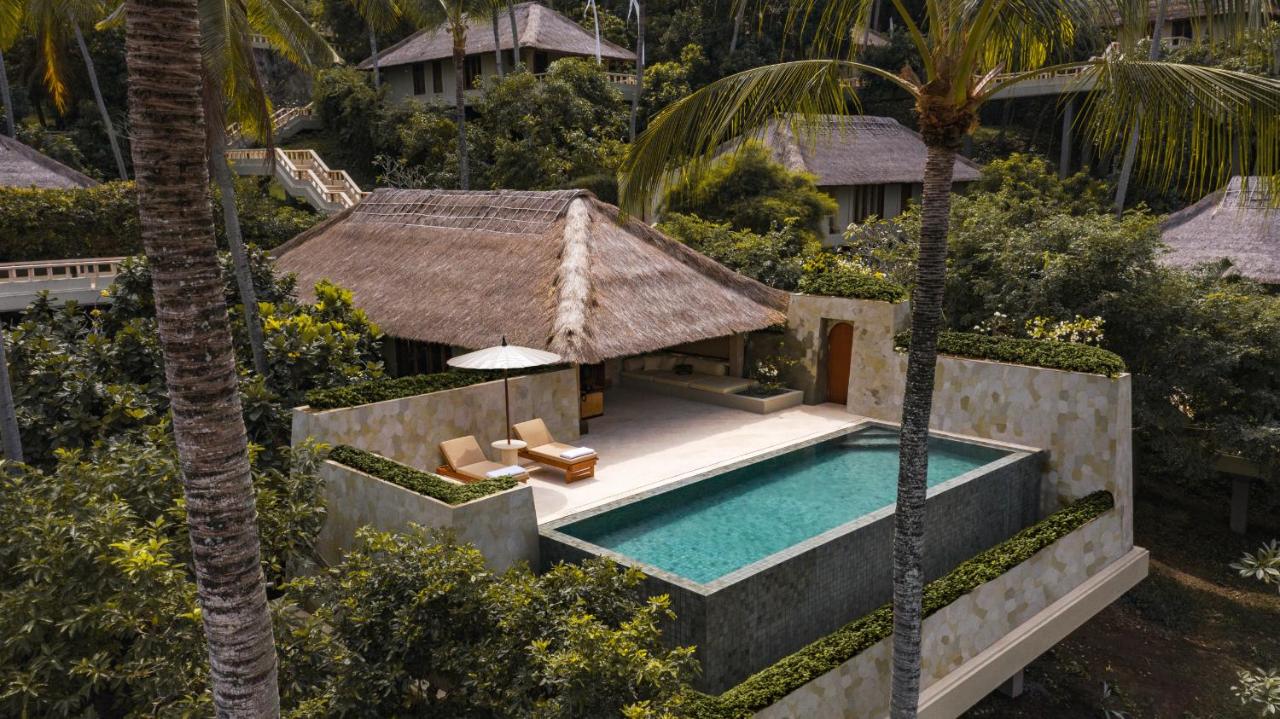 There you have it: our favourite honeymoon resorts in Bali, ideal for celebrating your marriage in the best way possible. Scroll through our selection of Bali honeymoon resorts and check out our guide to the best hotels in Tulum.