Want to know where to stay in Tulum? Discover the best hotels in Tulum, Mexico, including luxury boutique hotels, eco resorts, budget stays and Tulum beach hotels. Whatever you want from your next jet-set, you'll find it on your top picks of Tulum hotels in 2022.
Tulum's hotel scene is unlike anywhere else on the planet. Whether you're looking for a secluded suite with the waves lapping at your doorstep or a flashy resort with a luxury infinity pool, Tulum offers an ideal stay for every type of traveller. This once sequestered destination in Mexico's Quintana Roo state has now been pushed into the spotlight – especially for those who are looking for a luxury retreat without too much expense. Over the past five years or so, the region has undergone a lot of exciting development with out-of-this-world hotels popping up across the town.
Tulum has an array of incredible hotel options: some hidden from the crowds, others set within all the action. No matter which type of Tulum hotel you're searching for, expect to feel immediately tranquil and mesmerised by the clement conditions, unbelievale scenery and the tropical foliage of this hotspot.
Here's our list of the very best hotels in Tulum, Mexico.
The Best Hotels in Tulum
The Best Tulum Hotel for: Luxury beach vibes
See more images at booking.com
Set among the palm trees on Tulum beach, this stylishly converted beach house offers a romantic little patch of paradise for anyone who's lucky enough to stay. Offering comfy rooms adorned with wicker animals, a laidback boho vibe, exceptionally friendly staff and hanging white hammocks, this hotel in Tulum gives off laidback vibes. The thatched roofs, wooden beams, concrete walls and open-air lounge, gives this Tulum resort a distinct feel that's very boho meets glam.
With just nine rooms, this small Tulum hotel is intimate and informal, with meals served on decks or on the beach. Guests mostly walk around barefoot while delicious Mexican seafood and inventive cocktail creations aid relaxation (not that you'd need them). Days at La Valise Hotel in Tulum start with fabulous coffee and a wide selection of fresh, healthy dishes – think avocado toast and eggs Benedict as well as authentic Mexican dishes, such as Huevos motuleños and chilaquiles. What's not to love about this Tulum beach hotel?
The best Tulum hotel for: location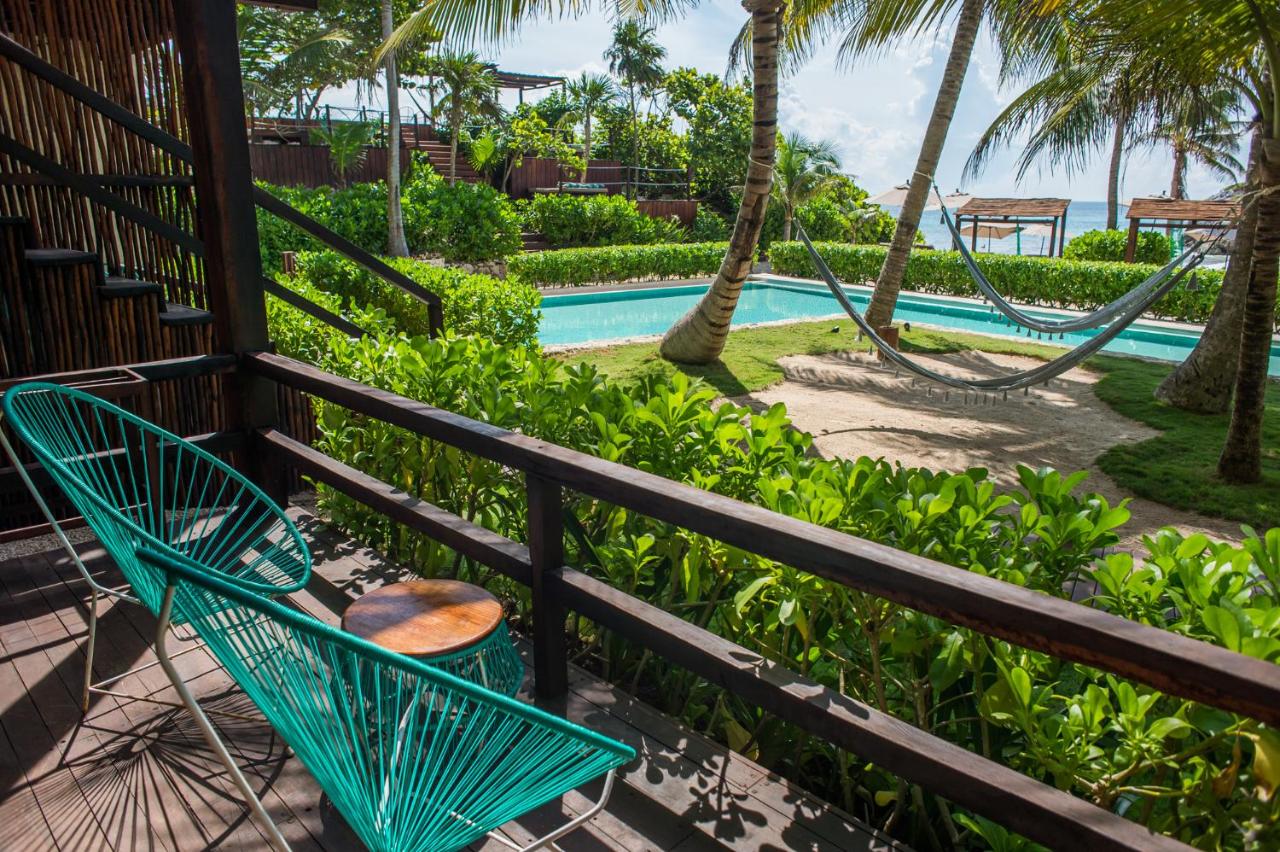 See more images at booking.com
Tucked into Tulum's bustling Zona Hotelera seafront strip, Maria del Mar is a contemporary design-led boutique hotel within easy reach of some of the best beaches, bars and restaurants in the area. This boutique hotel in Tulum offers the ideal blend of remoteness, quiet and splendour. Maria del Mar's unique concept is aimed at the "trending generation", resulting in a modern boutique hotel in Tulum that will please the most insta-worthy seekers. A luxury setting in a sought after location, Maria del Mar Hotel in Tulum is a romantic adults-only resort.
This Tulum hotel shares a small private beach with one other hotel, with natural rock pools shielding you from the surroundings. A short walk down the road is Tulum's sweeping public beach, while slightly further afield sits the SIan Ka'an biosphere reserve. The hotel itself features an on-site restaurant, bar, yoga deck, and a spa with an extensive menu of treatments. The service here is polite and attentive without being too formal, while the outdoor pool is surrounded by hammocks and swaying palms. The interior of this Tulum hotel, including the 18 rooms, are cool and bright, with a muted natural colour scheme and the occasional splash of eye-catching turquoise. Their eco-conscious appeal, instagrammable design features and prime location make this one of the best hotels in Tulum.
The best Tulum hotel for: raw authenticity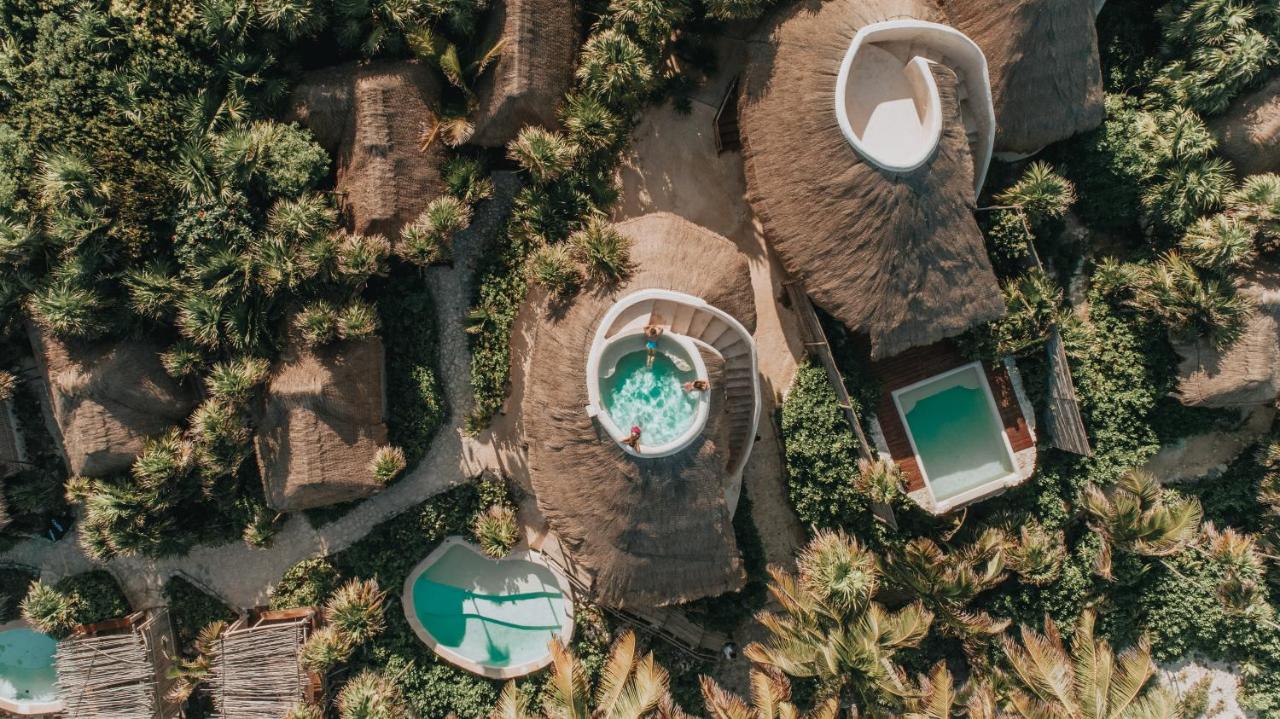 See more images at booking.com
Stylish, secluded, sustainable. The Papaya Playa Project is a hotel in Tulum on a seemingly deserted stretch of white-sand Caribbean coastline that screams "tropical paradise". The calming but astonishing scenery that surrounds this Tulum hotel begs you to switch off and relax – even if that just means mezcal-infused cocktails and Mayan-inspired spa treatments.
Thread-dense bedding and ultra-soft towels upgrade this eco retreat to a boutique luxury resort and one of the best hotels in Tulum. The original huts appear fashioned from twigs while the casitas are molded from concrete and chukun-tree resin to create a deliberately raw, hippy-chic feel. To fully immerse yourself and get the most out of this Tulum hotel, you need to throw out any traditional hotel expectations and start appreciating the freedom of being somewhere so authentic on a coastline that is ever-changing.
The best Tulum hotel for: seclusion
See more images at booking.com
One of the best hotels in Tulum, set amid thick trees and tropical foliage, Be Tulum is a stylish jungle retreat with blocky wood cabins, sultry suites and a wellness spa offering memorable Mayan-influenced treatments. Just two minutes by foot or bike will take you to an area of roadside bars, food trucks, shops and restaurants. The jungle setting provides optimum seclusion, but with key facilities nearby.
The beachfront is the focal point of this luxury hotel in Tulum, adorned with palapas, comfy beds and turtle statues. Other areas continue the smart, colourful decor, with bird's next lampshades and eye-catching cushions. There are two lustrous infinity pools, daily yoga and meditation classes, as well as bikes, SUP-boards and snorkelling gear available to borrow. Meanwhile, the Maresias restaurant overlooks the beach and serves up hearty breakfasts, with croissants, fresh fruit, and a choice of eggs, as well as a great choice of scrumptious cevishes, seafood tacos, and pastas for lunch.
The best hotel in Tulum for: art fans
See more images at booking.com
Reported to be Colombian drug lord Pablo Escobar's hideaway, this Tulum hotel is now a cool, beachfront boutique hotel decorated with artworks from owner/New York art dealer Lio Malca's personal collection. Positioned at the quieter end of Tulum's beachfront road, this hotel in Tulum provides a Caribbean getaway with its own distinctly arty style.
This decidedly individual artistic approach also lends itself to the decor, with expansive white, sequined curtains hanging on either side of a wooden door at the entrance and wooden statues of horses with human faces on each side. Inside, you'll find a Mickey Mouse-type sculpture by American artist KAWS, an old dentist's chair in the hallway, a bar decorated with a Keith Haring-inspired print design, and a restaurant decorated with dainty (if somewhat creepy) baby dolls. But the atmosphere is anything but pretentious – it's laidback with comfy loungers, colourful Colombian-style hammocks and a huge pool.
The best hotel in Tulum for: affordability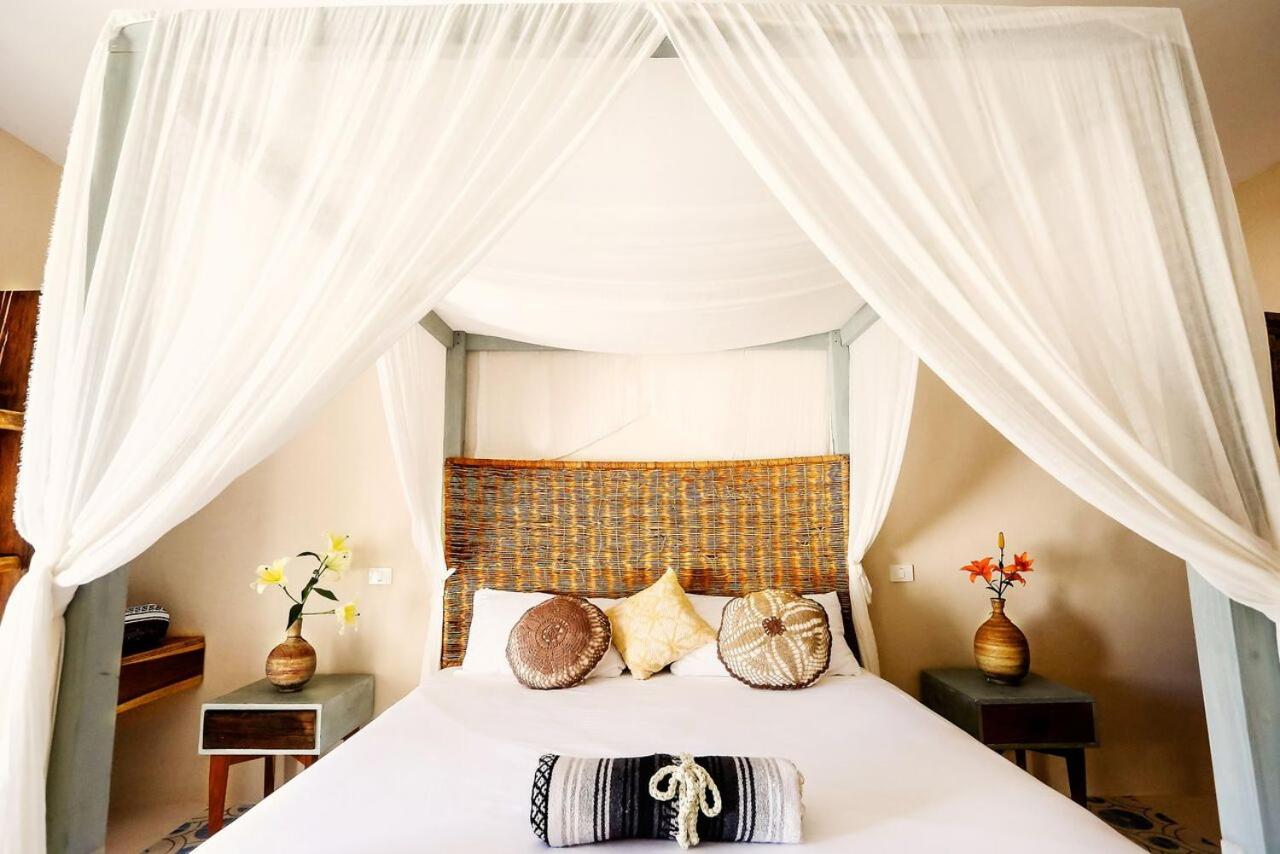 See more images at booking.com
Slightly more budget that most of the other options in this Tulum hotel guide, Xscape Tulum is tucked away on a quiet street in the city's boho-chic centre. Doing affordable at its best, this hotel in Tulum provides bright, airy rooms, cheap but delicious eats, and a shiny pool surrounded by tropical gardens. This budget hotel in Tulum makes for an ideal base from which to discover the area's white sandy beaches and archaeological sites.
Although located on the town's outskirts, Xscape Tulum is close to a collection of cool bars, organic restaurants and chic boutiques, as well as only being three miles from the famed Mayan ruins at the Zona Arqueologica de Tulum. In terms of the hotel's look, modern minimalism defines its design aesthetic, with 34 individually decorated rooms with features such as driftwood sculptures, hanging dream catchers and seashells, and uplifting quotes pasted on the walls. There are no TVs, but amenities include mini fridges, organic shampoos and soaps, and en-suite shower rooms. Most rooms are also equipped with outdoor spaces, while some upgraded apartments have hot tubs or kitchenettes. This is the best hotel in Tulum for those on a budget.
The best hotel in Tulum for: laidback luxury
See more images at booking.com
Habitas is a Tulum hotel that takes laidback luxury to new heights. Upon arrival, you'll be whisked behind a stone facade and greeted with a copal cleansing ceremony – this really sets the tone for the rest of your stay at this hotel in Tulum. The real heartbeat of this spiritual hideout is the central lounge area, with low-slung seating in the sand and a bar and restaurant serving up the most tantalising Spanish cuisine. This luxurious space opens to an oceanfront pool and one of the only secluded beaches in the area owing to two natural rock barriers on either side.
This boutique Tulum hotel is made up of 32 ultra-luxe canvas tents pitched on elevated wooden platforms and topped with palapa roofs and with private porches. Within, they have plush king-sized beds, minimalist wooden furniture, kilim rugs and hippy-chic wall hangings. Most tent rooms are set within the jungle among palm trees and sea grape trees, but if you're lucky you might be able to nab one of the five oceanfront suites right above the beach. While there's a sink and vanity inside each tent, you'll need to migrate outside to find the bamboo enclosed showers and the somehow chic alfresco toilets.
The best hotel in Tulum for: wellness
See more images at booking.com
Sanara is a boutique Tulum hotel comprised of minimalist beachside suites and villas sat right next to the lapping Caribbean Sea. Fringed with palm trees, white sand and wooden fishing boats, it really is like something out of a movie. While the jungle-pool compounds are more than idyllic, what reallt makes this one of the best hotels in Tulum is the Ayurveda-inspired wellness centre. Immersive healing treatments include massages rooted in Indian healing rituals, yoga classes in the beachfront studio and clean cuisine cooked in the plant-focused kitchen.
This Tulum hotel encapsulates all the blue, breezy island qualities you would expect, but in a stylish, boutique setting. Think simple white walls and dark wood trim as a backdrop to touches of luxury like crystal chandeliers and shell dream catchers. Service is excellent, with guests being welcomed on arrival with a delicious fresh green juice and a basket of organic skin products made from concoctions of shea butter, coconut oil and beeswax. The place is wonderfully peaceful, with comfy loungers on the white-sand beach especially reserved for hotel guests and tropical bird species tweeting between the leaves of tropical plants.