As the setting for three of Shakespeare's plays, including Romeo and Juliet, Verona has long been considered The City of Love. Hence, it's not surprising that it's so easy to fall in love with this ancient northeastern Italian town. Famous for its Roman roots, incredible art and architecture and grand palaces and churches, Verona has become one of the most popular holiday destinations for a romantic getaway.
This romance, architecture and rich history is all reflected in the city's hotels. From rooftop luxuries to Renaissance-style mansions, we've rounded up our picks of the very best hotels in Verona, Italy in 2023. So, get scrolling and find out where to stay in Verona.
Be sure to check out our guide to the best hotels in Syracuse, Sicily, too!
Best Verona Hotels 2023
Situated in the centre of the city, just a short walk from the Arena, Il Relais dell' Abbazia is one of the best hotels in Verona, Italy in 2023. Set within a converted Benedictine monastery, the interior of this Verona hotel resembles rustic-chic with wood-beamed ceilings, parquet floors, pine furnishings and wicker accents. You'll find guests sunning themselves in the furnished garden, relaxing on the property's balcony or curled up next to the fireplace in the shared lounge. In the mornings, this Verona hotel serves up a sweet and savoury breakfast buffet, including homemade products.
Rooms at this hotel in Verona are cosy and stylish, with crisp white walls, oak furniture, contemporary fireplaces, and painted white beam ceilings. Each room offers direct access to the garden, along with air conditioning, a satellite TV and a ceiling fan. Blue-tiled bathrooms are spacious with walk-in showers, bidets, hairdryer and complimentary toiletries. If you're looking for an aesthetically pleasing yet comfortable stay in the city, look no further than this luxury hotel in Verona.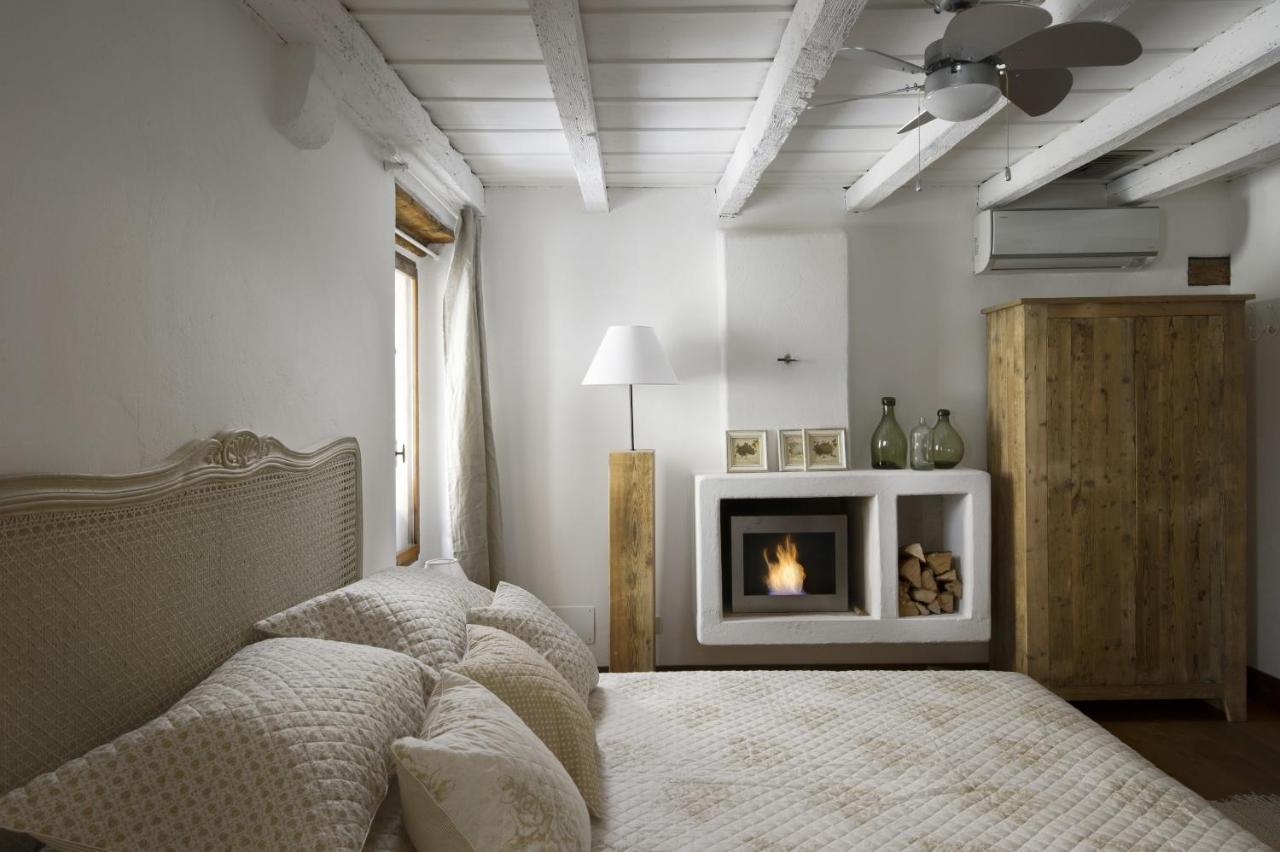 Situated on a narrow cobblestone street, running parallel to the high-end Via Guiseppe Mazzini shopping street, Milano is a luxury hotel in Verona, Italy. Housed within a four-storey building with a baby pink facade, this Verona hotel is offers the perfect base from which to explore the city, with Juliet's Balcony just a five-minute walk away and the medieval Castelvecchio Bridge just a little further. Having undergone a huge renovation in 2010, the decor is now refined and contemporary. Enter through the sleek lobby with contrasting dark floors and bright white walls, as well as a swanky marble reception desk. Just off to the side, there's even a lobby bar replete with trendy leather banquettes and a shiny black marble bar. Other facilities at this hotel in Verona include a modern spa and, of course, a rooftop terrace with wood-plank floor, panoramic views across the city and a hot tub to match.
This Verona hotel houses a total of 57 rooms, all of which are stylish and sophisticated. Parquet wood floors meet neutral walls, with the exception of the textured accent wall on which the beds rest. Standard rooms tend to come with clean, white furniture and leatherette benches at the foot of the beds. Upgraded rooms usually feature black furniture, four-poster beds, maroon velvet armchairs and sofas. Each room also comes with a modern beige/white-tiled bathroom. featuring bidets, vessel sinks and standing rainfall showers. Rooms also feature all the must-haves, including air conditioning, desks, flat-screen satellie TVs, and mini fridges topped with drinks.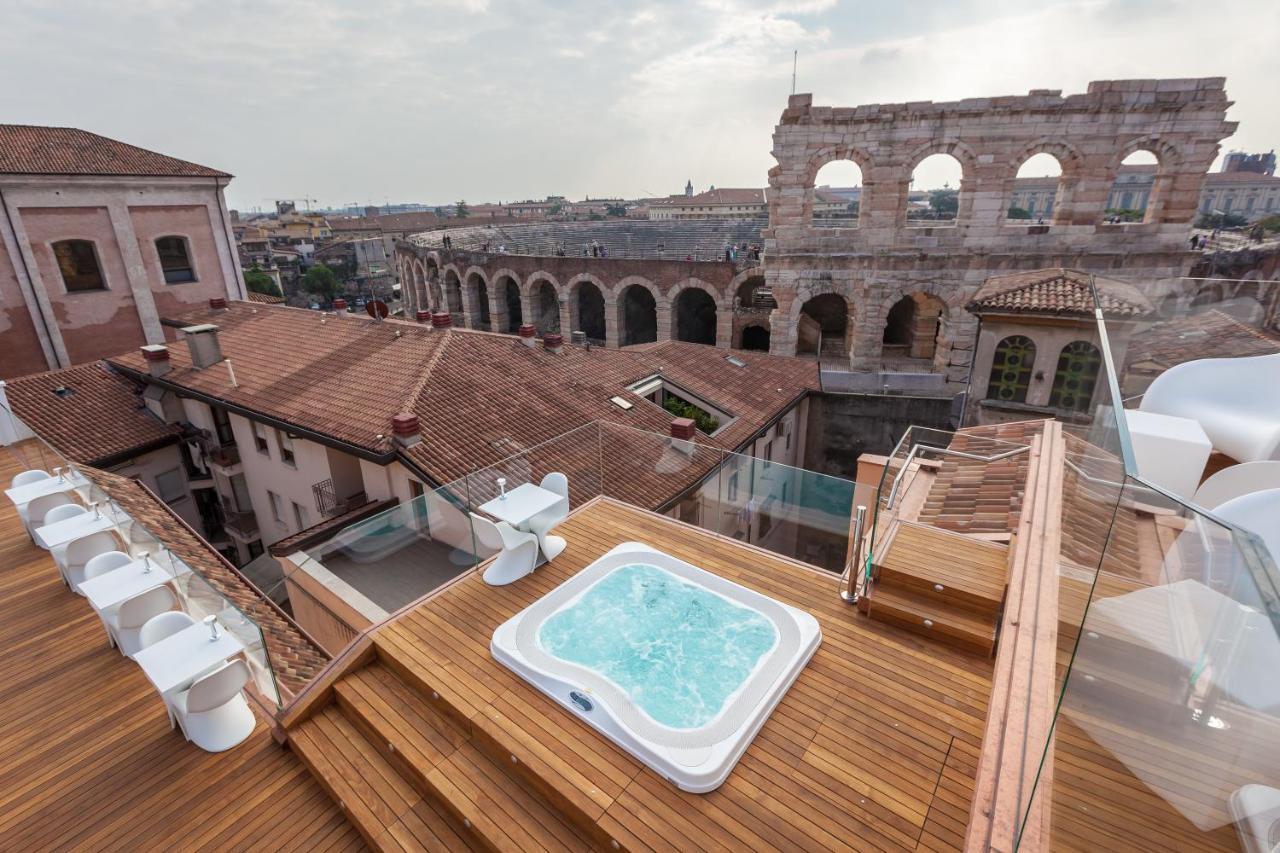 Located just a five-minute stroll to Piazza Bra and the famous Verona Arena, this 4 star hotel in Verona, Italy is ideally positioned for sightseers looking for easy access to all the main attractions, restaurants and shops. On arrival to this luxury Verona hotel, you'll be welcomed by a delicious spread of tea, coffee and cakes. As you walk through the hotel to your room, make sure to take in the impressive range of classic and modern art, including sculptures and oil paintings, carefully placed throughout. The overall interior decor at this hotel in Verona is grand and sophisticated; think chandeliers, huge antique mirrors, and plush sofas calling you to sink into them. Breakfast here includes a wide array of European cheeses and cold meats, hot dishes and freshly baked pastries.
The rooms are tasteful, decorated in neutral tones and with elegant furnishings. Very comfortable beds feature printed headboards, lights at either side and small period bedside tables. Bathrooms are well-sized and feature walk-in showers and a free L'Occitaine toiletries. All rooms also include all the essential amenities, from flat-screen TVs and free WiFi to tea-and-coffee-making facilities and minibars. Some rooms boast pleasant views over the hotel gardens, while others look directly out onto Corso Porta Nuova.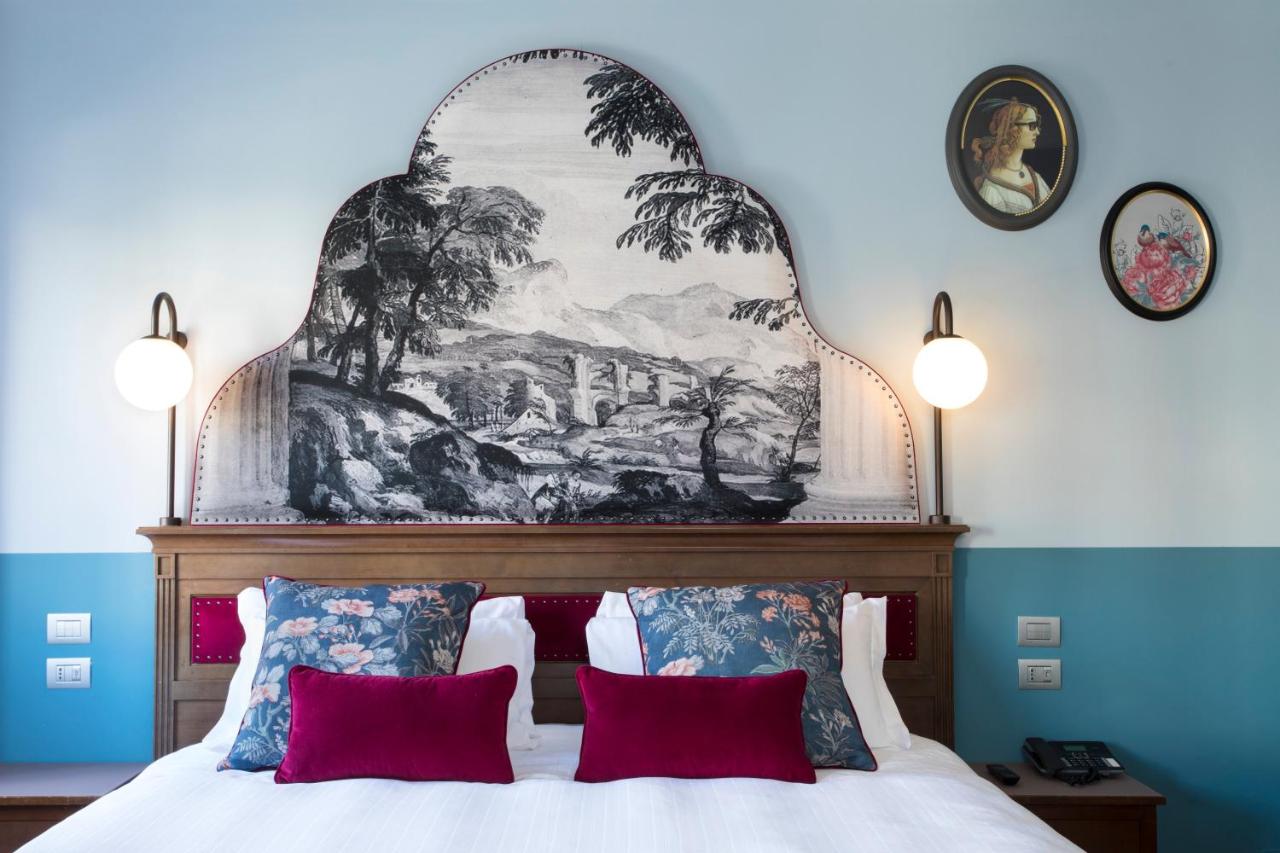 Tucked up a quaint cobbled side street next door to the remnants of an old Roman gateway, this Verona hotel is set away from the hustle and bustle of the city centre but still just a short walk from all the main attractions. And with the vineyards of Valpolicella and Soave right on the doorstep and Lake Garda just 20 minutes away, this is one of the best hotels in Verona for exploring the surrounding region. The design of the hotel was overseen by Milanese architect Maurizio Maggi, who has created a haven of rich colours blended seamlessly with natural woods, handmade parquet panels and marble work sourced from eight different Italian quarries. On the top floor of the hotel you'll find the restaurant and a spectacular rooftop bar delivering jaw-dropping 360-degree views. Down in the basement, take some time to relax at the hotel's spa, which includes a steam room, sauna, hydromassage, ice shower, and a full complement of treatments, as well as the only hotel pool in the town.
As for the rooms at this 5 star hotel in Verona, they are in keeping with the decor throughout the rest of the building; think gold patterned accent walls paired with deep blue furnishings and an overall modern feel. Each room comes equipped with air conditioning, free WiFi, and a flat-screen TV, as well as spacious, marble-tiled bathrooms.
Housed within a 13th-century building in Piazza dei Signori Square, Lords of Verona Apartments offers luxury accommodation in the heart of Verona. This apartment-style hotel in Verona combines historical touches with 21st-century comforts. Architect Simone Micheli has created a post-modern-contemporary feel, with original villa architecture and cutting-edge contemporary deign.
Each apartment in this Verona hotel offers luxurious decor with all the practical amenities you'll need for a comfortable stay. Each apartment comes with air conditioning, full-equipped kitchen, dining area, free WiFi and private bathrooms with toiletries and fluffy bathrobes. Some units also offer balconies with great views.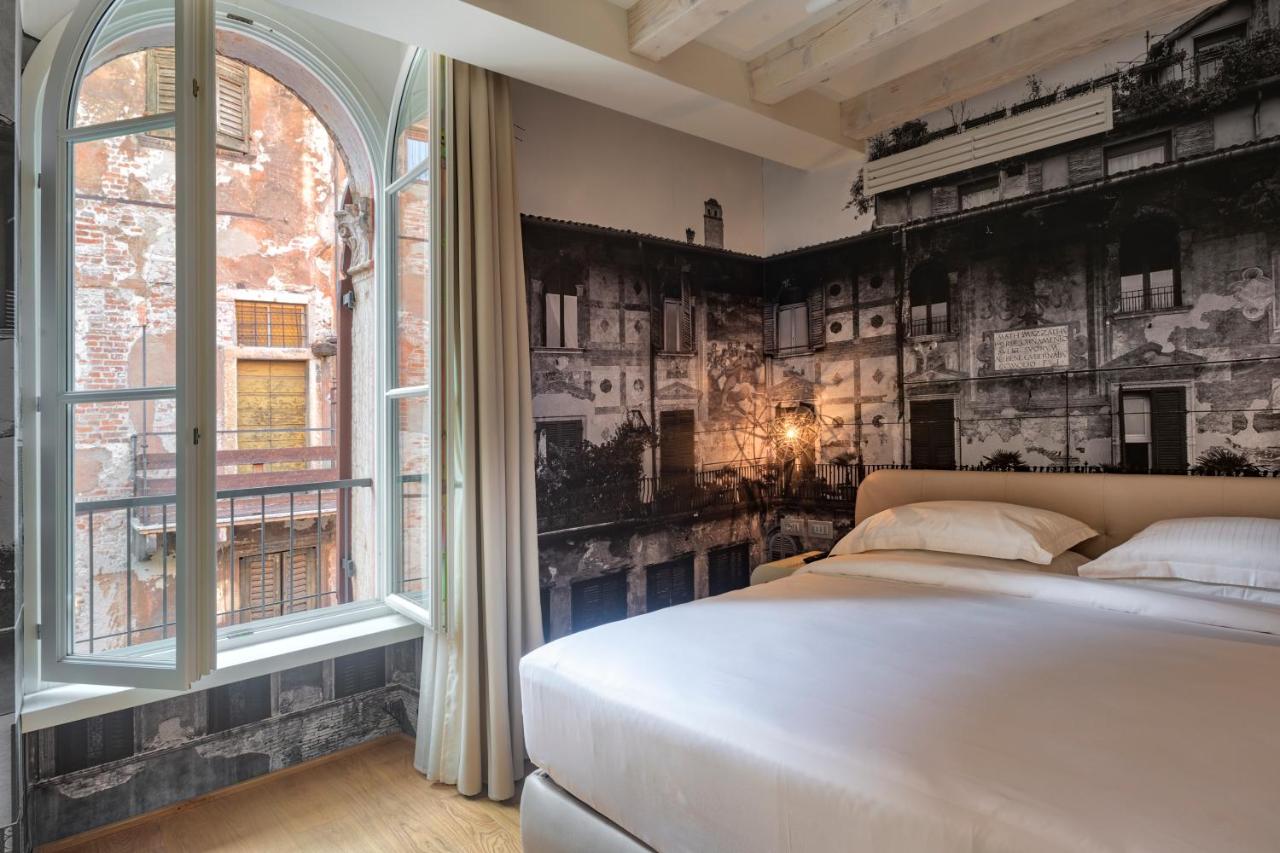 Located near to Via Mazzini, Piazza Bra and Sant' Anastasia, this luxury hotel in Verona offers comfortable accommodation in an apartment-style set up. Housed within a two-storey building in the historic centre of the city, this Verona hotel positions you close to all the art, culture and activity. Luxury Wellness Verona Spa also has all the facilities you need for a comfortable stay, but the real highlight is the wellness spa, which offers a sauna and a hot tub.
The units at this apartment-style hotel and spa in Verona come with fully-equipped kitchens, dining area, fridge, dishwasher, microwave, air conditioning, and flat-screen satellite TV. Each also features a spacious private bathroom with bidet, free toiletries, dressing gowns, slippers and a hairdryer. Pillowtop beds are extremely comfortable, while down duvets and premium bedding will guarantee a great night's sleep.
That rounds up our list of the best hotels in Verona, Italy in 2023. From trendy city centre apartments to fancy rooftop hotels, you're sure to find a Verona hotel that suits your needs. Be sure to check out our guide to the best places to visit in Europe in February for more inspiration.