If it's culture and history that you're looking for, the beautiful French city of Avignon should be at the top of your destination list! Wrapped around a bend in the Rhône River in the south of France, Avignon is a historic city that dates back to well before the Romans took over. Largely known for its 12th-century bridge and the election of Pope Clément V, Avignon has plenty to offer history buffs. Today, though, Avignon has much more to enjoy than just its past; filled with atmospheric cafes, quirky shops, fine dining restaurants and pretty squares for people-watching.
So, now we've persuaded you to pay a visit to this picture-perfect city in France, you'll need to find somewhere to stay in Avignon. To help you out, we've rounded up our top picks of the best hotels in Avignon, France in 2023.
Go ahead and scroll through our favourite Avignon hotels and be sure to check out our guide to the best hotels in Corsica, too.
Best Avignon hotels 2023
Situated in the centre of peaceful Villeneuve-lez-Avignon, just a stone's throw from its main square, place Jean-Jaures, this pretty little hotel in Avignon provides the perfect base from which to explore the town and its surroundings. Housed within a 16th-century building, the exterior of this Avignon hotel is distinctly French-chic, with tall, shuttered windows and original stone walls. Inside, the chicness continues, with whitewashed or pale stone walls, exposed wooden beams and red-tile floors. On the ground floor of the hotel, you'll also find a 'travel workshop', where you can scour the library of maps, brochures, guidebooks, board games and fiction books. Each morning, this Avignon hotel serves up a delightfully meat-free buffet breakfast, featuring everything from fresh fruit and homemade jams to freshly baked bread, pastries, yoghurts, cheese and eggs.
This boutique hotel in Avignon, France offers 22 individually decorated and furnished rooms. Common themes throughout the rooms include aged dark wood doors, antique furniture, comfy double or twin beds and brass mirrors on the walls. Each room also comes with a private bathroom, complete with deep bathtub and luxury toiletries. Looking for somewhere to relax? Head to the hotel's sun terrace with loungers, which looks over flagstoned courtyard and a small garden adorned with fig trees and cypresses. So, if you're looking for one of the best hotels in Avignon, France in 2023, look no further than Hôtel de l'Atelier.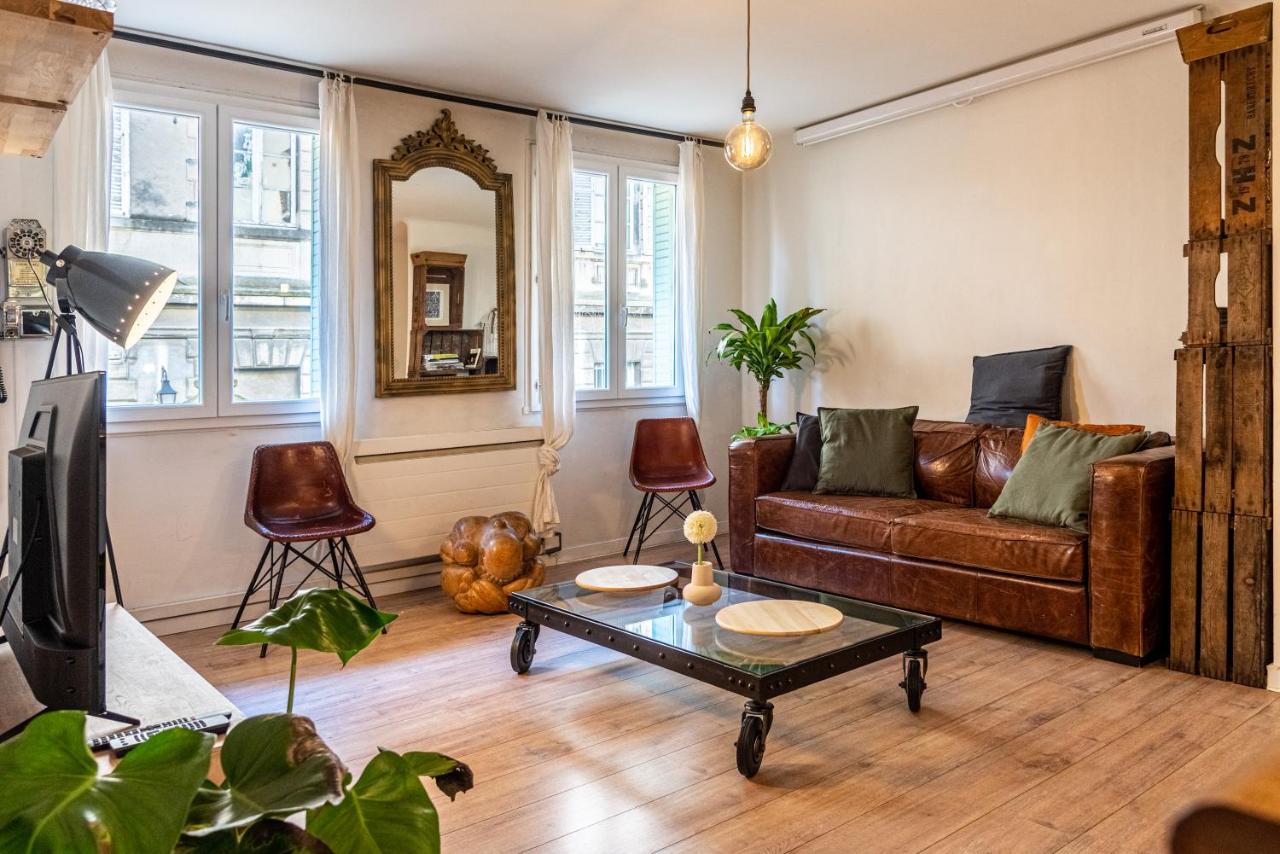 Set on the Barthelasse, Europe's largest river island, Bastide de Bellegarde is a hotel in Avignon, close by to the Palais des Papes. Having been providing luxury accommodation for over a century in the heart of Provence, this Avignon hotel combines traditional French country decor with the best modern service. The exterior is like something out of a fairytale, with clean stone walls, pastel green shutters on the windows, perfectly pruned gardens and bright purple lavender hung from trellis. This boutique hotel in Avignon, France also features an a restaurant, garden, shared lounge and a sun terrace for soaking up that Vitamin D. Guests can also benefit from free WiFi throughout the property and free private parking.
This luxury hotel in Avignon offers a number of individually decorated, pastel olive-coloured suites all inviting you to relax. Each room features all the essential amenities, including a flat-screen TV and a private bathroom with hairdryer and shower. Within the stunning garden, you'll also find a huge swimming pool surrounded by sun loungers, perfect for getting your laps in and soaking up the blue skies. If you're searching for a romantic place to stay this summer, be sure to book this Avignon hotel for 2023.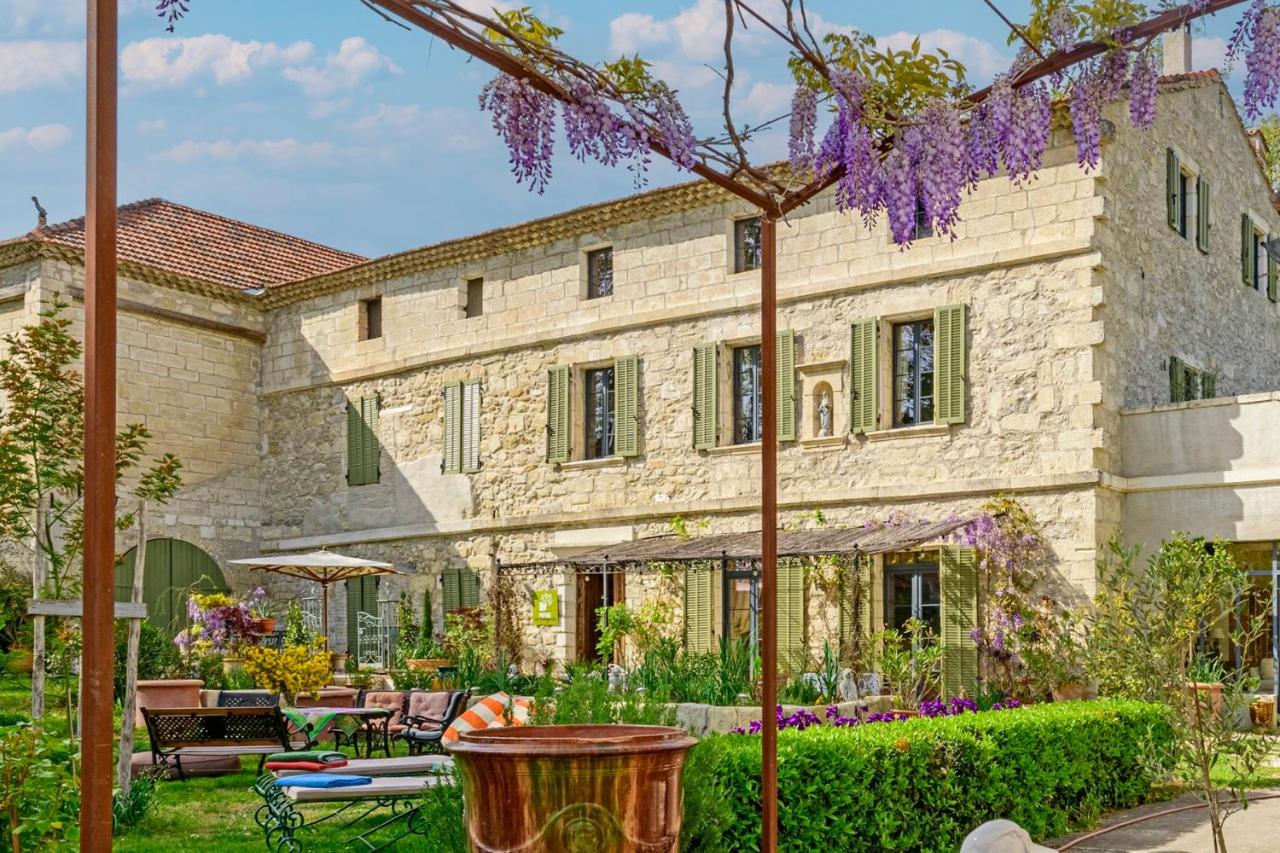 Boasting an unbeatable location, this Avignon hotel neighbours the Palais des Papes and is just 200 yards from the banks of the Rhone and the city's most famous bridge, the Pont Saint-Bénezet. Housed within a 14th-century building which was once a cardinal's residence, this historic hotel in Avignon takes its inspiration from the heyday of the Bourbons. A grand marble-paved atrium doubles as a lounge and a tea room, while an intimate bar is dotted with comfortable armchairs, perfect for sinking into. Outside, you'll find a sunny walled garden brimming with fruit trees and scented herbs. Meanwhile, at the on-site restaurant, you can sample a five-course tasting menu featuring seasonal dishes and an impeccable wine list.
Take the stone staircase to the upper floors to find your one of the 26 bedrooms. Each room is pleasingly spacious and elegantly decorated with flower-patterned wallpaper, pretty bedspreads, polished wood floors, antique Turkish rugs, and bouquets of red, white and cream roses on period dressing tables. Tall windows open onto rear courtyards or to views of the papal palace next door. There are also gilt-framed mirrors that convert to TV screen at the press of a button, as well as private bathrooms with over-tub rain showers, separate WC and twin basins.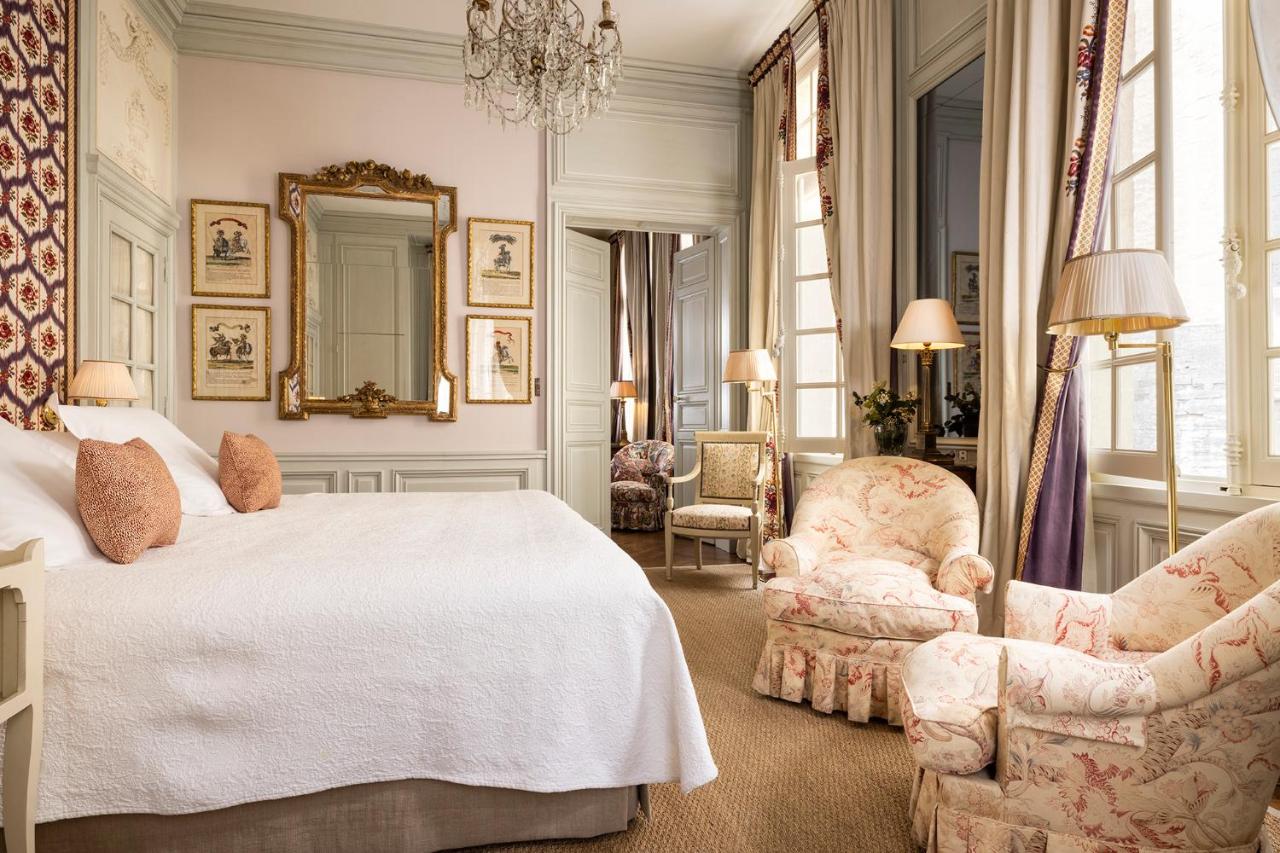 Located just inside the old town walls and less than 200 yards from the Rhone and Pont-Daladier, this Avignon hotel boasts an hard-to-beat location and was once Napoleon Bonaparte's mansion. Enter across the courtyard and into the reception and a naturally-lit atrium. Make your way up the grand staircase and wind your way through the dove-grey, oil-painting adorned corridors to your room. In summer, the courtyard provides the perfect spot for al fresco dining, while the wood-panelled dining room is ideal for cooler months. The hotel's restaurant, presided over by head chef Mathieu Demarest, provides an elegant tasting menu that changes daily. Afterwards, head to the sophisticated bar area, and enjoy freshly-made patisserie and ice cream in the adjoining lounge.
This hotel in Avignon offers 39 rooms which are all decorated in pale blues and greys. Here, even 'Classic' rooms are spacious with high ceilings and tall windows. Bathrooms feature deep tubs and over-tub showers, along with complimentary fluffy robes and Hermes toiletries. Meanwhile, 'Prestige' and 'Superior' rooms offer even more space and larger bathrooms, as well as some additional treats, including Nespresso coffee machines. If you're looking to take luxury to the next level, opt for one of the five huge suites, which come complete with terraces or balconies with splendid views. Each morning, a buffet breakfast of cold meats, freshly baked pastries and bread, freshly pressed juices, and hot dushes is served in the Salon de Thé, in your room, or in the courtyard. So, for somewhere to truly experience the grandeur of the city, book a room at this luxury hotel in Avignon, France.
Château Des Alpilles is a family-owned 5 star hotel in Avignon, conveniently located at Route du Rougadou in Saint-Rémy-de-Provence, set within an immaculately maintained century-old park. The interior of the hotel is gilded in luxury, with chandeliers hung from the high ceilings and a decor that reflects its rich history. But, with green vistas stretching in every direction, it is the exterior of this Avignon hotel that really impresses. Guests can be found sprawled out next to the heated pool, playing a spot of tennis, or snacking on the patio under a shaded tree. Other facilities at this hotel in Avignon include a fitness centre and a restaurant serving gourmet meals.
This Avignon hotel offers 21 rooms, ranging from Chateau bedrooms to quaint standalone cottages on the grounds. Standard rooms in the main house are packed full of old-world charm, with high ceilings, cosy fireplaces, and period furnishings. Meanwhile, the cottages do a good job of flawlessly blending rustic, farmhouse touches like exposed beams with clean-lined furnishings. The cottage suites also feature a number of upgrades, including a Nespresso machine and an iPod docking station. All rooms are pleasantly modern, though, with all the necessities you need for a comfortable stay, such as free WiFi, flat-screen TVs, minibars and air conditioning. Bathrooms are large and marble-tiled, offering bidets and over-tub rainfall showers. So, if you're looking to relax in an aristocratic country mansion, this grand 5 star Avignon hotel ticks all the boxes.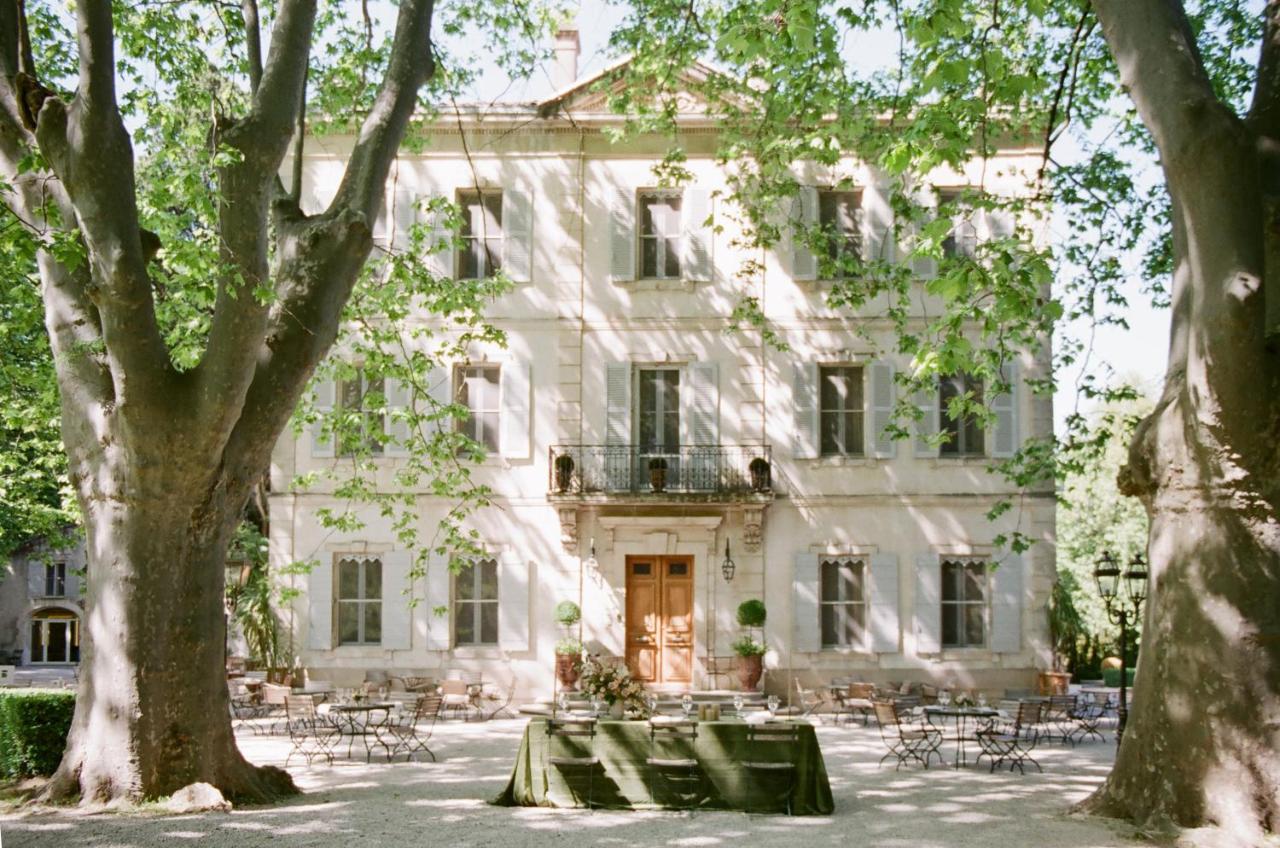 That rounds up our pick of the best hotels in Avignon, from aristocratic country mansions and fairytale stone houses to trendy city apartments, you're sure to find the perfect Avignon hotel for your stay. Be sure to check out our guide to the best boutique hotels in Paris, too!