A timelessly beautiful Sicilian gem, Syracuse is situated on the south-eastern coast of the island and is one of its main cities. Known for its remarkable historical heritage, charming old town, ancient architecture, and sparkling blue ocean, Syracuse is a must-visit this summer! In fact, this city in Sicily is so special that it was placed on the list of UNESCO's World Heritage Sites in 2005.
So, now you have Syracuse on your must-visit holiday destinations list, let's think about where you're going to stay! From lush countryside manor houses and luxury seaside villas to traditional city centre boltholes, the hotels in Syracuse, Sicily, offer something no other city does. To help you choose the perfect Syracuse hotel for you and your travel companions, we've rounded up our picks of the very best hotels in Syracuse!
Go ahead and choose your favourite Syracuse, Sicily hotels and be sure to take a look at our guide to the best hotels with private pools in Mykonos.
7 Best Syracuse Hotels, Sicily 2023
Neighbouring the magnificent pagan-Christian Duomo on the corner of Ortigia's central Piazza and Via Roma, The Roma is a pretty-in-pink luxury hotel in Syracuse. Perfectly situated for history buffs while being pleasing on the eye for lovers of luxury, this Syracuse hotel has something to offer everyone. From here, take a stroll down Via Roma, pedestrianised cobbled street which follows the route of the ancient Via Sacra, linking the ancient Greek temples of Apollo and Athena, or head out and appreciate Ortigia's glamorous evening passeggiata and all its cafes, restaurants and shops.
You'll enter this Syracuse, Sicily hotel, to a vast reception hall, paved with local Bianca di Modica limestone and adorned with original artwork. Rooms are also classically decorated, with parquet floors, traditional furniture and furnishings and, again, an eclectic array of original art. There are also a number of higher-end suites which are more contemporary; think transparent Kartel chairs and Persian rugs. Each room or suite at this hotel in Syracuse comes with its own private bathroom, complete with shower and Ortigia brand toiletries. If you're really splashing the cash, opt for the Spa Suite, which comes with its own sauna. So, for a taste of true Sicily, book a stay at this luxury four star Syracuse hotel.
Set within a grand Benedictine monastery, Borgo di Luce is one of the best hotels in Syracuse, Sicily. Situated in an area of outstanding natural beauty and with plenty of local landmarks close by, this Syracuse hotel is ideal for exploring the island. The Fontane Bianche and Pineta del Gelsomineto Beaches are just minutes away, while Aretusa Park and Technopark Archimedes are well worth a visit. This luxury hotel in Syracuse is packed full of next-level amenities, from wellness centre and golf resort to outdoor pool and two restaurants specialising in Sicilian cuisine. The spa's wellness centre comes complete with hot tub, Turkish bath, sensory shower and sauna. The property also features a fancy bar with a great wine selection and is perfect for socialising on warm evenings.
The resort offers 102 rooms, all of which are equipped with all the amenities you need for a relaxing stay, including air conditioning and a 32-inch flat-screen TV. Some rooms also come with a furnished patio with stunning sea views. Each room is traditionally decorated and are pleasingly spacious. Meanwhile, the outdoor pool is huge, surrounded by sun loungers for soaking up some Vitamin D. So, if you're looking for a luxury countryside stay, then look no further than this lavish hotel in Syracuse, Sicily.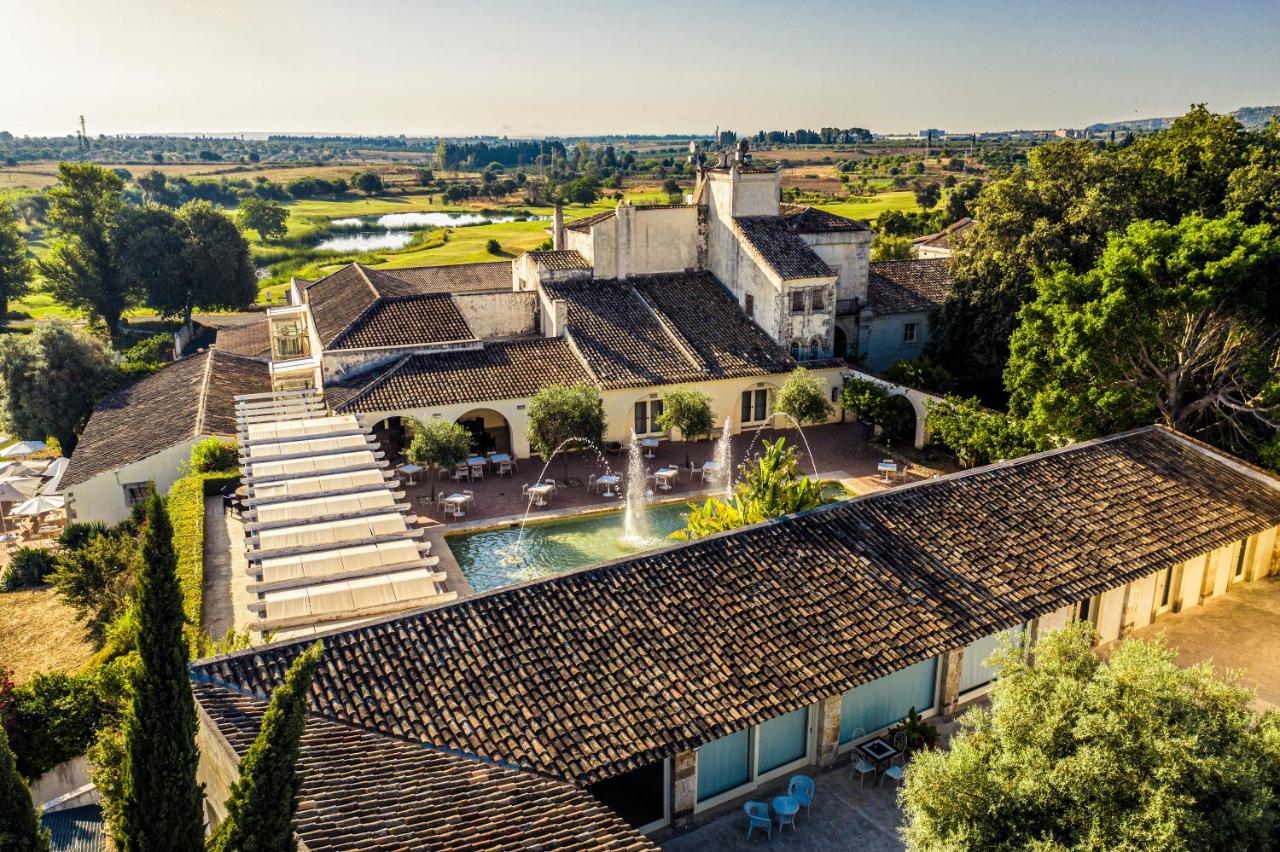 Perched on Ortigia Island, on the photogenic Lungomare di Levante overlooking the Ionian Sea, this Syracuse hotel provides four-star comfort without compromising on its Sicilian identity. Next door to this hotel in Syracuse sits Ortigia's best spa, while the island's popular swimming rocks are just a short walk away. Inside, Algila Ortigia Charme Hotel boasts lavish interiors designed by Syracusan-born theatre designer, Manuel Giliberto. The main palazzo features Tunisian tiles, kilims and an array of summery water colours, which give a nod towards Sicily's Arab heritage.
All the rooms at this Syracuse hotel are decorated in contemporary Sicilian style, with white beamed ceilings, luxurious marble bathrooms, wrought iron double beds and bespoke Sicilian majolica-style floors. Standard double rooms are quite small but each is different from the next, and all provide modern comforts with antique furniture, painted bedsteads and colourful, hand-painted majolica tiles. If you're really looking to indulge on your holiday, why not book out the rooftop Spa Suite, complete with its own private terrace and whirlpool tub? Meanwhile, the restaurant serves Mediterranean cuisine, specialising in seafood.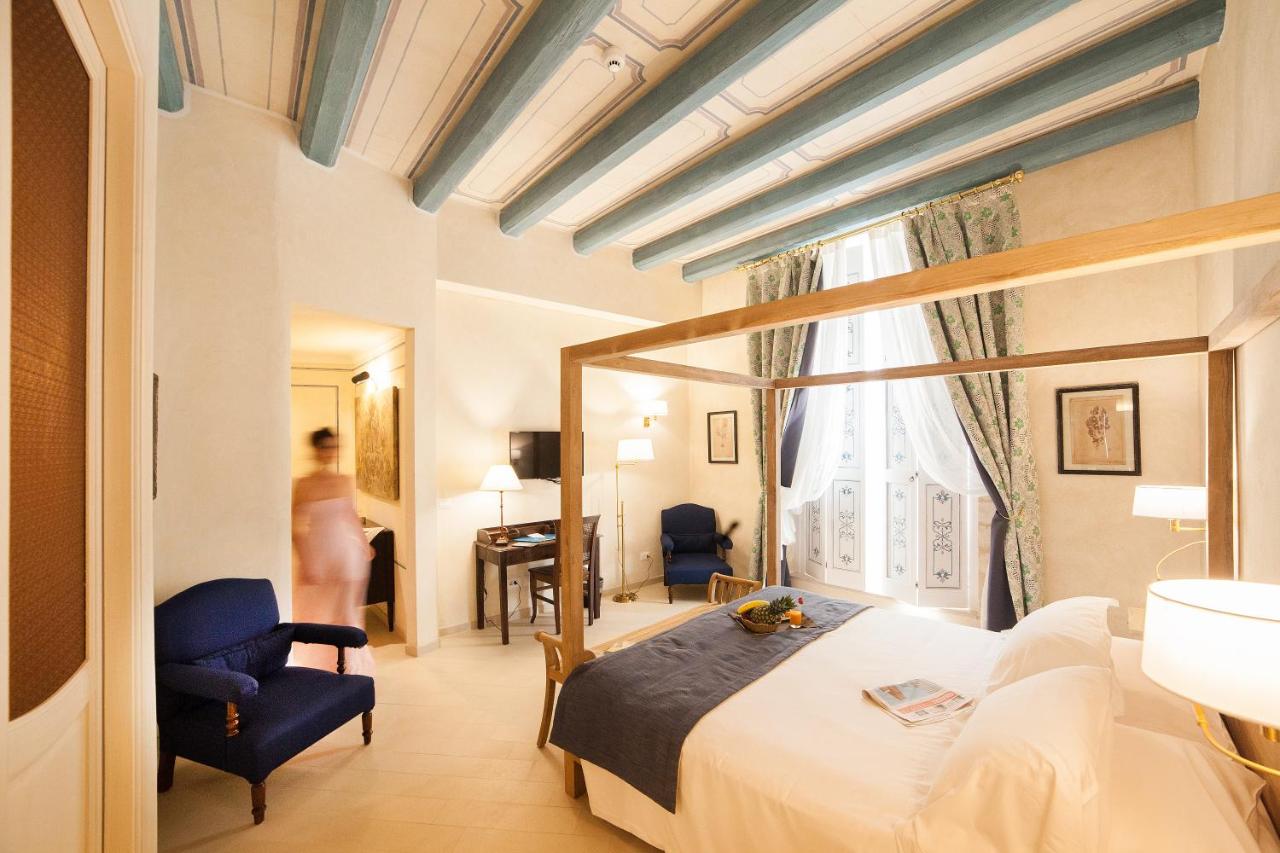 Set on a clifftop with views over Syracuse and Ortygia Island, Minareto is a 5 star luxury hotel in the protected Plemmirio area. Offering a peaceful location, two private beaches and unbeatable surrounding scenery, this is certainly one of the best hotels in Syracuse in 2023. During your stay at this Sicily hotel, you'll have free access to the beach, along with a complimentary beach set, including sun lounger, parasol and beach towels. Alternatively, head down to the in-house spa for a pamper, to the Olympic-sized pool for a swim, to the hot tub terrace to soak up the sweeping panoramic views. On an evening, you can take full advantage of the beachfront fine-dining restaurant, where they serve hearty dishes of Italian cuisine. Afterwards, enjoy drinks at the bar/lounge.
Make yourself at home in one of the 92 individually furnished and decorated guestrooms at this Syracuse hotel. Featuring classic Italian designs, with traditional artwork on the walls and fine fabrics for maximum comfort, the rooms at this hotel in Sicily will truly immerse you in the local culture. All rooms also come with all the essential amenities, including air conditioning, an interactive LCD TV with free internet access, and minibars. Private bathrooms are equipped with rainfall showers and complimentary designer toiletries.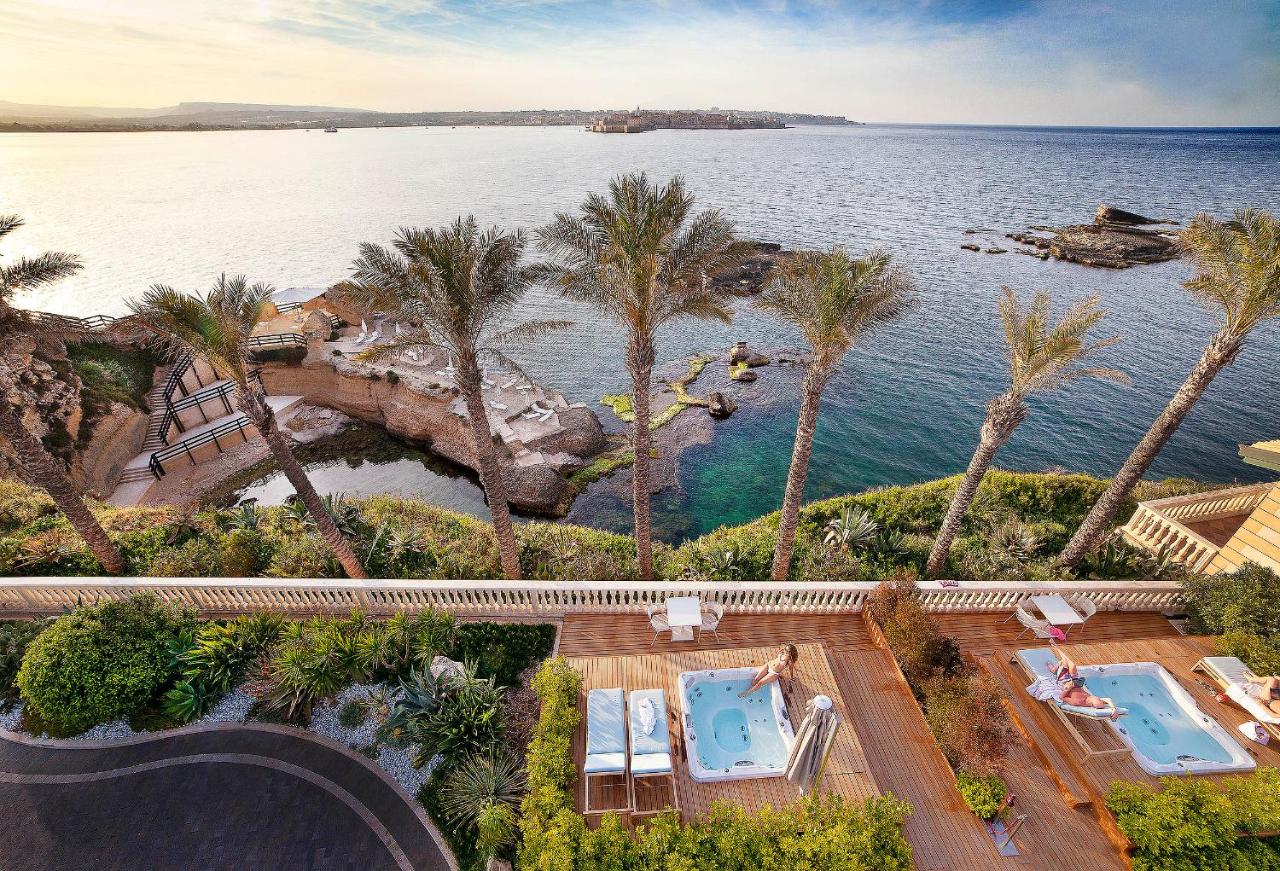 Located in the quiet Syracuse Suburbs, just 4 km from Ortigia Island and the Neapolis Archaeological Site, Parco Delle Fontane is another one of the best Syracuse hotels for winding down and relaxing. It puts you close to the most popular attractions and fine dining options while saving you from the constant buzz of the town. This 4 star hotel in Syracuse is also packed with plenty of in-house facilities to guarantee a comfortable stay. Complete with a lush garden and a sun terrace, there's lots of space to soak up the sun at this Syracuse hotel, while the pool is huge and perfect for getting your lengths in.
The rooms at this luxury Syracuse hotel are elegant and sophisticated with a red/purple plum colour scheme, plush furnishings and draping curtains. Each one comes equipped with air conditioning, a flat-screen TV and a minibar. Meanwhile, the private bathrooms feature a hairdryer and complimentary toiletries. Each morning, there is a sweet and savoury breakfast served. On an evening, the on-site restaurant serves delightful dishes of traditional Sicilian food.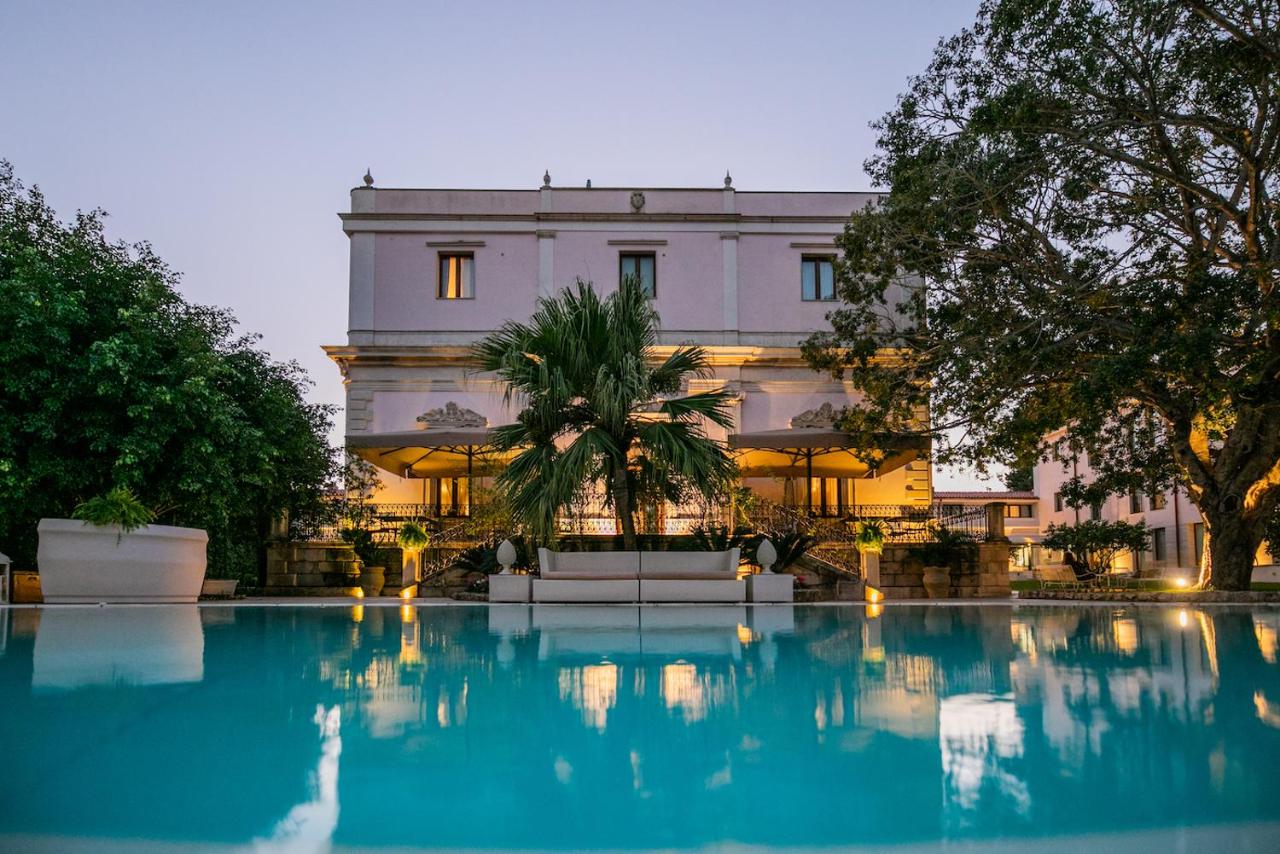 Situated a short walk from the beach in Ortigia, Palazzo Alfeo is a hotel in Syracuse surrounded by attractions and local landmarks. Pay a visit to Syracuse Cathedral, Castello Maniace, Arkimedeion Museum and Porto Piccolo. This Syracuse, Sicily hotel opens out onto a huge balcony with sweeping sea views.
This hotel in Sicily offers 6 luxury apartments with modern and stylish interiors and magnificent ocean views. All apartments come with a fully-equipped kitchen, including an oven, toaster, electric juicer and more. Each unit also features air conditioning, free WiFi, a docking station and a flat-screen TV. Some units open out onto a terrace with Jacuzzi or seating area where you can enjoy a drink or soak up some Vitamin D. If you're looking for a romantic hotel in Syracuse for couples, Palazzo Alfeo will provide for an unforgettable stay.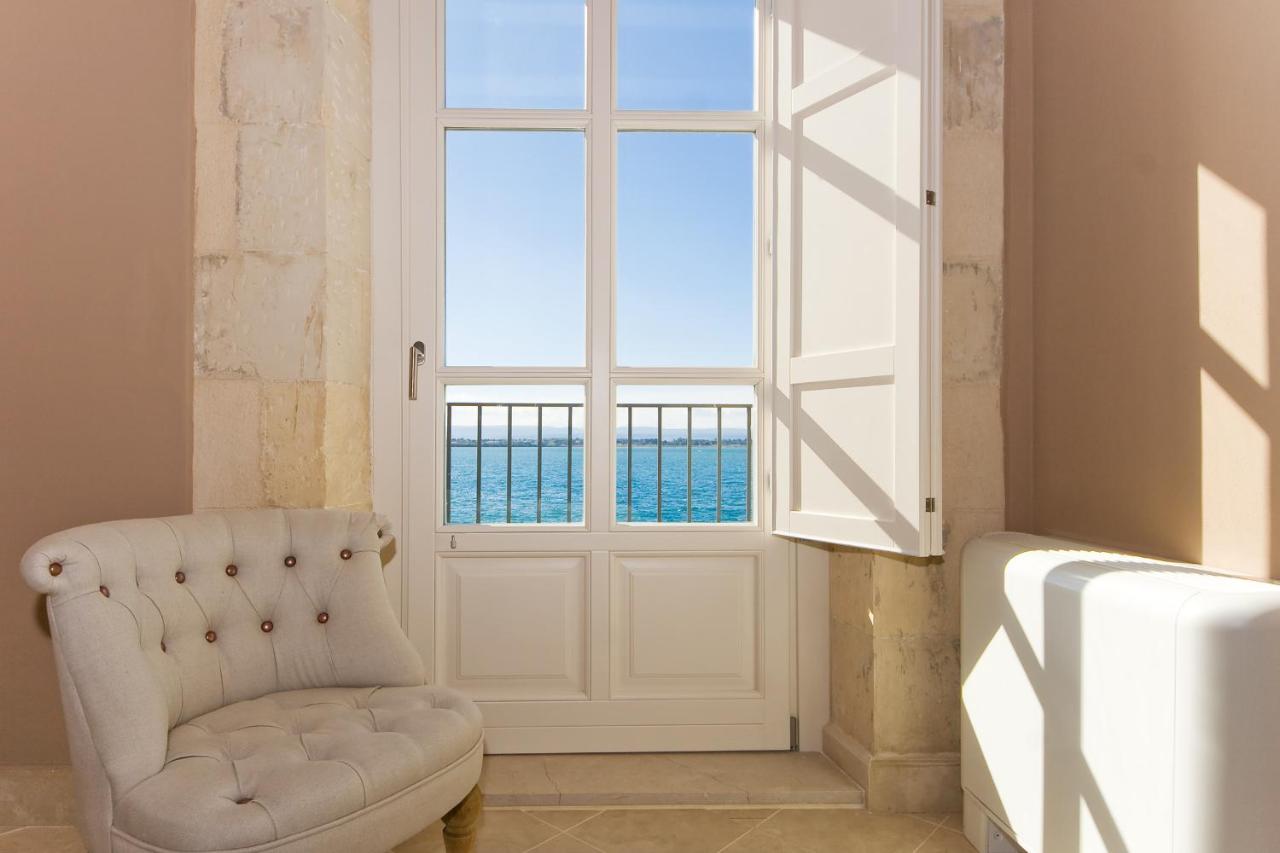 Suave and contemporary, Caportigia is one of the best boutique hotels in Syracuse, Sicily. Located in Santa Lucia, close to the beach, this Syracuse hotel is ideally situated for exploring the local landmarks. Some nearby attractions worth visiting include Syracuse Forum Ruins and Ginnasio Romano. Boasting a lovely sun terrace with panoramic views of the surroundings, as well as a 24-hour front desk and a delightful on-site restaurant.
This luxury hotel in Syracuse offers 14 individually decorated guestrooms, each of which come equipped with air conditioning, a flat-screen satellite TV, and a minibar. En suite bathrooms come with free toiletries and hairdryers. Some rooms also have a seating area, perfect for taking in the views and starting off your tan. For a bite to eat, head down to Il Tiranno, the on-site restaurant that serves local cuisine and is open for breakfast, lunch and dinner. Afterwards, pay a visit to the luxurious bar/lounge and terrace for a tipple.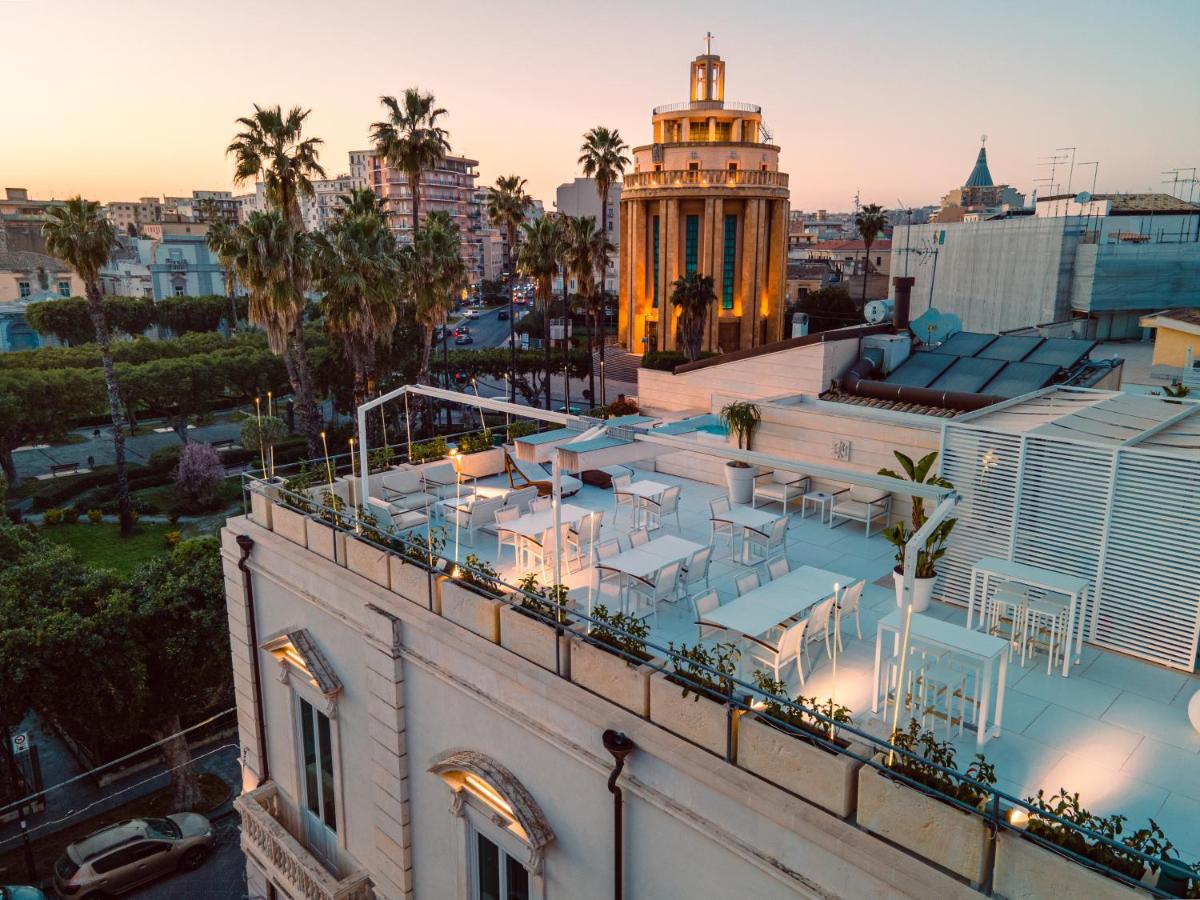 That completes our pick of the best hotels in Syracuse in 2023. For more holiday inspiration, check out our guide to the best hotels in Montenegro.