Planning a trip to Croatia this year? Before you book flights to Dubrovnik, let us walk you through some of the best hotels in Zadar, the Dalmatian Coast's coolest city.
Venetian churches, Roman ruins, pretty townhouses and valleys of vineyards, sprawling nearby national parks, Zadar is a quirky seaside city with a rich historic centre and a fabulous gastronomic scene. This Croatian beauty on the Adriatic Sea is one of the main ports of entry to this gem of culture and history. Having first been conquered by the Romans, then the Venetians, you'll find influences from both in the architecture of this city – from the Venetian campanile to the fortified Arsenal.
So, if you've already got your list of things to do when you arrive on the island, it's about time that you decide where to stay in Zadar. To help you choose the best hotel in Zadar, Croatia, for you and your travel companions. From coastal retreats to modern boutique hideaways, we've compiled a list of the very best Zadar hotels. So, go ahead and take your pick!
Be sure to check out our guide to the best bars in Split, too!
Best Zadar Hotels 2023
Set within a 19th-century building that was once a military hospital dating back to 1863, Almayer Art & Heritage Hotel is one of the best hotels in Zadar's Old Town. Situated just a stone's throw from UNESCO-Listed Venetian-era fortifications, the Roman Forum and Romanesque churches, this Zadar hotel is a great base from which to explore. The original structure of this boutique hotel in Zadar has been carefully retained, but the interior has undergone a contemporary makeover, with even the tiniest of details having been paid attention to. And the exterior is just as impressive; there's a romantic courtyard café-restaurant where you can be served fine wines and delightful Mediterranean dishes in the grounds of a former monastery.
This boutique hotel in Zadar, Croatia, houses just nine stylish but unpretentious rooms, including four doubles and five Junior suites. All boast an earthy, muted colour scheme, with greige-coloured walls, oak-panelled floors, and a rustic beamed ceiling. Contrasting this, each room also showcases a huge, bright oil painting by German artist Carsten Weck. Standard rooms feature queen-size double or twin beds, wall-mounted TV, built-in wardrobe, and a small work desk. Meanwhile, the more lavish Junior suites are two-storeys and come with a living room, sofa that opens into a bed, coffee table, an oiled-oak wood desk under the stairs and a comfy double bed. Bathrooms are sleek, covered in grey marble, with a shower, white fluffy towels, black heated towel rail and underfloor heating. So, if you're looking to immerse yourself in the rich history of this city, Almayer Art && Heritage Hotel might be the best hotel in Zadar for you.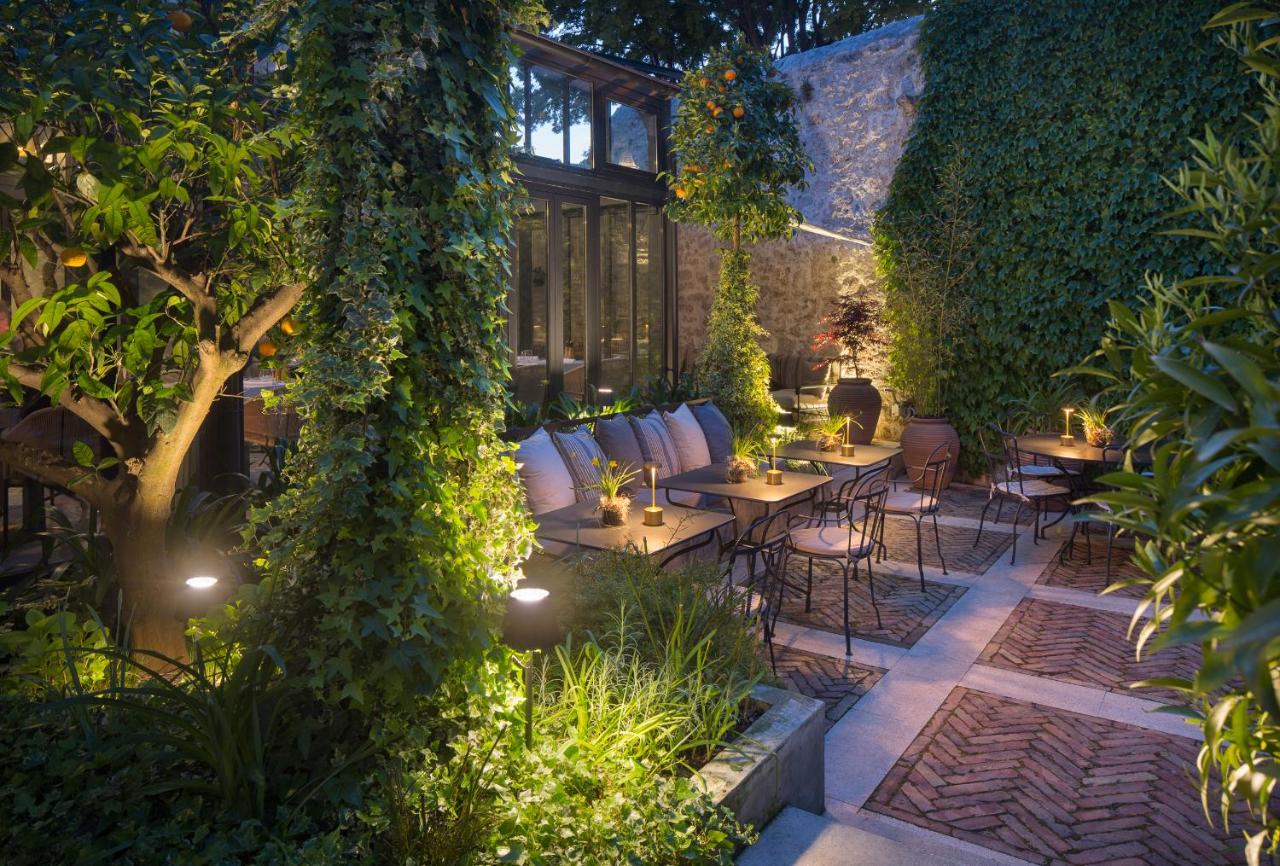 Situated by the sea at Punta Skala, just a 15-minute drive from the city's Old Town, the Falkenstainer is an outstanding luxury Zadar hotel. Here, the sunsets are incredible (with even Alfred Hitchcock saying so), with sweeping views across the Adriatic Ocean and the islands that are speckled throughout it. The hotel itself is a strikingly obscure, glass-panelled building set amid well-manicured grounds, lined with concrete pathways and sun loungers. Facilities at this luxury hotel in Zadar are next to none, including a large infinity pool, private pebble beach, and the Aquapura spa with indoor pools, sauna, steam rooms, spa rituals and beauty treatments. There's also a more exclusive 'Black Zone' where you can enjoy a couple's massage or strip off in the separate naturist area. If the spa's not really your thing, give the cigar room a try, with bottles of single malts arranged by niche.
When it comes to the roos at this Zadar hotel, you won't be disappointed either. Bright and airy, each room boasts an uplifting blue and white palette which echoes the hotel's seaside location. Beds are spacious and comfortable, while bathrooms come complete with walk-in showers, separate bathtubs and luxurious double-sink basins. The Senior suites are huge and feature a deep bathtub in the centre of the living area, as well as a separate bathroom with shower. These rooms also feature spacious terraces that run along both sides of the room and come equipped with sun loungers and magnificent views. So, if you're looking for one of the best hotels in Zadar to stay at, this luxury seaside retreat, complete with spa and infinity pool, is certainly up there.
One of the best hotels in Zadar to appreciate the fascinating history of this Croatian city, Bastion Heritage is set within a timelessly elegant neoclassical manor house that has been built around the ruins of a 13th-century Venetian fortress. Located in the historical centre of the city, this exquisite Zadar hotel might accentuate the cultural heritage of the area, but the interior is anything but old-fashioned. Natural light floods in through the tall windows through which you can admire the beautiful marina views, the terrace restaurant serves delicious Mediterranean fare, the Kirtal aperitif bar serves a concoction of drinks, and the gold-mosaic wellness spa which comes with a sauna, whirlpool tub, heated relation lounge, cardio-fitness and showers.
This luxury hotel in Zadar offers 27 rooms, well-equipped with 'smart room' technology, handmade art deco furniture, satellite TVs, a minibar, free WiFi and air conditioning. Each room is decorated in plush textiles, with a minimalist, cream-beige colour scheme. Some rooms feature exposed brickwork and small work desks, while others feature panelled walls and lounge areas. If you're searching for a smartly decorated hotel in Zadar that comes with all the facilities you could need for a relaxing stay, look no further than Bastion Heritage Hotel.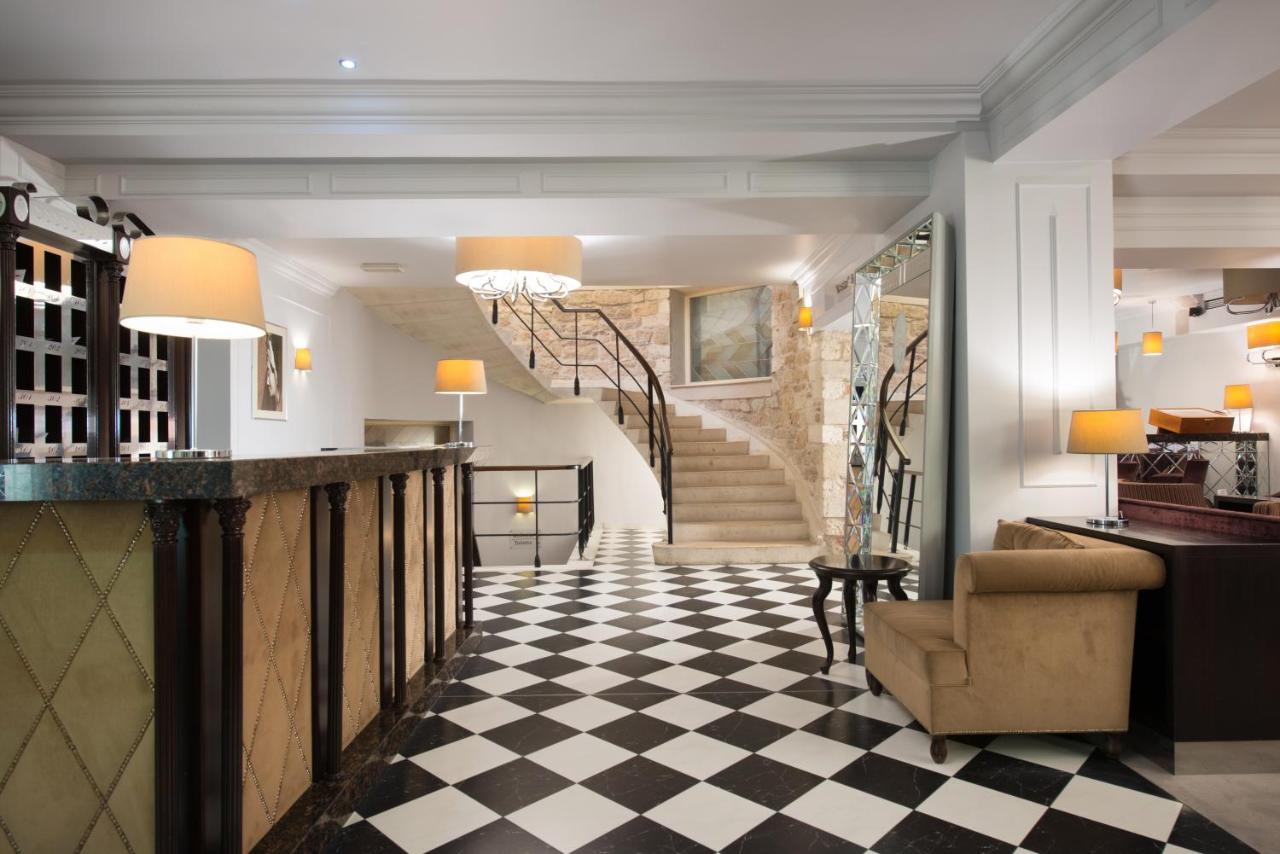 Conveniently located in the Old Town of the city, this Zadar hotel puts you close to the most popular attractions and some of the best dining options. Just a short walk from the seaside promenade and the centre's boutique shops, Dezign Apartments offer excellent accommodation in Zadar, Croatia, for seeing the sites. There are also plenty of in-house facilities at this 4-star hotel in Zadar to help you relax and enjoy your stay, including a la carte breakfast and free WiFi throughout the property.
Rooms are also well-equipped with air conditioning, flat-screen, satellite TVs, seating areas, coffee machines, and private bathrooms, complete with shower, free toiletries and hairdryer. Each room also comes with spacious double beds that are extremely comfortable. Some self-catering apartments even come with a kitchen with dishwasher, microwave and stovetop for those who prefer a little more privacy during their trip. So, for style and privacy combined into one, Dezign apartments might be the best accommodation in Zadar for your stay.
Situated in a bustling part of the historic centre, with UNESCO-protected Venetian walls, Art Hotel Kalelarga is by far one of the best hotels in Zadar, Croatia. Nearby, you can appreciate the natural beauty of the surrounding area at Queen Jelena Madijevka Park or Vladimir Nazor Park, while there are plenty of cultural highlights close to this Zadar hotel, including the Croatian National Theatre and the National Museum Zadar. The historic centre is also brimming with picturesque cafes, restaurants and shops for you to explore. Meanwhile, the carefully curated interior décor and furnishings of this boutique hotel in Zadar makes it a welcome spot to come back to after a day maneuvering through the city's maze of streets.
Rooms at this boutique Zadar hotel are made to feel bright and airy, radiating honeyed whites, light wood and exposed raw stone walls, whilst managing to retain some of the 19th-century building's original features. Enjoy fine materials and plush bedding, along with flat-screen TVs and private bathrooms equipped with complimentary toiletries and hairdryer. At this Zadar hotel, you'll also find a lovely restaurant, Gourmet Kalelarga, which offers an impressive wine list and is one of the best regarded restaurants in town, along with a trendy al fresco bar, set out on the Renaissance flagstones of the street opposite. So, if you're looking for a luxury hotel in Zadar from which to explore the city' cultural highlights, Art Hotel Kalelarga might be the one for you.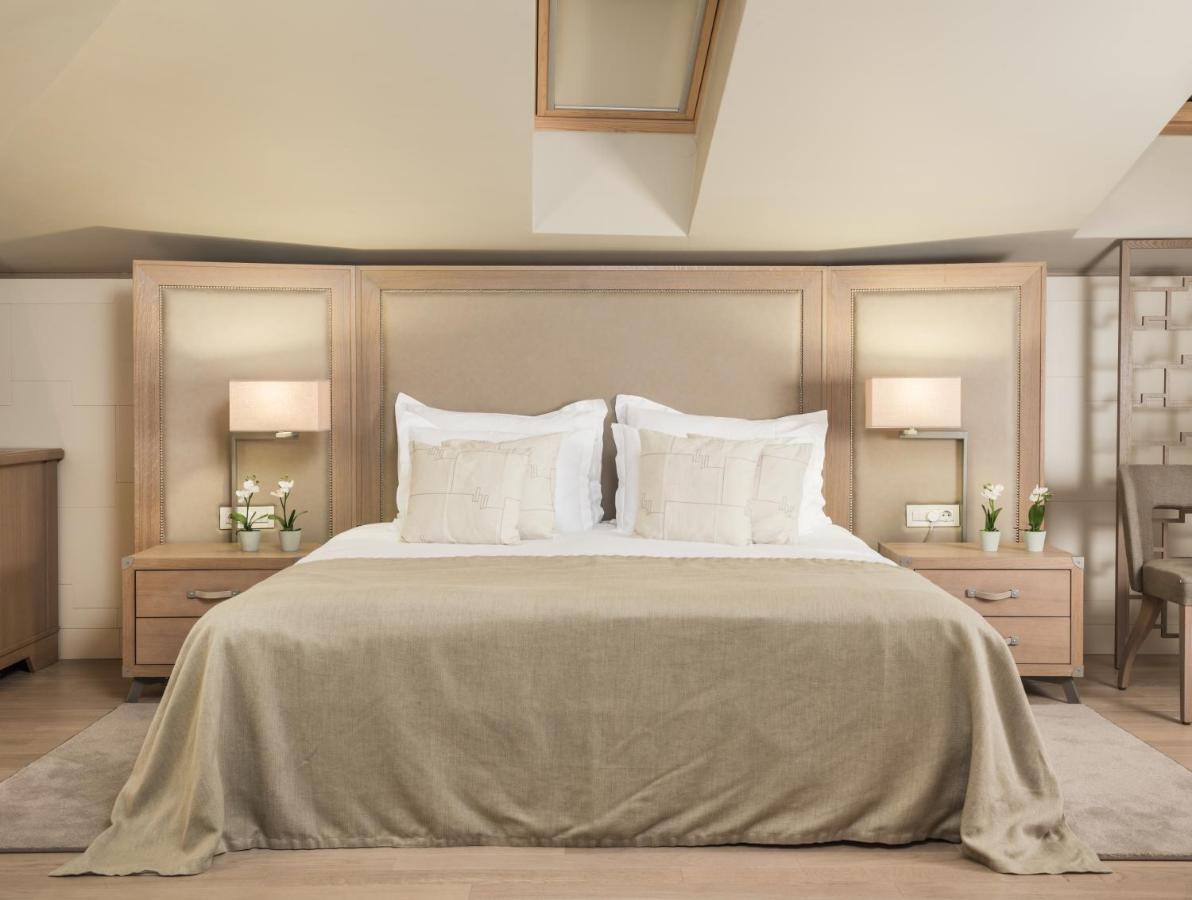 Another one of the best boutique hotels in Zadar is Teatro Verdi, a modern place to stay near the ancient and cultural hub of the city. The design of this Zadar hotel has been inspired by the nearby former theatre Giuseppe Verdi, which was once the largest and most beautiful theatre on the eastern coast of the Adriatic. Be sure to take a trip to neighbouring Maestrala Beach during your stay. In the morning you can tuck into a delightful al la carte breakfast, while throughout the day you can sit back and relax on the hotel's terrace with a glass of wine or a cocktail.
Guests can choose from rooms and apartments, all of which come with modern amenities, such as air-con, a flat-screen satellite TV, tea-and-coffee-making services and a minibar. Each room also features spotless private bathrooms, complete with a shower, hairdryer and luxury toiletries. So, head to this Zadar hotel for a relaxing stay in a no-fuss room with all the amenities you need.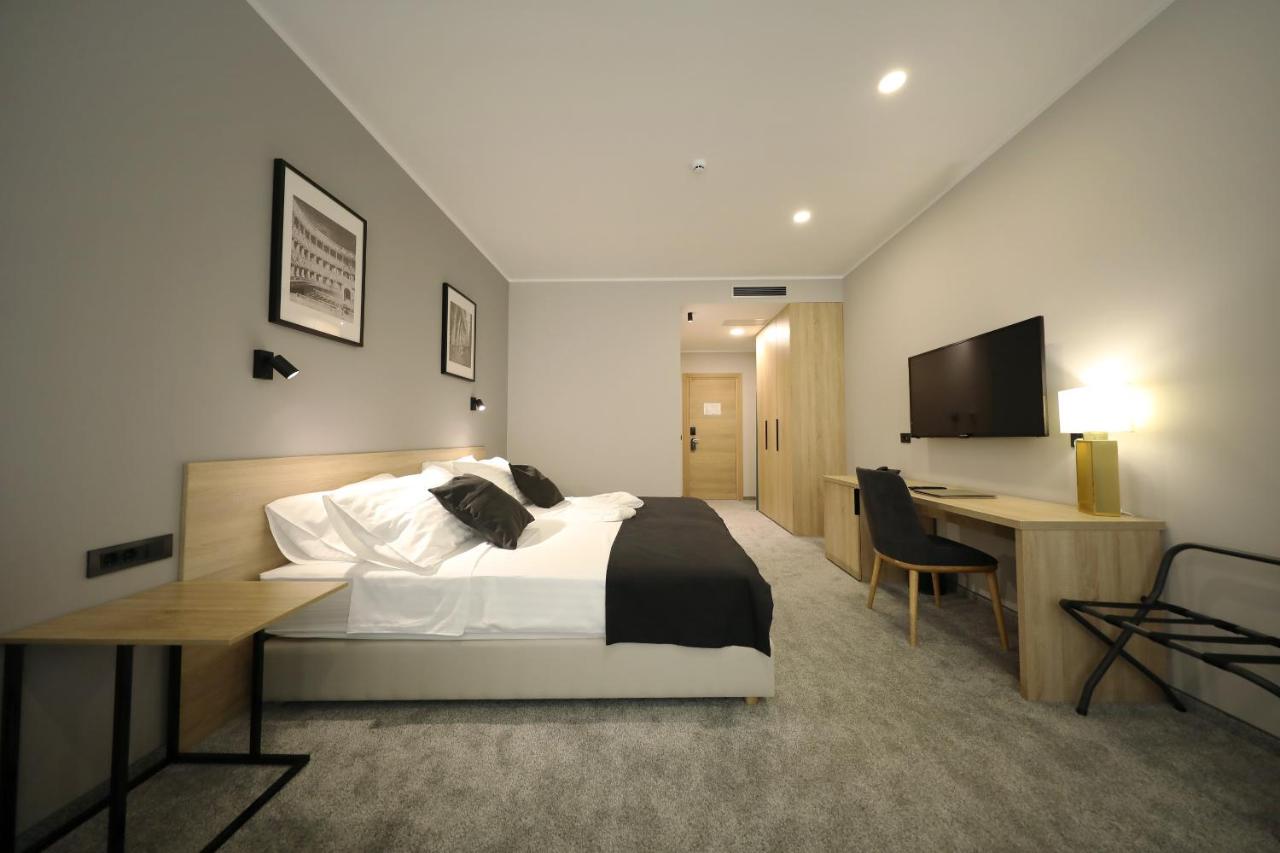 Situated in Punta Skala, on the seafront, this 5 star hotel in Zadar boasts an idyllic location and has undergone a recent renovation. More family focused than the other Zadar hotels on this list, the Falkensteiner is the perfect place to stay for anyone travelling with kids. The facilities at this hotel in Zadar are out of this world, including gym, spa, tennis and softball courts, outdoor and indoor swimming pools, as well as an amusement park, arcade, garden, swimming pool, library, climbing wall and cinema all dedicated to children. Water activities are also a huge draw of this Zadar hotel for families, with three large pools, a massive water slide and a lazy river.
As for the 250 rooms and suites, each feature everything a family could ever need for a relaxing stay in Croatia, from free WiFi and a flat-screen satellite TV to a minibar, sofa and air conditioning. Family rooms at this Zadar hotel can accommodate two adults and two children under 12. Each room takes on an under-water theme, with ocean outlines painted on the walls and submarine windows dotted about the place. Kids can stay in bunk beds, while adults get to relax in a comfortable doubles. This family hotel in Zadar also offers a great buffet restaurant, complete with front-cooking stations and a large terrace for dining. Here, there's something for kids and adults alike, including international and Mediterranean cuisine. So, if you're looking for the perfect stay with the whole family, then this is definitely the best hotel in Zadar for you!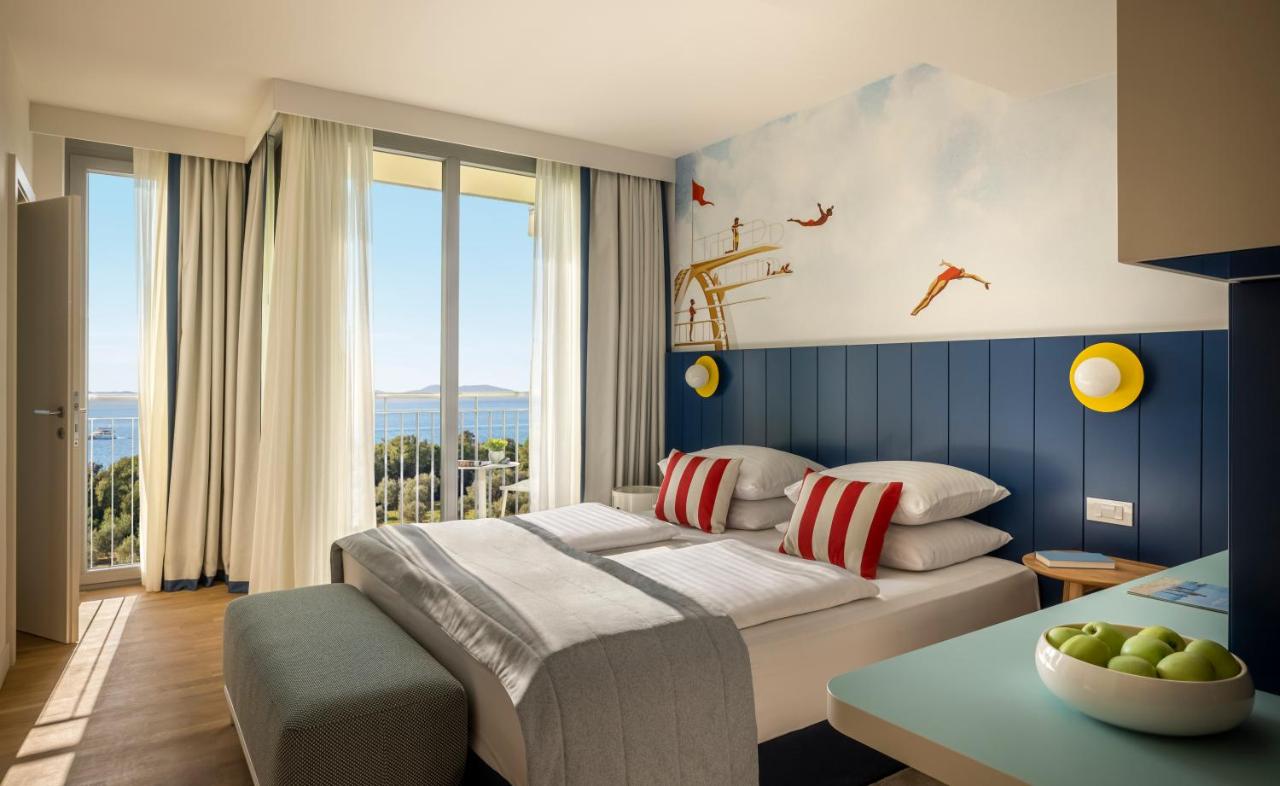 That rounds up our pick of the very best hotels in Zadar, from luxury to boutique to family! Scroll through our list of fabulous Zadar hotels and enjoy your trip! Be sure to check out our guide to the best restaurants in Hvar, too!