Kent is the South Eastern, quintessentially British county, once described as the 'Garden of England'. With its extraordinary beauty, astonishing landscapes and dramatic coastline, where better for a romantic staycation than Kent? In fact, Kent is also home to some of history's most renowned romantic writers, poets, and artists who were captivated by the county's beauty.
And the beauty doesn't stop at the surroundings, but is embodied within many of the hotels in Kent. From fairytale castles and contemporary coastal retreats to grand country houses and boutique boltholes, Kent has an abundance of romantic places to stay. To help you pick, we've rounded up our pick of the most romantic hotels in Kent. We've included romantic getaways in Kent to suit every kind of couple. So, let's dive in: here are the best Kent romantic getaways in 2023.
Be sure to check out our guide to the most romantic hotels in London, too!
6 best romantic getaways in Kent
Eastwell Manor is a historic country house hotel and spa owned by Champneys, sitting amid 62 acres of private grounds in the Kent Downs. Located less than an hour away from central London by train, you wouldn't think so from the rural sense of isolation that this romantic hotel in Kent offers. First built in the 18th century, this neo-Elizabethan style Kent hotel was once the home of Prince Alfred, during which time Queen Victoria, his mother, regularly visited. Sadly, the building was devastated by a fire in the 1920s, but was rebuilt in its original style, managing to retain many of its original features and it's historic charm. This romantic hotel in Kent houses 76 bedrooms and suites spread across the main Manor House and Mews Cottages. The 24 rooms in the Manor House all boast a traditional aesthetic, with four-poster beds, draping curtains and sweeping views across the estate. Each comes with a Nespresso coffee machine, tea tray, welcome fruit platter, Champneys toiletries, plush towels and robes. Meanwhile, the Mews rooms are housed within pretty cottages in the converted Victorian Stables and are slightly more modern, some even coming with private terraces. Finally, there are a number of a super cosy, heated Shepherds Huts, complete with wood-burning stove, minibar, tea- and coffee-making facilities, and a fully equipped bathroom, providing the perfect intimate bolthole for a Kent romantic getaway.
This romantic getaway in Kent also offers one of the best spas in the county, with an extensive treatment menu, a 20-metre swimming pool, steam room, sauna, hydrotherapy pool and gym. Other facilities at this romantic hotel in Kent include a nine-hole golf course, falconry centre, tennis court, and a range of garden games like badminton and croquet. As for the food, the Manor restaurant offers formal dining, wit a seasonal menu of well-executed favourites like rib-eye steak and brisket burger. Breakfast is also served here, which consists of a generous buffet of your usuals, including muesli, fruit, juice, pastries, bread, yoghurts and a number of cooked options. So, if you're looking for a fabulous spot to stay for a romantic break in Kent, look no further than Eastwell Manor in Ashford, a fantastically romantic hotel in Kent.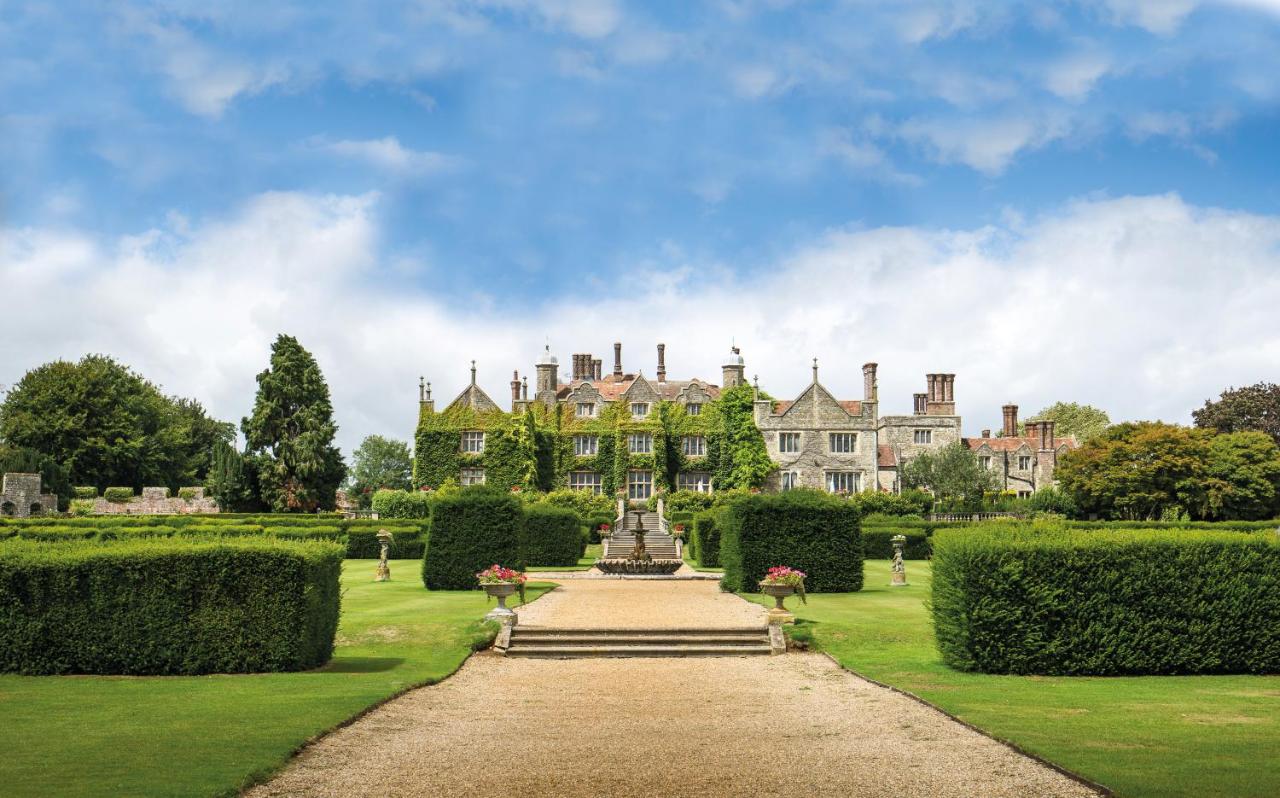 Rocksalt Rooms is the best romantic getaway in Kent for foodie couples. This gourmet escape sits right on the water's edge, overlooking Folkestone Harbour and the English Channel. What really draws people into this romantic hotel in Kent, though, is the culinary delight that is the seafood restaurant overseen by Michelin-starred chef Mark Sargeant. With impressive floor-to-ceiling windows, stunning ocean views and sophisticated, authentic dining, this is the perfect spot for a moonlit dinner with that special someone. Aside from the food, the rooms at this Kent romantic hotel give off cool-chic vibes while offering seamless comfort. Think white-wash exposed brick walls, elegant king size beds, wood-beam ceilings and Juliet balconies looking out onto the calming coastal scenery, with colourful fishing boats bobbing right outside your window and the sound of gulls in the background. This is the perfect seaside bolthole for a romantic break in Kent with your one true love.
The service at this romantic restaurant in Kent is refreshingly natural and unforced, with knowledgeable, passionate staff willing to go out of their way to help. Above the show-stopping restaurant, you'll also find a light-filled bar which is in keeping with the sleek style of the restaurant below. So, if you're looking for a romantic getaway in Kent by the sea, the Rocksalt Rooms might just be the perfect Kent hotel for you and your date.
Hever Castle is one of the most romantic hotels in Kent, set within the former Tudor-style Edwardian childhood home of Anne Boleyn. This is one for the history buffs and romantics looking to escape the hustle and bustle of everyday life and bury themselves in another world – a world in which you can stay in an ancient building that was once the stomping ground for one of Henry VIII's many wives. The rooms of this romantic getaway in Kent are filled with priceless antiques, from the furniture and tapestries to the Tudor paintings and prayer books. This romantic Kent hotel houses a total of 28 bedrooms spread between the ground and first floors of the two wings, ranging from Superior to Deluxe, with the exception of the fanciest Edward VII Suite. All rooms are decorated in Tudor-style glamour, featuring plush fabrics, antique furnishings and slick bathrooms complete with Molten Brown toiletries. It's worth splashing out on a Deluxe room which come with grand four-poster beds, roll-top baths, fireplaces, marble bathrooms, chaise-longues and striking castle views. Each wing of this romantic hotel in Kent also boasts its own dining area, sitting room with log fire and intimate public seating areas, where you can tuck into afternoon tea or breakfast in the morning. Overall, for a Kent romantic getaway, you won't find much more romantic than Hever Castle in Edenbridge.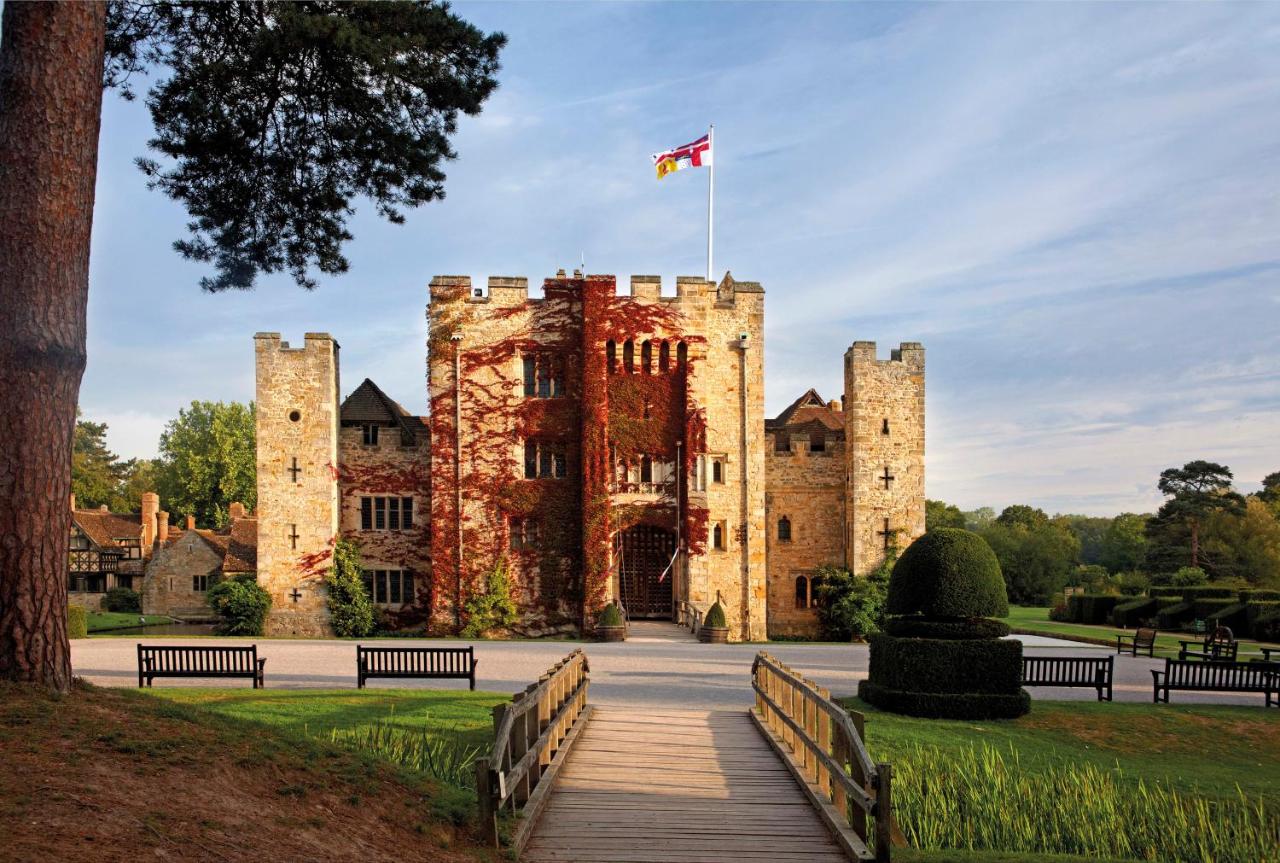 Albion House is a stylishly renovated 18th-century stately house perched on the clifftops above Ramsgate's Main Sands beach. Boasting impressive ocean views, striking original features, and design-led décor, this is by far one of the most romantic hotels in Kent. With bold colours, cool artwork, towering ceilings and wrought-iron balconies, this Kent romantic hotel gives off sophisticated seaside-chic vibes, without being too traditional or too modern. Comprising 14 trendy bedrooms, you should opt for a suite with a wraparound balcony and sea view vistas to really impress your loved one. All rooms feature elegant interiors with magnificent period features and a number of comfort-led facilities, including smart TVs, organic NaturalMat beds, tea trays, and marble-tiled bathrooms, stocked with White Company toiletries. History buffs should opt for the Little Victoria room – despite being on the smaller side, this west-facing room is where Princess Victoria recuperated in 1835.
Located just a 4-minute stroll away from the nearest beach, this is one of the most romantic hotels in Kent, where you can go for morning hand-in-hand strolls along the sands. Afterwards, head in to the lively main dining room and bar where food is served around the clock. Sit back with a drink and take in the breathtaking views through the floor-to-ceiling windows. Ultimately, if you're searching for a modern but truly romantic getaway in Kent, look no further than Albion House in Ramsgate.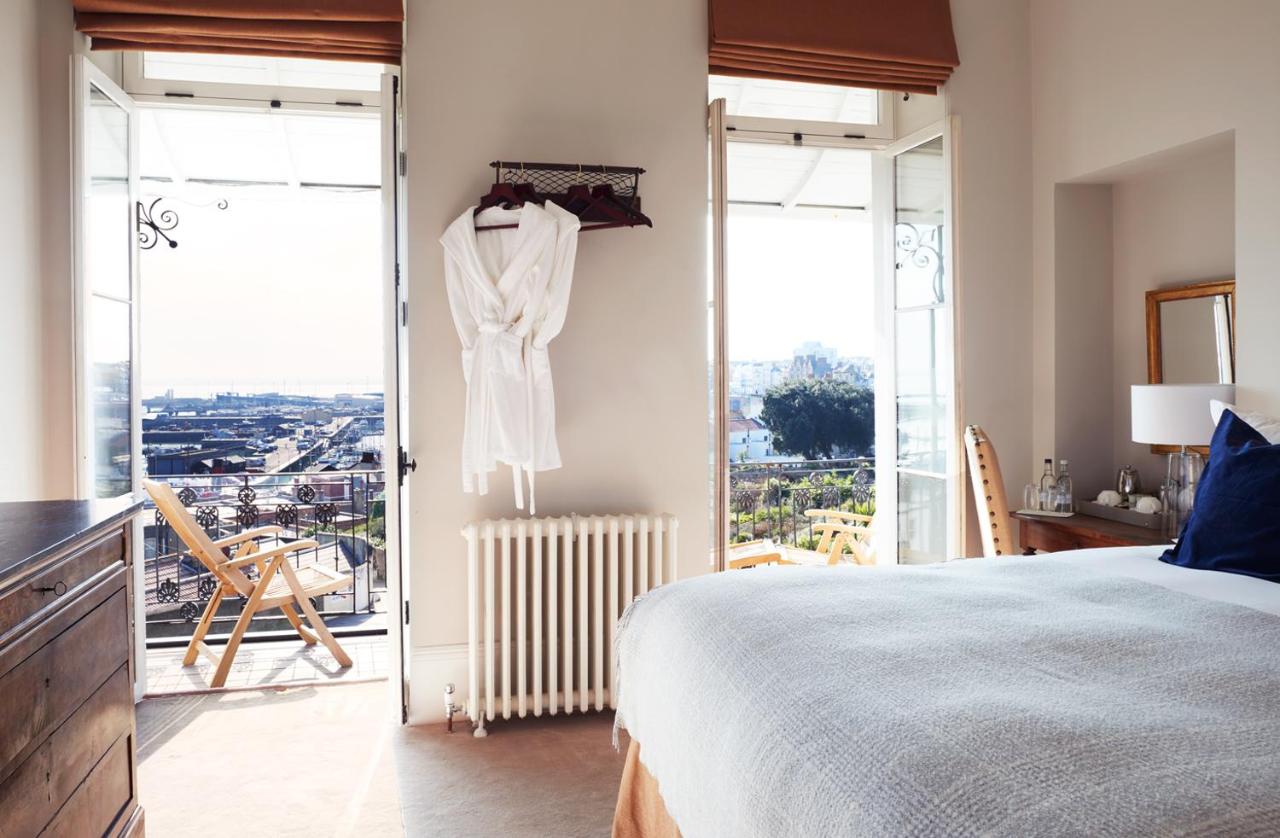 If you're looking for something a little different for your romantic break to Kent, Port Lympne Hotel & Reserve might be the most romantic hotel in Kent for you. Not just a hotel, Port Lympne is also the county's largest wild animal park set within a whopping 600-acre estate and home to over 700 rare and endangered animals, including the largest herd of black rhino in the UK. With just eight rooms available to book or a number of lodges dotted around the reserve, this romantic boutique hotel in Kent also offers a unique opportunity to sleep within a whisker of a tiger. What's more romantic than that? And, what makes it even better is that all of the hotel's profits go towards the Foundation's conservation work. The Grade II-Listed Port Lympne house was built in the early 20th century and was purchased in 1973 by John Aspinall, who embarked on a decade-long renovation project. The hotel's eight bedrooms are situated on the first floor, with all overlooking some impressive aspect of the reserve, whether it be the hippo pool, terraced gardens, or the trojan steps. All are decorated and furnished to a high standard, with kind size beds, complimentary bottled water, fluffy towels and Bamford toiletries. So, if you're looking to impress your other half with a once-in-a-lifetime experience on your Kent romantic getaway, be sure to pay a visit to Port Lympne.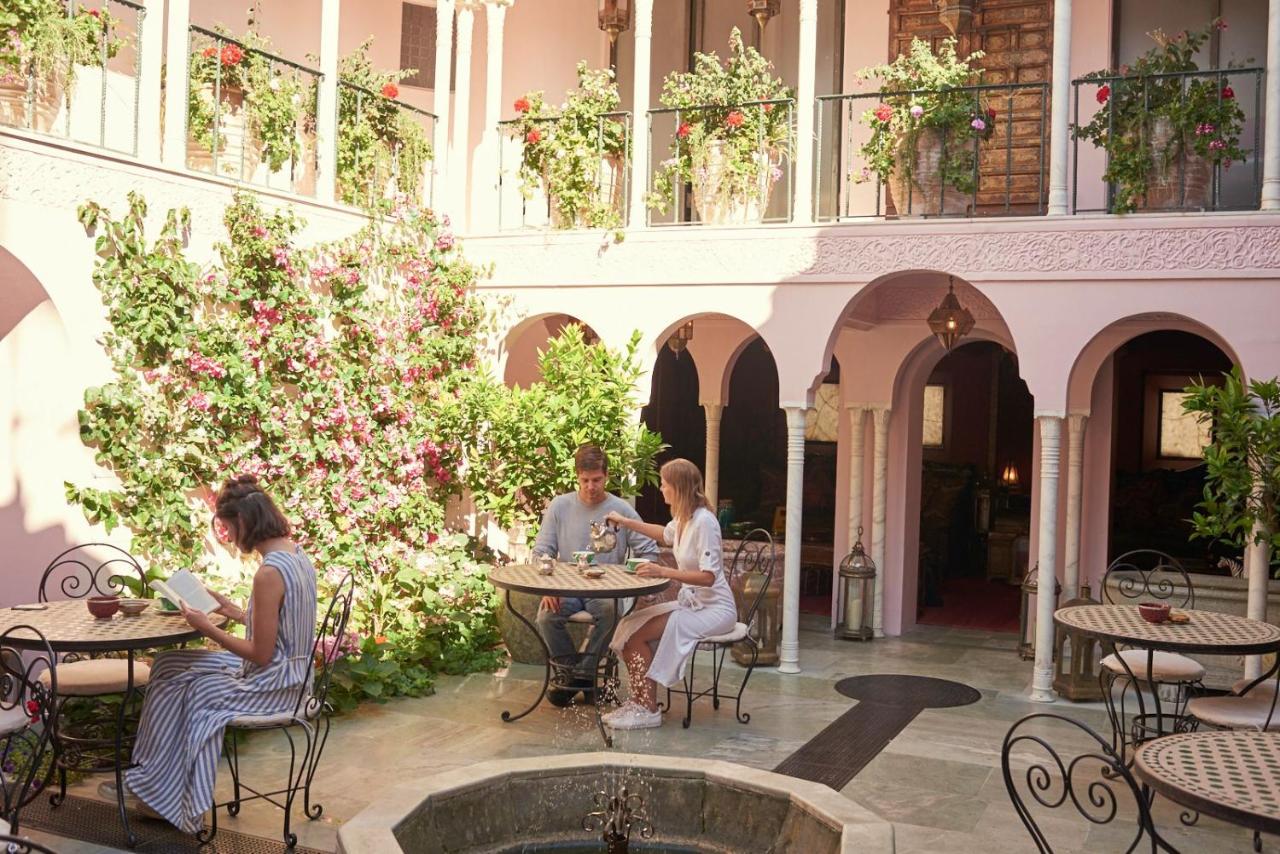 Are you looking for an authentic country house for your romantic Kent getaway? End the search now. Chilston Park Hotel is an unashamedly traditional 17th-century romantic hotel in Kent, set within glorious parkland. The romance at this country house hotel starts with the winding driveway up to the front door, leading you through the 22 acres of picture-perfect parkland. With original features retained, the house itself is a true beauty. Dating back to the early 15th century, this Kent romantic hotel has been lived in by aristocrats, politicians and authors. Today, you'll find marvelous twelve-paned sash windows, landscaped gardens, countless antiques and family portraits hung on the walls. The 53 rooms at this romantic hotel in Kent are spread across the main house, the stone stables, coachman's cottages and the new extension. For full romance opt for one of the seven Feature Rooms or three opulent Suites in the main house, complete with four-poster beds, original fireplaces and antique furnishings. Alternatively, opt for the Mews Rooms in the 17th-century stables and 18th-century Coachman's Cottages which have a more homely country cottage feel about them, with plush bed linens, tea trays and complimentary toiletries.
Browse through our collection of the most romantic hotels in Kent and give your loved one a getaway to remember. Be sure to explore our pick of the best romantic hotels in Cornwall, too!