Why holiday without your dog when you can visit Northumberland? As one of the most sparsely populated areas in the UK, Northumberland is the perfect place to relax, unwind and adventure with your four-legged friend by your side. Whether it's long dog walks along the beach, adventures across the rolling hills or chilling out in the nearby café, you can't get much more dog friendly than Northumberland.
So, when it comes to dog friendly hotels in Northumberland, you won't be disappointed. From massive country house hotels and cosy pub inns to modern converted barns and stylish boutique stays, there are plenty of pet friendly hotels in Northumberland to choose from. To help you pick, though, we've lined up our top 8 favourite Northumberland dog friendly hotels. So, what are you waiting for? Go ahead and find your perfect pet friendly accommodation in Northumberland.
Make sure you go take a look at our guide to the best country pubs in Northumberland so you know where to eat and drink during your trip to the north east!
7 best pet friendly hotels in Northumberland
Set within a Grade II listed building dating back to the 18th century, Beadnell Towers is one of the best dog friendly hotels in Northumberland for a fun-filled staycation. The village of Beadnell is a coastal village, just a 40-minute dog walk along a rugged white-sand beach to Seahouses. This Northumberland pet friendly accommodation underwent a significant refurbishment in 2019 but much of the character of the building has been lovingly preserved, meaning that it manages to pay homage to its history while maintaining a touch of elegance and modern style.
This boutique dog friendly hotel in Northumberland is home to a total of 18 individually style bedrooms, each suitably named after Northumberland sayings such as Cooth (comfortable) and Ducket (dovecoat). Each is warmly decorated with exposed wooden beams, copper accessories, paneled doors and William Morris-style wallpaper. As far as Northumberland dog friendly hotels go, this one really does wait on pooches hand and foot. In your room, you'll find everything from comfy dog beds to bowls and treats. You can even dine with your dog in the bar and lounge area while enjoying some of Northumberland's finest quality locally sourced ingredients. And, of course, this pet friendly hotel in Northumberland offers excellent access to the awe-inspiring countryside, as well as some of the county's most beautiful beaches, including Beadnell Bay, Bamburgh and Craster.
William de Percy is a gastropub and boutique dog friendly hotel in Northumberland set in the heart of the countryside. Combining rustic-chic with Parisian elegance, this Northumberland pet friendly accommodation provides the perfect retreat from the hustle and bustle of everyday life, for both man and dog. Set within a former coaching inn, you're welcomed in by the smart, slate-grey exterior, only to enter to a modern, rustic interior. Think exposed beams and brickwork, mismatched furniture, inky-dark walls, long velvet curtains and ornate mirrors hanging on the walls.
The 25 rooms at this Northumberland dog friendly hotel are decorated with fun and indulgence in mind. Walls are painted dark, rich shades, wooden beams criss-cross against ceilings, and brightly coloured velvet furnishings contrast it all. Higher-end rooms might even include a gold-coloured bath or a bathroom hidden behind a wardrobe door. Meanwhile, the enviable location of this pet friendly accommodation in Northumberland means that you and your furry friend will have unbeatable access to the very best the National Park has to offer, from Kielder Forest, Cragside and Wallington Hall just 20 minutes away. And after a long day of doggie adventures, you can both come back and relax in the hotel's cosy pub, where you can enjoy hearty dishes like local rib-eye steak and macaroni cheese.
The Hog's Head Inn is one of the best dog friendly hotels in Alnwick, Northumberland. Silver award-winner in the North East England Tourism Awards, this Northumberland pet friendly hotel is ideally placed for exploring this beautiful county, being just a stone's throw from the coastal village of Alnmouth, as well as plenty of gardens, castles, museums and dog friendly beaches. The hotel itself is arranged around three sides of a courtyard, with arched barn-style windows and gabled roofs. The interior continues this rustic feel with exposed brick timber panelling, wooden booths and tartan armchairs creating a cosy, welcoming atmosphere in the bar-cum-restaurant.
Home to 53 rooms, ranging from large to super large, they are refreshingly frill-free without being bland. Think open-fronted wardrobes, functional bathrooms, hard-wearing carpets and a rustic colour palette. As for the food at this pet friendly hotel in Northumberland, you can expect local, traditional fayre which you can enjoy in the wooden floor area with you pup. Surrounded by stunning scenery, your dog will be in its element with long coastal walks and off-lead-worthy countryside to explore.
Positioned on Blyth's historic quay area, the Commissioner's Quay Inn is one of the best dog friendly hotels in Northumberland for cosy rooms, delicious homemade food, a water edge location and a very warm puppy welcome. Inside, this pet friendly hotel in Blyth, Northumberland impresses with a vast ground floor that combines reception, bar and restaurant. Think nautical meets rustic charm, with exposed brick walls, metal ducting, copper details, mismatched wooden chairs, retro metal lampshades and a wooden bar.
The 40 bedrooms at this pet friendly accommodation in Northumberland are well-sized and bright with blue-plaid carpets, photos of the local harbour and seascapes, king-sized beds and compact but practical bathrooms. The best rooms available are those with sea views. When your tummies start rumbling, head down to the bar area of the restaurant to dine with your dog, where they offer a selection of freshly made homecooked food and pub classics like fish and chips, pizzas, burgers and pies. And not forgetting Fido! There's also a Sir Woofchester's dog menu for hungry pups.
The Joiner's Arms is a 5 star dog friendly hotel in Alnwick, Northumberland that welcomes both two- and four-legged guests with open arms. This pet friendly accommodation in Northumberland is perfectly situated for adventurous doggos, with the beach just 15 minutes away, endless opportunities for rural walkies and plenty of historic hideaways to sniff out, including Dunstanburgh Castle. You and your pooch will be welcomed into the ski lodge-style interior with treats galore and even a bottle of Pawsecco! With low, beamed ceilings, exposed stone walls, stripped wood floors, leather chairs and red velvet stools, the interior décor is surprisingly bold and luxurious compared to the modest-looking white-washed exterior.
This Northumberland dog friendly hotel is home to just five spacious rooms, decorated with bold colours, carved headboards, low lighting and gilded armchairs. Some have exposed stone walls or beams, while others have giant baths on plinths in the bedroom. Each room encompasses a different theme, from rustic-French to Highland country house. After a long day exploring the coastal brilliance that Northumberland has to offer, your dog can join you in the relaxing bar area where you can choose from a delightful menu of gastropub favourites and luxury dishes.
If you're looking for a base to explore the county with your best friend, look no further than The Amble Inn, one of the best dog friendly hotels in Northumberland. Located in the quaint harbourside town of Amble, this laid-back, pet friendly hotel in Northumberland guarantees a comfortable stay for both you and your pup. Despite newly being open to guests, The Amble Inn has lost none of its countryside charm and character. Inside you'll find minimalistic but chic nautical decor that clearly takes inspiration from its surroundings.
Rooms are equally understated but stylish, with neutral coloured walls, checkered carpets, and comfy king-sized beds. Pooches can join you in certain areas of the bar/restaurant, where you'll find a menu of hearty, homemade delights, like fish and chips, pizza, and steak, vegetarian dishes and scrumptious desserts. Of course, we couldn't leave out the dogs, so there's also a menu specially for pups.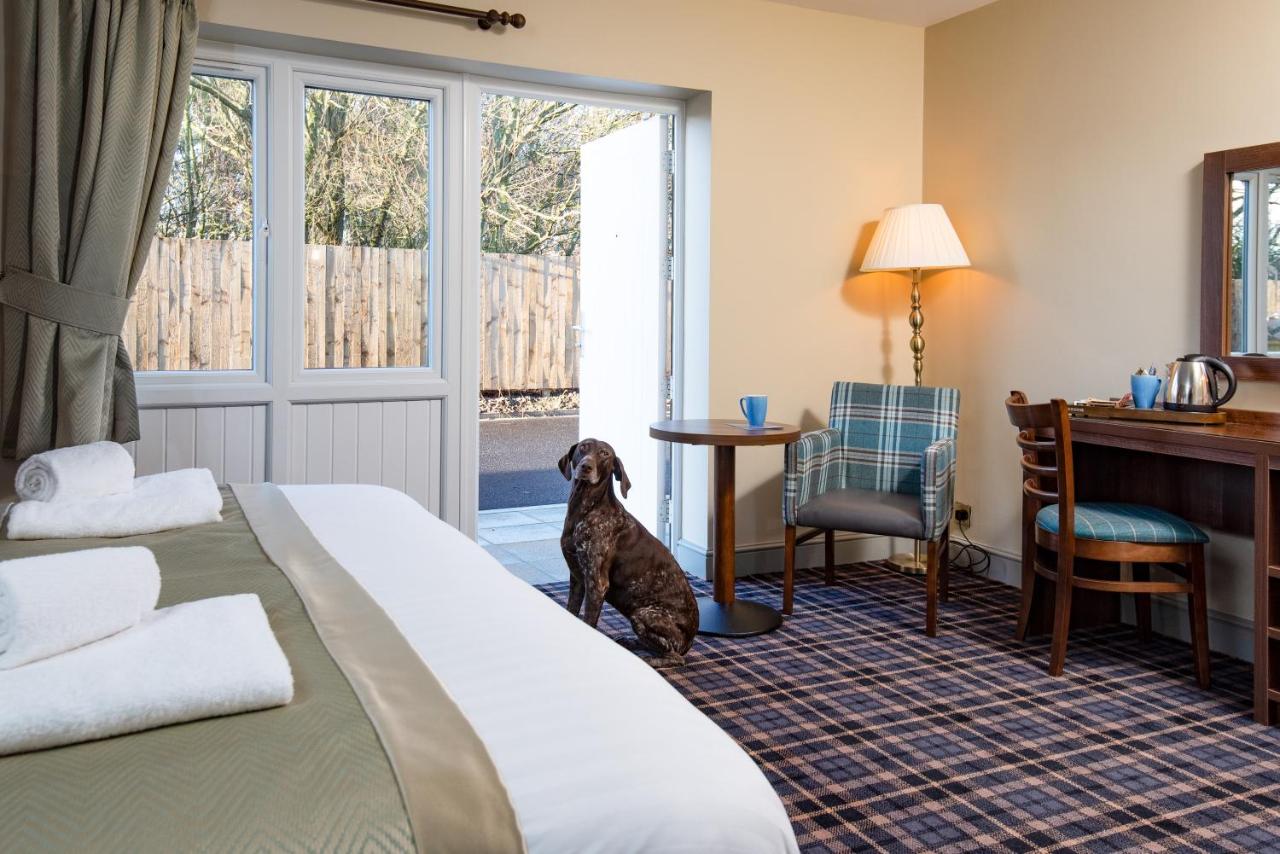 If location is your priority when searching for the best dog friendly hotel in Bamburgh, The Bamburgh Castle Inn might just be your perfect stay. Situated in the little fishing village of Seahouses, overlooking Bamburgh Castle, this family-run, pet friendly accommodation in Northumberland has won the gold award from the North East England Tourism Awards and a was a finalist in the Great British Pub Awards in 2019. Set within a traditional white-washed Victorian inn, the interior of this Northumberland dog friendly hotel is rustic, with bright tartan patterns, panelled walls, wooden floors exposed brickwork and mismatched chairs.
The 46 rooms are spread across three floors or are set within converted cottages or outbuildings. Most of the rooms at this dog friendly accommodation in Northumberland have full or partial sea views which really steal the show. The pub here is known for its Great British pub classics like steak and ale pie and fish and chips. There's also a menu of delightful dishes for doggos, too! The surrounding village is also super dog friendly, with a year-round pup friendly beach.