With winter just around the corner, the collective yearning to visit the winter wonderland that is Lapland is about to hit. So, before it does, we thought we'd compile a list of the very best luxury hotels in Lapland, from igloos and minimalist lodges to unique treehouses and Arctic spa retreats.
Although the Lapland region spreads across Norway, Sweden and parts of Russia, Finland is our favourite destination to visit for the real Lapland experience, perfect for Northern Lights-chasers and reindeer spotters. When we think of Finland's Arctic region, the first thing that often comes to mind the North Pole, the home of Santa Clause's workshop.
Aside from Santa's grotto, though, Lapland has a huge array of unique places to stay that allow you to experience the true beauty of the white wilderness. If you're planning a snowy getaway this year, go ahead and check out our guide to the best luxury hotels in Lapland, Finland.
Be sure to take a look at our guide to the best European cities to visit in December, too.
The best Lapland resorts 2022
The first luxury hotel in Lapland on this list comes in treehouse form. The Arctic TreeHouse Hotel in Rovaniemi consists of a collection of rectangular chalets and is built on a forest-covered hillside on the Arctic Circle. Right on the hotel's doorstep is a range of activities, such as husky and reindeer safaris. This is also one of the best hotels in Lapland for Northern Lights viewing thanks to the panoramic north-facing windows that feature on each of the 52 treehouses. Inside, you'll find Nordic style at its finest with dark-tiled bathrooms, mock fur covered beds, and a minibar in every room (only the essentials, of course!). Each unit is well heated with underfloor heating in some of the newer suites, as well as air-conditioning in every room.
Staying at this Lapland hotel, you'll also be guaranteed privacy thanks to its surrounding snow-dusted trees. There's an excellent restaurant in the main reception block and are welcomed with hot drinks by the fireplace. The main hotel building provides a delicious breakfast that consists of a traditional Scandinavian buffet with a focus on fresh, healthy and local ingredients. Start the day with everything from pastries and bread to porridges, omelettes, eggs, sausages, bacon and much more.
Overall, with its sleek Nordic design, magical location and top-notch services, this Lapland luxury hotel is sure to appeal to travellers of all kinds.
See more images at Booking.com
Down a snowy trail just five minutes from Rovaniemi's compact city centre, you'll find this seemingly hidden Lapland resort with its igloo-style cabins and tree-studded backdrop. Blending modern luxury with rustic, traditional touches, this hotel in Lapland, Finland, strikes the perfect balance. Each room or cabin has a personal touch to make it feel extra special, whether it be rugs, trinkets, or paintings. Staying at this Lapland luxury hotel will truly get you in the Christmas spirit, complete with stables for the two on-site horses, reindeer hide throws, teepees, wooden sauna huts and lanterns lighting the way, alongside the multicoloured ice sculptures.
Each cabin features a double bed, spacious bathrooms, a set of drawers and a glass roof for stargazing or aurora spotting. But the real star of the show at this resort in Lapland is the glass-roofed wagon which comes equipped with a wood-burning sauna on skis, a double bed, small kitchen, and bathroom, and can be whisked out into the wilderness for guests to chase the Northern Lights in peace and quiet. Other on-theme activities include horse-drawn sleigh rides, reindeer attractions, snowmobile tours, guided snowshoe hikes and private sauna and hot tub sessions. When it comes to food, there is a café and lounging area which serves a buffet breakfast, lunch, dinner and all-day free coffee. As for drinking, though, Apukka does not serve alcohol.
So, if you're looking for one of the best places to stay in Lapland, this luxury igloo-focused hotel will treat you to a winter escape full of festive fun and glamour.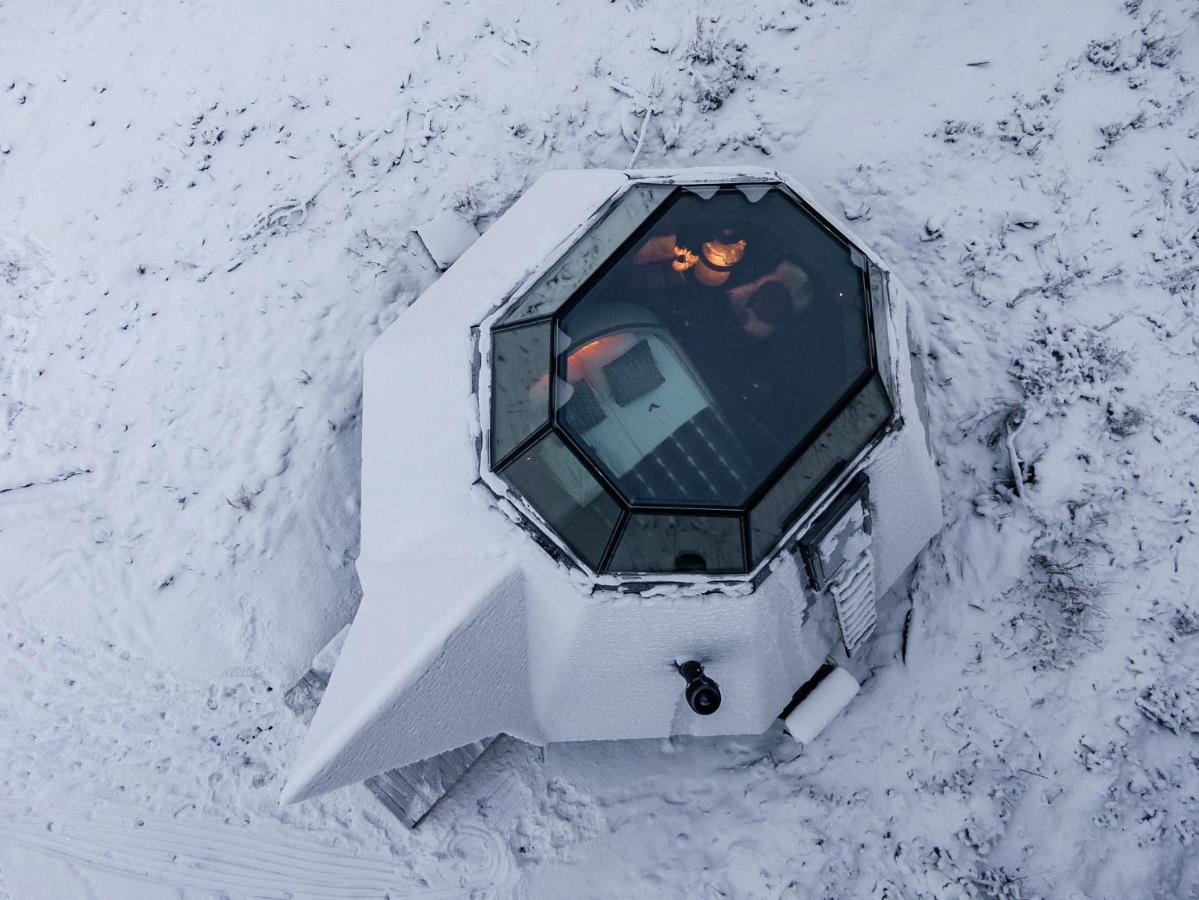 See more images at Booking.com
A year-round resort in Lapland, Kakslauttanen occupies two separate East and West cosy log cabin-filled villages and restaurants. In the zone of optimal aurora viewing, this luxury hotel in Lapland is located some 155 miles north of the Arctic Circle, where you are guaranteed extreme but spectacular winters. The East village started out as a roadside café in 1973, but today consists of large traditional log cabins, a cosy reception area, a restaurant building, and a cluster of glass igloos. On the other hand, the West Village started out as a Santa Clause resort but now features a celebration hall, a Santa Clause house, a second restaurant and more glass igloos.
Each cabin is self-sufficient, with some larger ones having kitchenettes, an open fireplace and sauna. The queen suites in the East Village are slightly more luxurious, with wooden four-poster beds and bathtubs. Activities available at this hotel in Lapland include gold panning, skiing, quad-bike safaris and reindeer and husky sled rides, as well as spa and massage services, complete with the world's largest smoke sauna, accommodating up to 100 bathers at once.
For an authentic log-cabin feel and some of the best activities to choose from, the Kakslauttanen Arctic Resort is one of the best places to stay in Lapland, Finland.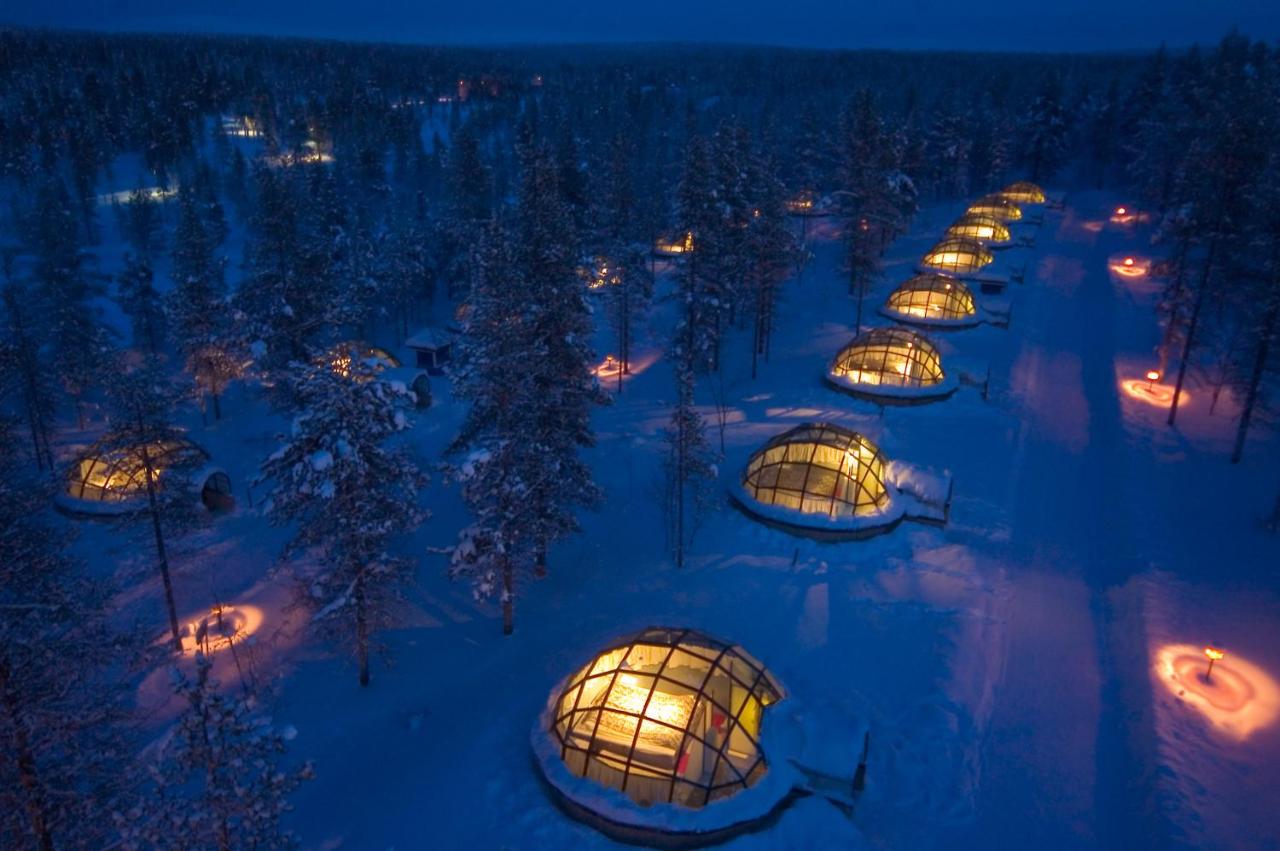 See more images at Booking.com
Located in the Santa Claus Village on the Arctic Circle, Nove Skyland Hotel is a stylish Lapland luxury hotel designed in a Scandi style with panoramic windows to take in the magical surroundings from, open log fires, private saunas, self-catering kitchens, and cosy semi-detached cottages. Each room at this hotel in Lapland, Finland, comes complete with free WiFi, flat-screen TVs, tea and coffee making facilities, a minibar, free toiletries, bathrobes and slippers. It really is all about the little luxuries at this Lapland resort. The staff here are super welcoming, friendly and helpful, always willing to help guests arrange activities like aurora hunting tours, husky safaris, reindeer farm tours and snowmobile safaris. Santa Claus Village's Main Post Office is also located just 200 metres from the hotel, while Arktikum Science Centre is just 7km away. In the morning, a buffet breakfast can be enjoyed at the hotel, with everything from cooked items to baked goods.
Nova Skyland Hotel is by far one of the best places to stay in Lapland, Finland thanks to its unrivalled location, cosy Scandinavian decor and more than obliging staff.
See more images at Booking.com
An adults-only boutique hotel in Lapland, Beana Laponia is set in the snowy wilderness in Meltaus, just outside of Rovaniemi. With just 11 rooms, this luxury Lapland hotel offers an intimate, homely atmosphere and a calm and tranquil setting, perfect for a romantic couple's trip away. Each room features dog-themed décor, mini bar, and private bathrooms equipped with complimentary bathrobes and slippers. Some larger units also include a sauna and seating area. There are a number of activities in the area that hotel guests can take advantage of, including fishing, husky safaris, snow shoeing and trips to see the Northern Lights.
This is one of the best Lapland luxury hotels for couples who are looking for a romantic but peaceful trip away without the distraction of kids.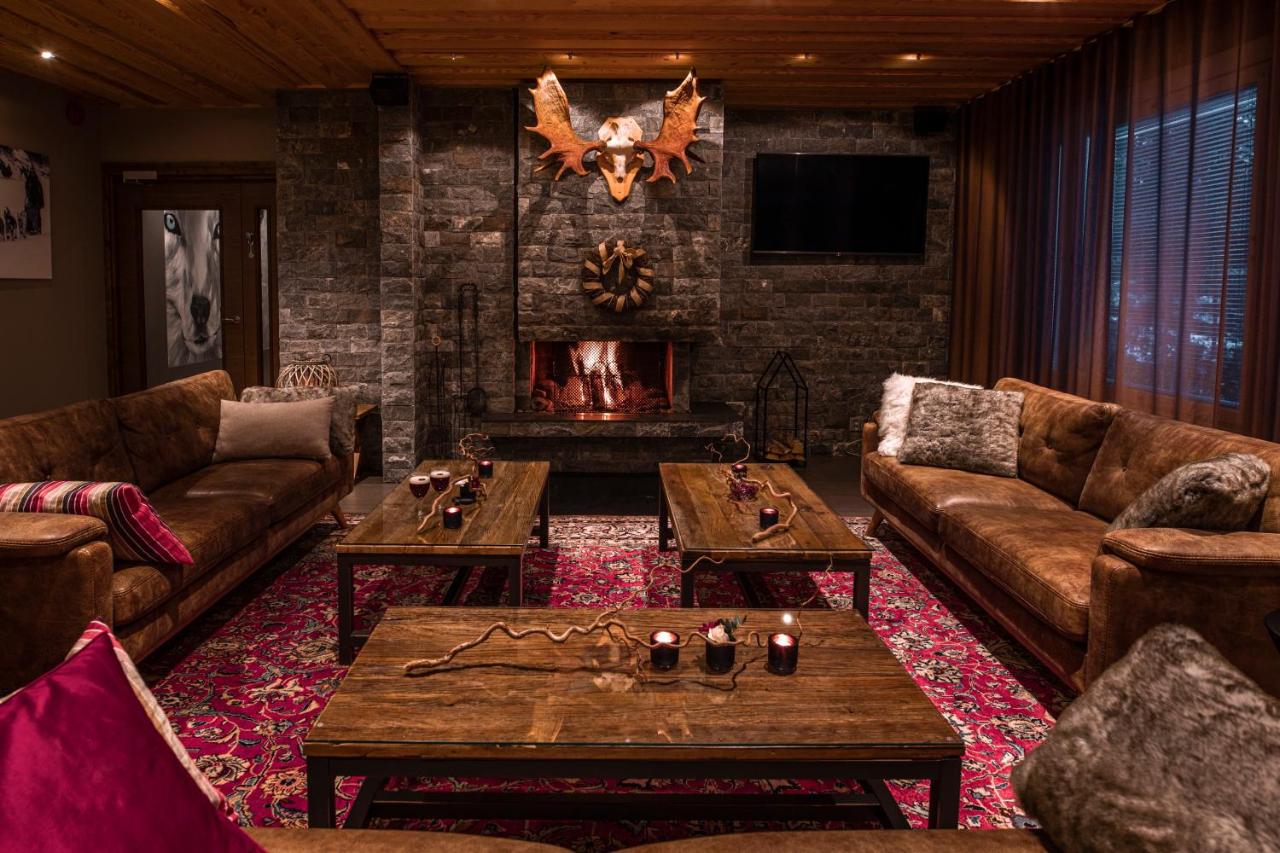 See more images at Booking.com
Situated next door to the Ounasvaara Winter Sports Centre, Lapland Hotel Sky Ounasvaara feels wonderfully remote despite being just 10 minutes away from the provincial capital of Finnish Lapland. What makes this one of the best hotels in Lapland is its accessibility to both urban services like shops and museums, and the snow-enveloped landscapes of the fells and its accompanying activities. Unlike some Lapland hotels, this one doesn't rely on Christmassy gimmicks, instead drawing guests in with its simple interior style which is aesthetically pleasing, comfortable and practical all at once. Most rooms at this Lapland luxury hotel features a private sauna, bathroom, TV and tea and coffee making facilities. Each room also has windows facing out onto the snow-dusted trees and the wonderful landscape of the Lapland fells. Another big draw of this resort in Lapland is the restaurant and roof terrace which offer spectacular views over Rovaniemi city and the Kemijoki River valley. Having won the Chaine des Rôtisseurs and Nordic White Guide awards, the restaurant serves up an a la carte menu of local delicacies and international dishes. This is also one of the best hotels in Lapland for access to activities, with guests being able to directly reach ski tracks and pretty walking trails. Other on-site facilities also include saunas, ice-swimming and access to the gym at the SantaSports Centre.
Lapland Hotel Sky Ounasvaara is one of the very best places to stay in Lapland, Finland, thanks to simple but stylish décor, easy access to activities and a top-notch restaurant that allows you to sample some of the finest Lappish delicacies.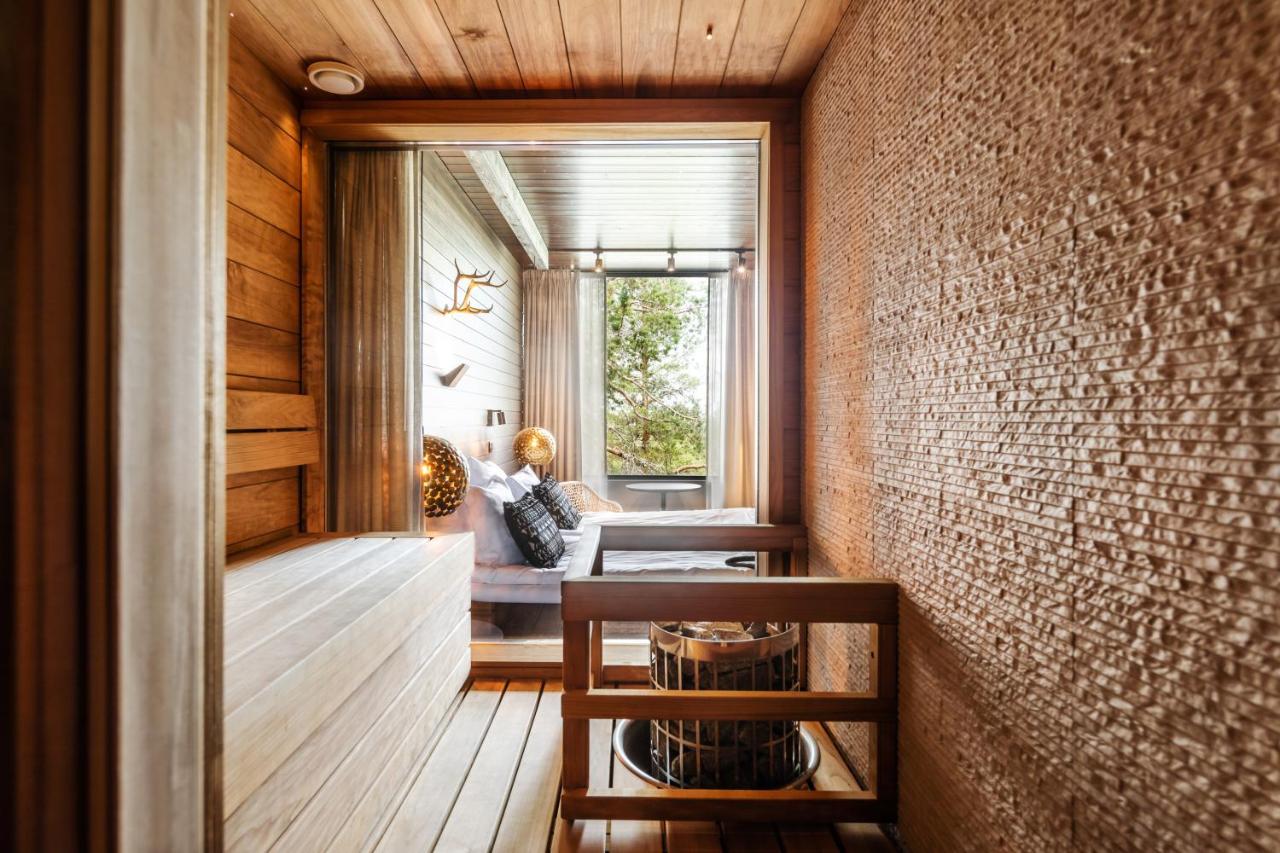 See more images at Booking.com
If you're looking for one of the most unique stays for winter, this family-owned hotel in Lapland won't disappoint. Having only recently opened in 2021, Aurora Queen Resort is situated just outside of Kakslauttanen and offers glass-ceiling aurora view igloos for full immersion into the surrounding, unspoilt nature. Visit this Lapland luxury hotel and lay in bed as you take in the splendid views of the scenery around you. Each of the igloos come complete with a private bathroom, air conditioning, bed linen, towels and some even have a convenient seating area. The hotel also features an on-site restaurant and bar where guests can have an evening meal, grab a snack or a drink, as well as serving a continental or buffet breakfast every morning. If you're looking for an action-packed winter adventure, this is a great base from which to try all the activities on offer in Finnish Lapland, including cycling, snow shoeing, aurora chasing, sledding and more.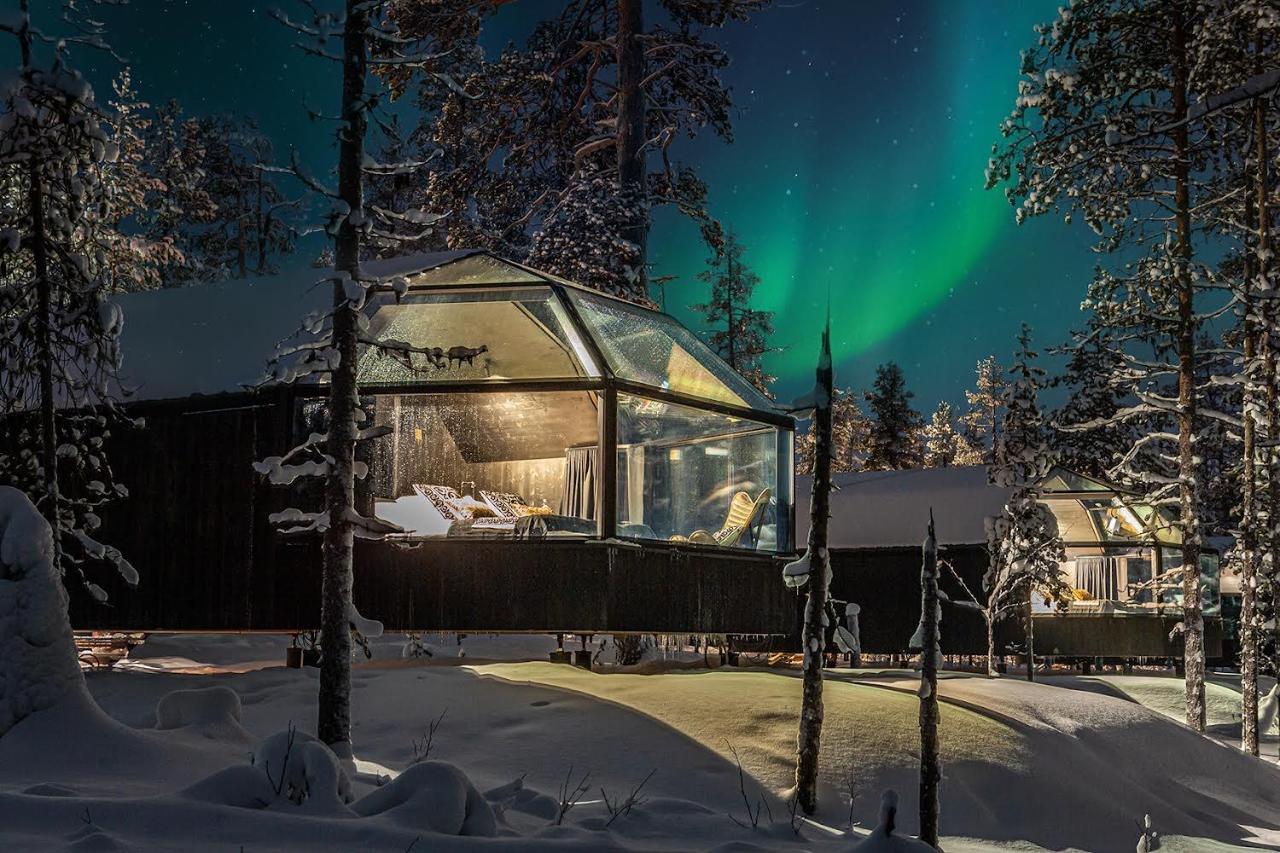 See more images at Booking.com
Use our promo code for 10% off a WayAway Plus membership and find cheap flights to Lapland with cashback. Our promo code is: TP-398585.