Cornwall is a is one of the top UK staycation destinations for Brits and it's not hard to see why. But, for dogs, this seaside county is nothing short of heaven. Expansive sandy beaches, rolling countryside perfect for long walks, and plenty of dog friendly hotels. What's not to love for a adventure-loving pup? The answer: nothing!
But, if you're looking to bring your canine companion on a Cornish getaway, there's so many dog friendly hotels in Cornwall to choose from. Whether you're looking for seafront hotels, quaint boutique bolt holes, stays for the whole family or those with great access to walks, we've put together a guide to all the best pet friendly hotels in Cornwall. So, if you're planning to stay in a hotel in Cornwall with dogs, look no further than our list of the top 8. After all, pampered pooches deserve a break too!
Check out our guide to the best dog friendly hotels in Brighton, too!
Best Pet Friendly Hotels in Cornwall
Where: Penzance
Situated at the top of Regency Square, the Artist Residence is a dog friendly hotel in Cornwall that spans two Georgian townhouses. This prime position allows for spectacular sea views across Penzance and beyond, without any eye-sore buildings or seafront traffic. The interior of this boutique pet friendly hotel in Cornwall is bohemian at its finest, with a friendly, upbeat but laidback vibe. The 25 bedrooms have each been uniquely designed by artists which means no two rooms are the same. Think a mix of original art with reclaimed wood furniture, creating an eccentric take on boho-chic. Some rooms are sea-facing with balconies, but all rooms feel incredibly spacious thanks to high ceilings. So, if you're looking for one of the best dog friendly hotels in Cornwall by the sea, the Artist Residence won't disappoint. Travel to this stylish hotel in Cornwall with dogs and explore everything Penzance has to offer.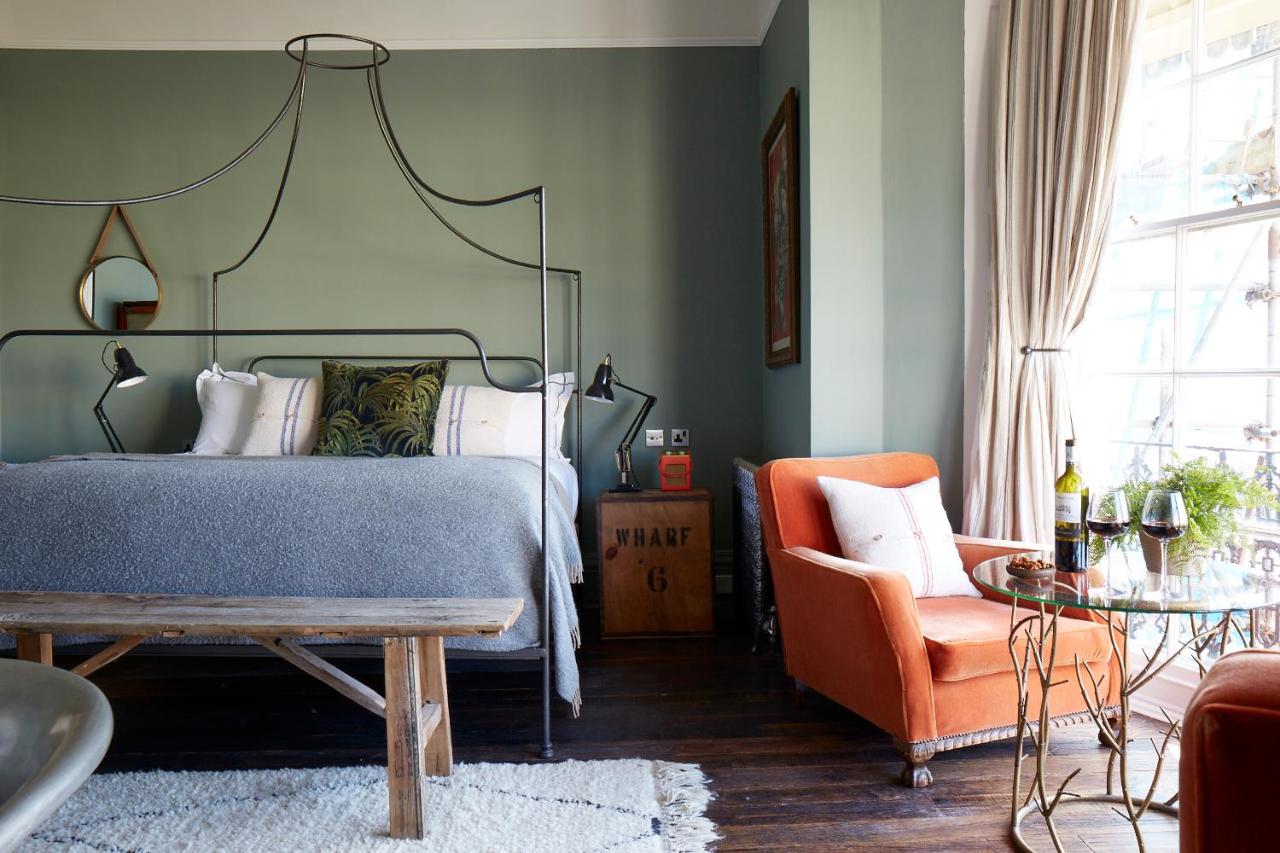 Where: Falmouth
Situated on the very edge of historic Falmouth, this dog hotel in Cornwall is ideally positioned for walks along the coastal path and the town's harbour with pooch in tow. Having recently undergone a huge revamp, St Michael's resort is now a pet friendly hotel to rival the other options in the county. The interior decor draws upon the coastal surroundings, giving off a beachy vibe that feels both upscale and contemporary. This dog friendly hotel in Cornwall boasts a total of 92 rooms, many with fabulous sea views and many kitted out specially for pampered pooches. In these dog friendly rooms, you'll find a large dog bed, water bowls and treats to give them the welcome they deserve. The resort even now features a magnificent spa and hydrotherapy centre, as well as a separate health club with large gym, pool and fitness studios. This is the perfect dog friendly hotel in Cornwall by the sea for puppy parents who love their own space.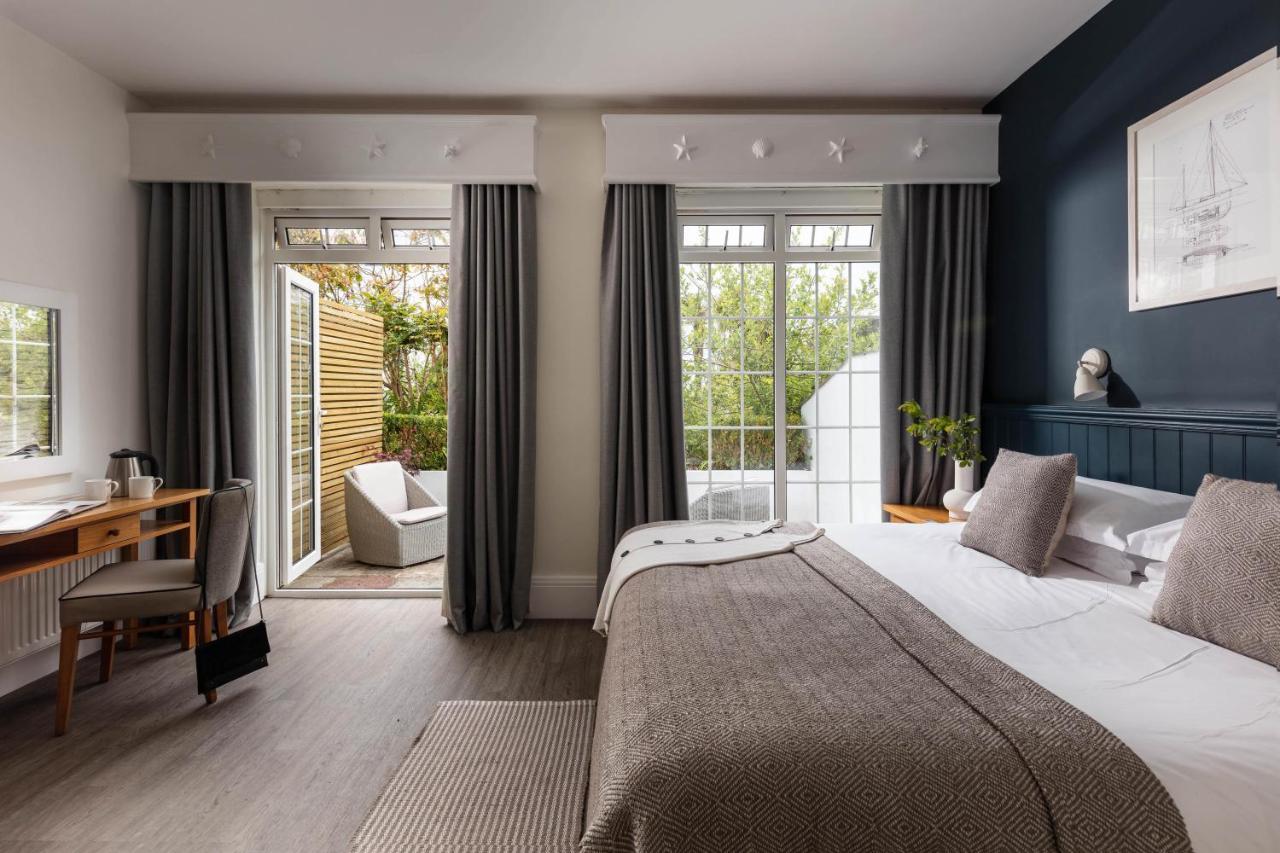 Where: Portloe
Situated in one of the last remaining hamlets in the county, at the centre of the coastal path, this 17th-century dog friendly B&B in Cornwall overlooks the picturesque cove at Portloe. The sea is right outside your window, allowing you to breath in the salt-fresh air in the morning and makes an ideal spot for doggie paddling. The interior of this Cornwall pet friendly hotel is cosy and welcoming, with plenty of character throughout. Muted colours and clean lines make it a bright and calming space, while low ceilings, exposed beams and white window shutters add some cottage-style charm. Featuring a total of 22 rooms and two cottages, all sleeping a maximum of two people, this dog friendly hotel in Cornwall is the perfect spot for a romantic getaway with your date and your doggo. Visit this dog hotel in Cornwall and make the most of this picture-perfect location, bustling with stunning beaches, walks and quaint little cafes (most of which also welcome four-legged friends).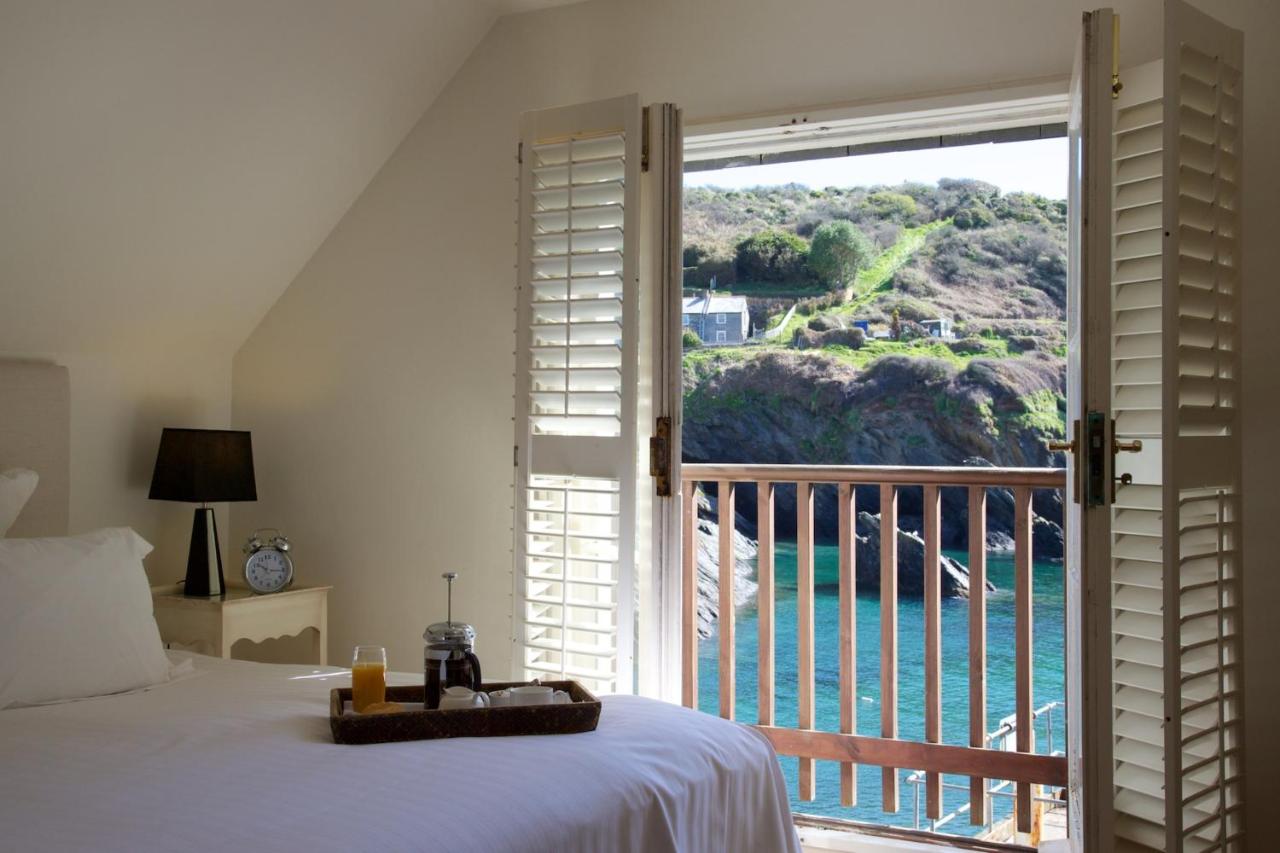 Where: Fowey
A Victorian seaside mansion once frequented by Wind in the Willows author Kenneth Grahame, this Cornwall dog friendly hotel is steeped in history and perfect for whole family visits. Set within beautifully landscaped gardens above the traditional town of Fowey in the southern part of the county, this pet friendly hotel in Cornwall boasts expansive sea views and access to over 600 miles of coastal walks. The interiors are grand and trendy all at the same time, with marble fireplaces and dark oak paneling. Housing a total of 36 rooms, each permits two dogs and are equipped with blankets, bowls, a tennis ball and biscuits. The rooms are stylishly decorated following a recent revamp, with handmade oak beds, bespoke wallpaper and restored furniture. This dog friendly hotel in Cornwall by the sea also features a brand new bar where you can sip cocktails, as well as a pretty afternoon tea lounge, perfect for satisfying hungry tums. Take a trip to this dog friendly hotel in Cornwall where old meets new and explore the historic town of Fowey, including traditional sweet shops and arcades.
Where: Marazion
Another dog friendly hotel in Cornwall by the sea, The Godolphin Hotel is located in the quaint West Cornwall town of Marazion. Positioned on the beachfront of the Mount's Bay, directly opposite St Michael's Mount, this Cornwall dog hotel provides easy access to the tidal island, perfect for dog walks. When the tide is low, guests and their canine companions can walk across the ancient cobbled causeway to the Mount, otherwise there is a passenger ferry. The interiors draw upon the coastal surroundings, with a neutral colour palette combining blues, greys and greens, which provides a stylish contrast to the rustic timber furnishings. With just 10 rooms, six have sea views, while the other four look out onto the town. All rooms are pleasingly spacious with large, comfortable beds and paired-back décor. There's also a two-storey restaurant and bar which open out onto a balcony upstairs and a terrace below. Visit this boutique pet friendly hotel in Cornwall for stunning sea views, relaxed décor and great food.
Where: Fowey
More of a dog friendly B&B in Cornwall than a hotel, The Old Ferry Inn is packed full of warmth and character, dating all the way back to the 1600s. Dog walkers will appreciate the myriad of local trails with their jaw-dropping views, while dogs themselves will enjoy making friends with the hotel's gentle giant Newfoundland, Archie. Recently having undergone a refurb, this pet friendly hotel in Cornwall is subtly stylish, with original staircases, wood furnishings and pops of colour throughout. All 11 bedrooms, eight of which have river views, feature roomy ensuites with fluffy towels, TVs and handy USB ports on the bedside plugs. What makes this by far one of the best dog friendly hotels in Cornwall, though, is the intimately cosy pub dowanstairs which features a wood burner, stone slate floor and old photographs of the town. When it comes to the restaurant, dogs are welcome to dine in the bar area and will even be welcomed with treats. Head down to this dog hotel in Cornwall for a true taste of the Cornish way of life.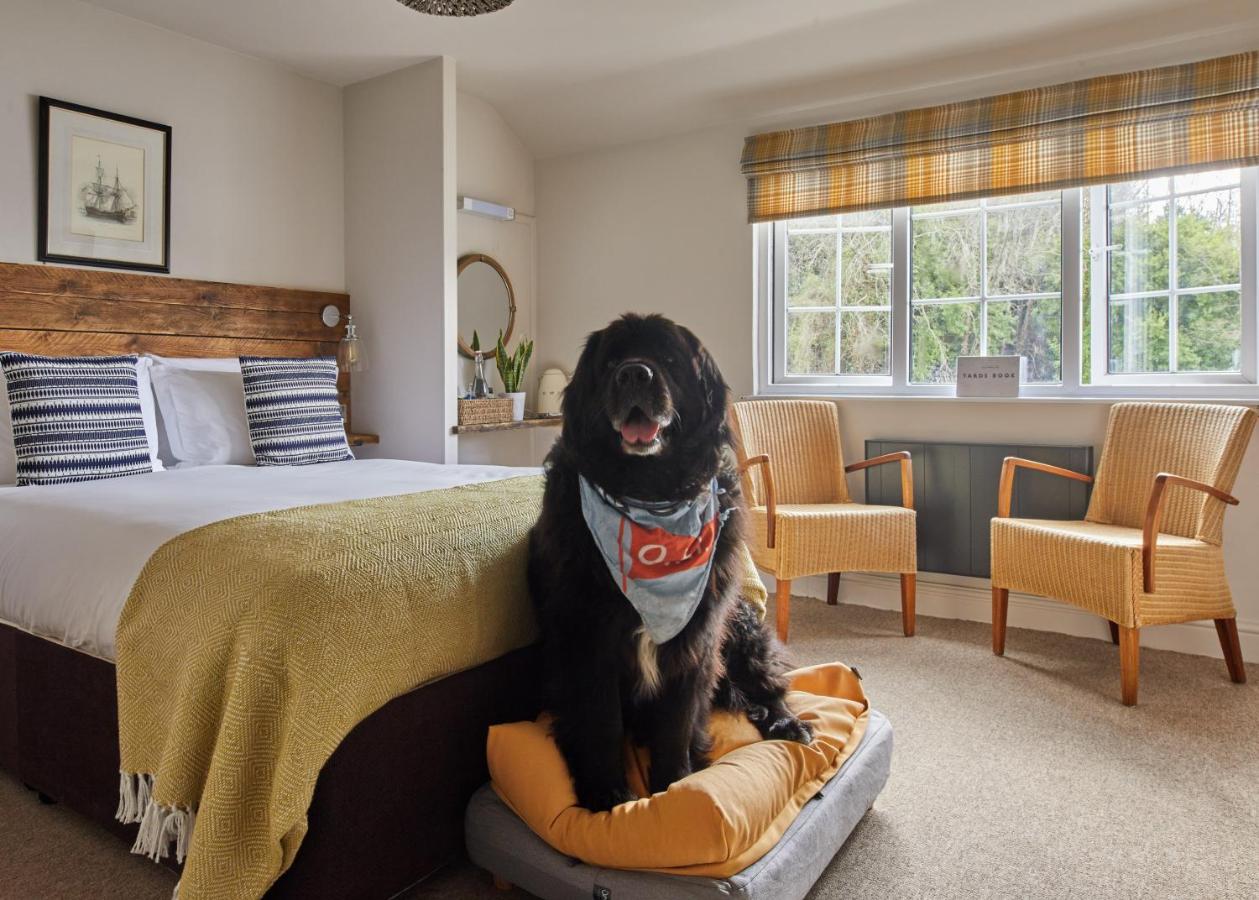 Where: Bodmin
By far one of the most unique dog friendly hotels in Cornwall, Bodmin Jail Hotel is, as the name suggests, what used to be the infamous Bodmin Jail, built in 1779 by Napoleonic prisoners of war. At the time, this prison was revolutionary, with individual cells, segregated male and female areas and even hot water. Today, though, the once-jail stands as a luxury pet friendly hotel in Cornwall. All rooms comprise of three cells, with options including double, twin, family, accessible and executive governor rooms. Contemporary furniture and trendy soft furnishings contrast against original stone walls and tiny prison windows. Each room even holds a plaque that provides information regarding a former resident, recalling the story of their crime and their time spent in the cell. Enjoy a tipple or two in the Chapel Champagne Bar and feast on dishes with a Cornish twist at the Chapel Restaurant with your four-legged friend at your feet. So, if you're looking for a hotel in Cornwall with dogs and a difference, you won't find one more unique than Bodmin Jail Hotel.
Where: Mullion
Housed in a historic building, perched on the cliffs overlooking Mullion Cove's harbour, this pet friendly hotel in Cornwall provides direct access to the South West Coast path and easy access to the Lizard Peninsula. Perfect for a rejuvenating break with pup, this dog friendly Cornwall hotel is light and airy, relaxed and unpretentious, with awe-inspiring views of the ocean. The interior is traditional but stylish, with many of the building's period features having been retained. The 30 bedrooms range from Standard to Sea View and each come with a complimentary welcome pack for doggies. The hotel also has eight self-catering Harbour apartments which can sleep up to six people and two of which have an outdoor hot tub. Spend the days wandering the coastline or sitting back and relaxing in the doggie lounge. In the summer, your pooch is welcome to roam the hotel gardens and owners can enjoy a dip in the heated outdoor swimming pool. Finally, Mullion Cove provides award-winning food at its 2AA Rosette Atlantic View Restaurant, with a four-course menu that changes daily. Make sure you visit this dog friendly hotel in Cornwall for some of the best facilities and the best food.